Jaeger LeCoultre chrome with buckle 1945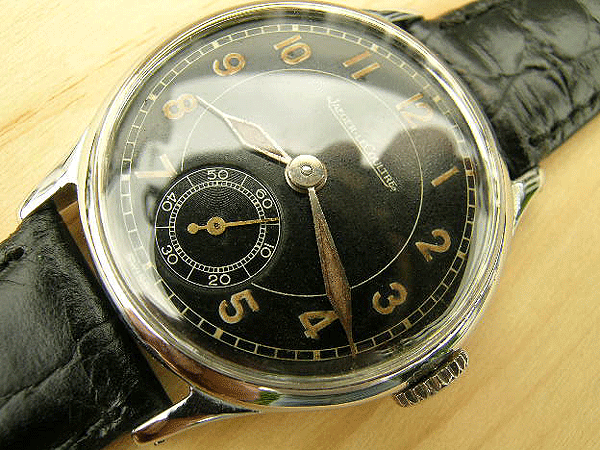 This watch, despite being made in the year in which World War II ended, is in almost brand new condition and the purchase of this piece is probably as near as any of us will ever get to owning a new old stock vintage Jaeger LeCoultre. The gleaming watchcase is almost perfect, with just the very faintest of imperfections that can hardly even be made out with the naked eye. As a matter of policy on this website, we always refrain from the use of the word "mint", simply because common sense should tell us that any vintage wristwatch must have deteriorated to some extent, even if left unused in a drawer, but describing the case on this piece, we have to admit that we were sorely tempted to break one of our cardinal rules. After so many years of it slumbering in this condition, it almost seems a shame to wear the piece.
The case back is fully signed internally as "Acier Inoxydable ( this being the French term for stainless steel), LeCoultre Co. Swiss" and externally carries the case serial number B 331983. The internal case back surface is beautifully pearled with a very decorative engine turned pattern. Every time we have the pleasure of examining a vintage Jaeger LeCoultre, especially a 1930s or '40s piece, we are astounded and awed as to how much attention to detail the firm put into laboriously finishing parts of its watches that would never be seen by the vast majority of buyers. The manufacturers of cheap watches, both in the vintage era and today, have always concentrated their efforts on offering the most glamorous external appearance for the lowest price, but neglect the parts of the watch that will not influence the average retail buyer to make a purchase. Houses like Jaeger LeCoultre, IWC and Rolex put so much more into these watches than most of their owners will ever realise and this pearled inside case back is just one of numerous examples of the spectacular internal finishing on both the case and movement of this particular piece.
The glorious black dial on this watch is instantly eye-catching, and is completely original and in nearly mint condition, with just the slightest, almost invisible, patina that can only really be noticed with aid of magnification. It is signed "Jaeger LeCoultre, Swiss" in the company's famous scripted typeface and this white logo is crisp and clear. The style of this dial is pure art deco extravagance, a look that was very much embraced by Jaeger LeCoultre at this time. The beautiful deco diamond shaped hands are particularly rare and exceptionally evocative of the 1930s, though to be somewhat over critical, there has been some deterioration of their radium infill and a fading in colour of this material from a once bright lime green to a gentle khaki. On any watch of this age with luminous hands and numerals, it must be expected that the brightness of the luminosity will have reduced dramatically since new due to legitimate radioactive decay. This is perfectly acceptable on any vintage watch and does not affect the value of the piece in the slightest. In fact, we could go further and suggest that if we found a 1930s or '40s model on which the luminous hands were bright green, we would be immediately inclined to the view that their radium infill had been recently reapplied.
The beautiful hand assembled movement is fully signed on the bridge plate as "Jaeger LeCoultre". This is the hand wound calibre P469A, introduced in 1944. Also present is the individual serial number dedicated to this particular mechanism, 381485, which, falling between the two extremes of vintage Jaeger LeCoultre movement production for that year of 350000 and 405000, clearly identifies this unit as being of 1945 origin.
The sheer quality of vintage Jaeger LeCoultre movements is legendary, with these classic calibres being arguably the finest from any of the luxury houses at this time. The firm has always been one of a tiny handful of Swiss makers that could be classed as genuine "manufactures" in the strictest sense of the word. For those less familiar with the terminology of fine horology, it should be explained that this is the correct title to describe a company (collectors argue endlessly over which brands were and were not "manufactures", but the generally held view is that there were, at most, ten Swiss concerns that could honestly describe themselves in this way and lay claim to this ultra-exclusive status.) that is capable of entirely manufacturing its own movements in-house from scratch, importing no out sourced components from other factories. Companies like Jaeger LeCoultre have enormous credibility that is derived from this integrity in their products and we would be the first to admit that the satisfaction in owning a vintage timepiece that was produced in this way " under one roof" is particularly considerable. On a more tangible note, it is unquestionably the case that building its entire movements in house gave Jaeger LeCoultre a degree of quality control over its production that would have been extremely difficult to otherwise co-ordinate. Studying the movement carefully now, we have no hesitation in saying that its quality and, more significantly its finish, are of a level that is absolutely second to none. The eye catching frosted gilt bridge plates have been individually dressed by hand, their edges being bevelled to perfection, every jewel perfectly polished to ensure friction free running and even the screw heads that are visible on the top of the movement surface have been laboriously polished, one by one, to a mirror finish by a master craftsman.
The remarkable condition of the outside of this watch is entirely in keeping with that of its movement. Every component in this movement, down to the last pinion and screw, is absolutely correct and original, and the overall condition of this unit is almost perfect. Despite having been produced before World War II, every surface of this exceptional calibre gleams like that of a new watch and there is not even the slightest trace of corrosion or discolouration of any kind. The watch has been carefully cosseted throughout its life, and serviced regularly since new with the result that it has proved to be extremely reliable and works perfectly today. The reliability and accuracy of Jaeger LeCoultre movements, both past and present, is unsurpassed, and there is absolutely no reason whatsoever why this watch, with regular servicing, will not been in full running older a century from now, perhaps as an heirloom piece or a collector's example of mid-20th century high horology in wristwatch form.
We have fitted this watch with a black crocodile skin type strap that perfectly suits its upmarket, vintage appearance. This is in brand new condition having never been worn. A period steel Jaeger LeCoultre buckle, complete with the firm's "JL" emblem has been transplanted over to this new strap, where it fits perfectly. This is very much a collectible in its own right and would be a difficult item to source individually. Realistically, if sold alone, this buckle would change hands for perhaps £100 GB pounds, which is food for thought when considering this watch as a potential addition to one's collection.
Overall, this is an exceptionally fine 1945 gentleman's Jaeger LeCoultre in almost untouched, nearly mint condition. Watches like this one, by any of Switzerland's most respected houses, are almost impossible to find now, with most having disappeared into the hands of private collectors during the first wave of vintage watch mania in the mid 1980s. We bought a lot of our stock years ago, much of which has been forgotten in our safe until our website project started to take place. This site is actually an opportunity to purchase a number of exotic pieces for investment that, even in the early 1980s when fine watches were far more available that they are today, were very desirable even three decades ago. The market for early Jaeger LeCoultre pieces has never been more buoyant, and premium condition examples are particularly rising in value at an unprecedented rate.
We have priced this watch at £1375 GB pounds. Today, in Christie's, Sotheby's or Bonhams, there are very few 1940s Jaeger LeCoultre watches of any kind available for under £2000 pounds, even in tired, cosmetically poor condition needing considerable restoration. In the central London vintage watch shops of Bond Street or Burlington Arcade, we could easily pay more than double this sum for a comparable example in this superb state of preservation. It is certainly a gem for the collector of early vintage Jaeger LeCoultre watches, and would make an impressive showpiece in any serious portfolio of antique timepieces.
Price £1375 GB Pounds
Vintage Watch Brands
Vintage Watch Decades
Vintage Ladies Watches
Vintage Watch Bracelets
Swipwreek Straps
Travel Clock/ Pocket Watches
Home
About
Brand Overviews
By Decade
Reference
Contact Details
Telephone from the UK:
07453 734666
or 07428 051005
Telephone from overseas:
+44 7453 734666
or +44 7428 051005