Jaeger LeCoultre 18 karat gold with calibre 478. 1946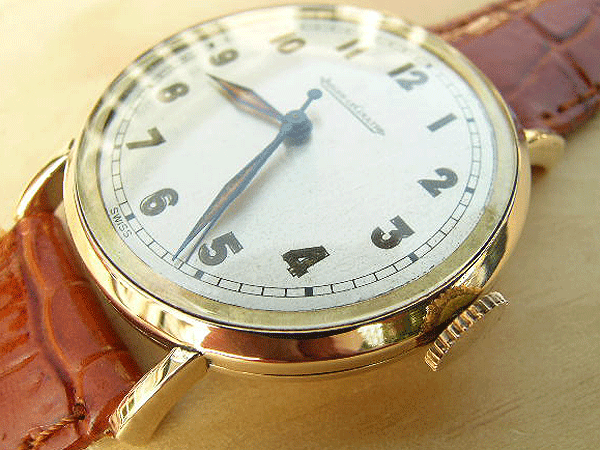 This gentleman's vintage Jaeger LeCoultre watch in 18 karat gold is just the kind of exceptional item that we specialise in. Manufactured in 1946, a year after the end of World War II, it remains totally original and in near mint condition throughout.
In many ways, it is valid to describe this model as being a luxury civilian version of the watches supplied by Jaeger LeCoultre to the British RAF during the war years. While not exactly the same, its movement is very similar to those used in the Mark VII pilot's watch and there is a strong genetic link between this unit and its military forebear.
Like the Mark VII, this is a large watch with an impressive presence. The solid 18 karat gold case is one of the heaviest that we have encountered and the watch has a very noticeable hefty feel to it when picked up for the first time. This is especially telling when we consider that the bullion price of gold jumped sharply in 1939 and remained high throughout the 1940s as investors clambered for what was viewed as a safe haven during a period of general instability. A lot of lesser watch houses used much thinner gold cases during the war years, but Jaeger LeCoultre, catering for a clientele who were not so price conscious, continued to offer its very substantial housings, like the one here.
The condition of this case is almost mint. This watch has been worn and is not literally new old stock, but has clearly been looked after and probably used only on a limited number of special occasions. There are a few tiny imperfections here and there, but these are so trivial as to be irrelevant and can only really be made out with the assistance of a jeweller's eyeglass.
It is interesting how repeated handling of large volumes of vintage wristwatches leads to a familiarity with the products of the various houses. To be casual observer, this is simply a high quality case in 18 karat gold, but to the experienced collector, it is instantly recognisable as a Jaeger LeCoultre product. The case back, with its wide bevelled edges and central flat section, screams Jaeger LeCoultre and it can be said with absolute certainty that this housing is original to the movement and dial contained within it.
Notice how there are no British hallmarks inside this case, not least because it couldn't have legally been sold here when new. During World War II, the British government had imposed a ban on the importation of gold into the UK for non-industrial use. This was still in force in 1946 when this piece was manufactured. With a Swiss made case, we can be almost certain that this watch was retailed in Europe and categorically sure that it was not an American market model.
Vintage wristwatches tend to be judged by the condition and originality of their dials. Two examples of exactly the same model will have wildly different market values if one has a dial that is faultless and the other is deficient in that respect. More than anything else, when you buy a carefully vetted vintage watch from an established specialist, you are paying for the guarantee that its dial is first rate and entirely free from restoration.
This dial is nothing short of superb and is consistent with the near mint state of both case and movement. Its French white surface is almost perfect, with no discernible deterioration of any kind. We would often see some degree of dust staining around a dial's outer edge where dirt has crept past the sides of the glass, but in this instance, the dial is faultless. The signature "Jaeger LeCoultre, Swiss" is clear and not in the slightest bit faded.
Most importantly of all, this dial is completely original. It has not been restored or refinished at any time in the past. We specialise in vintage watches for investment purposes and as such, dial condition is one of our all consuming obsessions, but even so, this particular dial is outstanding for all the right reasons.
All three hands are totally original. The minute hand is in blued steel with a distinctive circular tip to its short side. The hour and minute hands are in the classic art deco diamond shape that we associate with Jaeger LeCoultre watches from the 1930s and 40s. There are very few vintage watch hands that are as attractive and distinctive as those here.
The luminous infill to the hour and minute hands has changed colour from a once bright lime green to a darker, khaki brown shade. This is not uncommon on vintage watches of this age and can be attributed to the chemical decay of the radium ingredient in the paint, rather than to any neglect on the part of past owners. A nearly mint, original dial with aged radium paint is one of the most beautiful things in the vintage watch world. Notice how the radium based paint used for the numerals on the dial has also aged in exactly the same way.
Vintage watch movements don't come an awful lot better than this. The mechanisms manufactured by Jaeger LeCoultre during the golden age that came between the 1930s and the 1960s are among the finest ever built by the Swiss watch industry and have not been improved upon since.
This movement is calibre 478. Introduced in 1945, the hand wound 478 is almost identical to the calibre 479 that was used in the Jaeger LeCoultre Mark X pilots' watches that were delivered to the British RAF in 1945, the difference being that the 479 movement had subsidiary, rather than centre, seconds. In real terms, the 478 was a centre seconds version of the 479.
The standard to which all these vintage Jaeger LeCoultre movements were built is nothing less than astonishing. The sheer quality of everything, from the angled edges of the plates through to the individually hand polished screw heads, is literally second to none.
It also has to be said that for the shrewd buyer who understands the relationship between movements of similar calibres, watches equipped with the 478 are something of a bargain. One of the most desirable of all vintage military watches, Jaeger LeCoultre's Mark 11, launched in 1950, contains a centre seconds movement that, again, is almost the identical twin of the 478 here. The difference between the two is largely that the unit contained in the Mark 11, calibre 488 SBr, was equipped with a hack feature that enabled the second hand to be stopped at will to allow for accurate syncronisation with a known accurate time source. We currently have a lovely Jaeger LeCoultre Mark 11 for sale at £6750 GB pounds and while it's a beautiful watch that will excite the most advanced collector, the question must be raised as to whether it is worth the high premium over the piece here. Personally, we hold the opinion that the watch here, and others like it, offer far better value for money.
The condition of this movement is nearly mint throughout. It is completely original and contains no replaced components. There is no evidence of any repair work having ever been carried out and the whole mechanism is as near to pristine as anyone could ever hope to find.
'Jaeger LeCoultre" is signed on the bridge, together with the individual serial number 409887. Falling between the two extremes of the company's production for that year of and, this confirms the origin of this movement as being 1946. The calibre number P478 is stamped clearly in the balance well.
Previous owners have had the good sense to service this watch on a regular basis, with the consequence that it is in perfect working order today, almost seventy years after it first left the Jaeger LeCoultre factory in Le Sentier. It is still possible to return vintage Jaeger LeCoultre watches back to Le Sentier for servicing, but in practice, an experienced local watchmaker will be more than capable of performing the routine cleaning and oiling required to keep this unit in rude health. One of the most appealing aspects of high level vintage watches like this one is their potential to last almost forever. Jaeger LeCoultre, like Omega, Rolex and Longines, intended their products to last a lifetime and provided they are treated sensibly and maintained correctly, examples like this one will still be in good running order a century from now. The key to extracting the maximum longevity from these pieces is to buy only the very best preserved examples in the first instance and then keep on top of a good servicing schedule every three or four years.
We have fitted this watch with a high quality crocodile skin type strap. This is not a genuine Jaeger LeCoultre strap, but it is very similar to that which would have been supplied with this model in 1946. This strap has not been used and is in mint condition.
The price of this watch is £1750 GB pounds. In central London, at one of the many specialist vintage wristwatch dealers there, the asking price for this same piece would be in excess of twice this amount. Well preserved models from this era by firms with Jaeger LeCoultre's standing are the blue chip shares of the vintage wristwatch world and are never cheap, simply because at any point in time, there are more potential buyers looking for these pieces than there are watches for sale. Having said that, this watch represents remarkable value for money and if it is properly looked after, it will always rise steadily in value, year after year.
Price £1750 GB Pounds
Vintage Watch Brands
Vintage Watch Decades
Vintage Ladies Watches
Vintage Watch Bracelets
Swipwreek Straps
Travel Clock/ Pocket Watches
Home
About
Brand Overviews
By Decade
Reference
Contact Details
Telephone from the UK:
07453 734666
or 07428 051005
Telephone from overseas:
+44 7453 734666
or +44 7428 051005