Harrods London very early wristwatch. Museum piece. 1914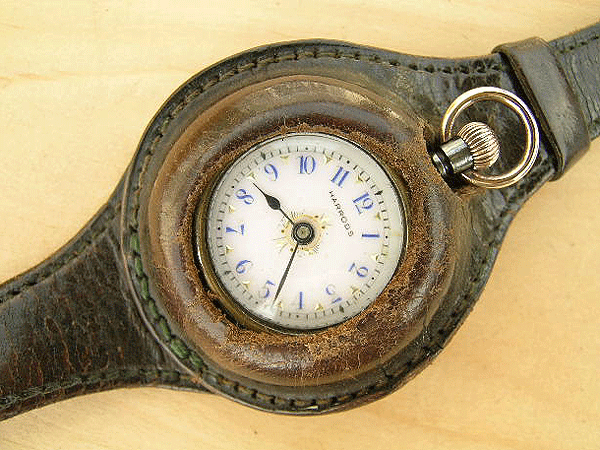 In terms of the evolution of the wristwatch, this item represents Genesis. Dating from 1914, it couldn't be more historically significant and would be worthy of inclusion in any museum collection of vintage watches. For anyone intent upon building up a selection of pieces that chart the development of the wristwatch from its very first beginnings to the present day, this watch is a heaven sent item. In our business, which has been selling vintage watches for the last twenty five years, we've seen maybe three or four of these in total. When this example has sold, we might, literally, have to wait six or seven years before we find another.
In order to really understand this item, there needs to be a little background history. Before the wristwatch appeared for male use, there were pocket watches, carried on the person and secured by a length of chain. The defining event in the birth of the wristwatch was World War I. Officers serving in the trenches found it far more convenient to have a watch strapped to their wrists rather than buried under layers of regulation uniform, particularly in the bitterly cold winters of 1914 and 1915. Used by these heroes, the old objection that a watch worn on the wrist had effeminate overtones simply faded away. The wristwatch for male use gained public acceptance and from then on, gradually ascended in popularity to the degree that it eventually completely replaced the pocket watch as the most popular form of portable timekeeping device.
The piece for sale here is so significant because it represents the brief transitional period between pocket watches and purpose built wristwatches. This is actually a pocket watch held in a commercially manufactured leather casing that enabled it to be worn on the wrist. It would almost certainly have been used by an officer on the front lines, where accurate synchronisation of "over the top" assaults between different sections of the trenches was essential. This was the very earliest form of wristwatch for male use to exist and was the embryo from which everything we regard as the modern wristwatch developed.
There is strong evidence that watches like this were sold as complete entities. Harrods of Knightsbridge, Mappin & Webb and Asprey all show wristwatches in this style in their advertising of the period, typically mentioning that they make ideal purchases for those heading to the trenches. The pocket watch fits so snugly into the strap that it seems certain that the latter was produced for this particular model of watch and the two were retailed together when new.
The quality of both the strap and watch is extremely high and this would have been an expensive purchase in 1914. The watch case is in gunmetal, this being essentially a form of bronze that was initially used in the armament industry due to its ability to resist corrosion from salt water. Collectors of medals will probably know gunmetal best as the substance from which Victoria crosses are manufactured. In the early wristwatch field, gunmetal cases crop now and again but are not common. Rolex and Omega both produced wristwatches in gunmetal at the beginning of the Great War, but these are less often seen today that those in silver or gold.
Condition of this case is extremely good. There are no dents anywhere and certainly, this is one of the cleanest of these very early wristwatches that we have encountered. Given their current status as valuable collector's items, it is easy to forget that these watches were often subjected to pretty harsh combat conditions in the first instance. A lot of the surviving first generation wristwatches, including those on museum display, have clearly had running repairs to their cases at some stage in the past, making this one something of an exception.
A nice touch is the use of different finishes to the gunmetal to give the watch a two tone look. In reality, the whole case is of exactly the same metal, but by using these two finishing processes, the bezel, winding crown and case back hinge appear pink gold in colour, whereas the rest of the case is in graphite grey.
Inside the case back is the stamp "Acier" and the serial number 22000. Over the movement is a separate hinged cover on which this same serial number is repeated, confirming that all aspects of the case started life together when new.
As we'd expect, the dial here is an enamelled item, with a hard glazed white surface. Enamel has the huge advantages of being very resistant to both dirt and fading, but comes with the considerable drawback that it can crack easily if subjected to impact. Quite remarkably considering its age, this dial is perfect, without any of the faint hairline cracks that we would almost consider inevitable on a watch of this age. If someone was looking for the very best example of a dial from this period, then the one here could not be improved upon.
The dial has a double minute track in black, inside which are a set of Arabic numerals in blue. The use of two colour printing and of applied gold decoration around the dial centre point is all indicative of a high quality product. The name of Harrods, the famous Knightbridge, London store that supplied the watch when new, is signed clearly in black. Period advertising from this era shows us that Harrods was right at the forefront in the supply of these first generation wristwatches for officers in the British Army.
In the spade pattern, both hands are original. Their blued steel finish is free from corrosion and today looks just as it did almost a century ago.
The movement in this watch is a classic manually wound pocket watch mechanism, with three beautifully finished finger bridges and a pin set arrangement for the setting of its hands. While hand built to an exceedingly high standard, these very early movements were extremely simple and as a consequence, very reliable. In frosted gilt, in many ways this movement resembles those produced by IWC and Zenith at this time and certainly, its build quality is first rate.
In common with so many movements from this era, this one is unsigned and we don't really have any way of knowing who made it. It is certainly Swiss, but there were literally several hundred independent manufacturers making mechanisms of this high quality in the years around World War I. With enough research, probably starting with sending close up photographs to Switzerland's Museum of Horology in La Chaux de Fonds, it would be possible to positively identify it, but given that probably no background history regarding the company that made this unit still exists even if we did know its name, it seems enough to be aware of its superb quality without locating its source.
Having been serviced on a regular basis, this movement works perfectly. Provided this watch is sent for routine cleaning and lubrication every three or four years, it will last almost forever. The key to buying early antique wristwatches like these is to purchase the best possible examples in the first instance and then keep on top of their maintenance, having them cleaned and lubricated every three or four years without fail. Watches of this age and quality were built to last for a lifetime and if they are treated sensibly, they will still be keeping good time a century or more from now, just as many Georgian pocket watches are today.
The strap is clearly very much an important part of this watch. In chocolate brown calf skin, it remains in good condition. It isn't perfectly preserved and its surface has seen many scuffs and bruises, but the leather has not denatured with age and remains completely wearable. It should be stressed that this is an authentic strap from 1914 and not a modern reproduction that has been produced by taking an antique example as a pattern. The strap retains its original gunmetal buckle, the finish of which matches the watch case perfectly.
It should be stressed that we deliberately haven't tried to clean or alter the appearance of this watch or its strap in any way. In the photos, the strap looks slightly weathered and the case tarnished, simply because this is the reality. For this item to have survived for almost a century at all is remarkable and the state that it is in today, which is actually extremely good, is exactly as it looked when it arrived back from Verdun or the Somme. It would be a great shame to polish the watch case and buff up the strap, in the process erasing patina that has taken many decades to develop.
The price of this watch is £575 GB pounds, which, for a genuinely historically important item that would be perfectly in keeping with the early wristwatch collections on show in London's Science or Imperial War Museums, is not excessive. This would be an ideal item for anyone writing a book on the development of the wristwatch or a chronological starting point for a serious vintage watch collection. It would also make a wonderful gift for anyone with an interest in the early years of the luxury wristwatch. Rolex, Omega, Jaeger LeCoultre and all the other vintage watch brands that today we regard as household names all took their inspiration from items like this one. This was the first incarnation of the commercially produced wristwatch, just one step removed from those World War I officers who created their own straps in order to consult pocket watches on their wrists. It's a very evocative and rare piece that will always be a talking point and is a watch that will steadily increase in value in the future.
Price £575 GB Pounds
Vintage Watch Brands
Vintage Watch Decades
Vintage Ladies Watches
Vintage Watch Bracelets
Swipwreek Straps
Travel Clock/ Pocket Watches
Home
About
Brand Overviews
By Decade
Reference
Contact Details
Telephone from the UK:
07453 734666
or 07428 051005
Telephone from overseas:
+44 7453 734666
or +44 7428 051005