Very early Girard-Perregaux rectangular silver 1919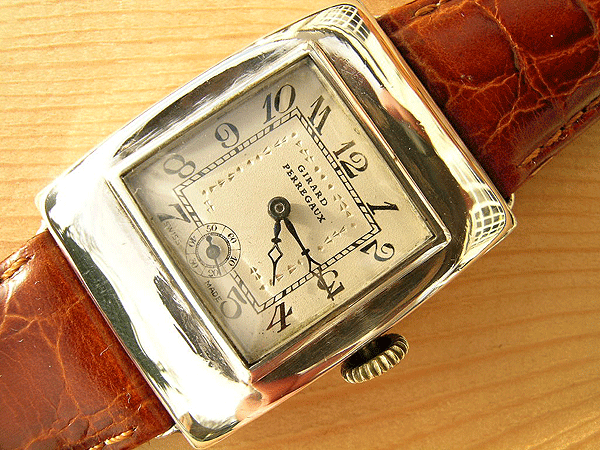 This exceptionally early gentleman's silver Girard-Perregaux from 1919 is one of the most aesthetically dramatic vintage watches for sale on this site, and is also one of the highest quality. Founded in 1791, this La Chaux de Fonds house was a true "manufacture" from the outset, entirely producing its own movements on a self-sufficient basis, importing nothing whatsoever from external suppliers. The standard to which these early Girard-Perregaux wristwatches were finished is quite extraordinary, and it would not be any exaggeration to suggest that the company's work was second to none in the inter-War period.
Leaving aside the remarkable quality of its early pieces, another reason for a vintage Girard-Perregaux to be included in every serious collection is that the company was responsible for the commercial introduction of the wristwatch for male use in 1889. Girard-Perregaux had always serviced a very discriminating clientele, and following an order placed by Kaiser Wilhelm in person at a Berlin trade show that year, delivered a thousand watches specially fitted with straps that enabled them to be worn on the wrists of officers in the German navy. Without any doubt, Girard-Perregaux stands today as the father of the modern wristwatch, and on account of this status being widely acknowledged, its very early examples do command a price premium over those by its competitors due to this historical appeal. The company has an excellent website at http://www.girard-perregaux.ch , and while the majority of seasoned collectors will be well acquainted with its glorious history, those who are not will find much of interest there. The relevant section on the site is to be found by following the "Manufacture" link from the homepage.
The vintage Girard-Perregaux watch for sale here is particularly interesting, as one hardly ever encounters pieces from this era that depart from the pocket watch derived circular form. The first era of the wristwatch, from a practical point of view usually taken as being from 1914 to 1920, was concerned with the adaptation of the pocket watch in order that it could be worn on the wrist, this usually being achieved by adding wire lugs to what was in spirit still a miniaturised pocket watch. This item is clearly a wristwatch in its own right, with a very large ( the watch has a length of 41mm and a width of 28mm) rectangular case that would never have been used on a timepiece that was not intended to be fixed to a strap. The elite Swiss horological houses like Girard-Perregaux were not only technically adept, but were also very much aesthetic design powerhouses. Their customers were wealthy individuals who not only required items built and finished to the highest possible standard, but who also wished to be at the cutting edge of society chic. Even by the early 1920s, rectangular watches were becoming far more commonplace, but when this item was manufactured just after World War I, it was one of a relatively small number that had the same format.
Notice how this case, despite being rectangular rather than circular, still features the soldered wire lugs that are so typical of the classic trench era vintage wristwatches. As the wristwatch developed its own distinct identity over the following decade, lugs would become an integral part of the overall design concept, and transitional rectangular cases with these early soldered lugs are very rarely seen.
Condition of this watch is superb, with just the slightest few imperfections in places that must be expected on even the most carefully worn item of this age. Again unusually, the lugs here are joined to the case back rather than the case body, with the front of the case being hinged. Internally, we find the word "Brevet", this being the French term for patented, which, despite no registration number being given for confirmation, we can be almost sure relates to this unorthodox case architecture.
Externally, the case is stamped with the very early serial number 40289, which informs us that the watch left Girard Perregaux in late 1919. Also present are French hallmarks confirming that the case was assayed as an imported silver item, this obviously being appropriate given its Swiss origins and its almost certain retail sale through the Hermes store in Paris, which was the major ( and possibly only) Girard-Perregaux stockist in France in the World War I era.
Something that we noticed immediately when opening this case is that the inside of its entire front is hand decorated with an engine turned pearled pattern. The extent to which a case and movement are finished is a good indication of the overall quality of a watch and telling of Girard-Perregaux's initial market position when new. Inevitably building down to a price for a mass-market clientele, lower grade manufacturers would spend as much of their allocated expenditure per unit as possible on external show, leaving the parts of the watch that would never normally be scrutinised by the average buyer plain. The majority of top tier makers, of which Girard-Perregaux was unquestionably one, would take the trouble to decorate their case back interiors, but very few added ornamentation to the insides of case fronts.
It hardly needs to be said that given the combination of Girard-Perregaux quality and the very early large rectangular case, this is a relatively expensive item. As with any area of antiques and collectibles, as the value of any item rises, increasing attention must be paid to its future prospects as an investment. While an early vintage wristwatch of this superb grade will never be cheap, if a completely genuine example is acquired, it will always appreciate in value in the future. This is very much a connoisseur's antique watch that is unlikely to be bought by the casual browser, and if resold again, is equally likely to be purchased in the future by a knowledgeable collector who understands just how unusual it is. Because of the educated target market for a piece like this, it is so important that every aspect of a watch being considered as an acquisition is correct and original. It is all too easy to unknowingly buy a piece on which component substitutions have been made and then find that this is very difficult to liquidate at a profit in the future.
To continue the theme of the previous paragraph, the most significant single feature that will define the value of any vintage wristwatch will be its dial, which must be both entirely original and in superb condition in order to be acceptable as a serious investment purchase. Quite remarkably for a rectangular vintage watch of this age, this dial is virtually perfect, totally authentic and unrestored, with just the slightest mellowing of its once bright white background into a gentle creamy shade. If there was ever a dial that was so obviously evocative of its era, then this must certainly be it. The numerals typify the art nouveau movement that had begun around the turn of the century was an still strong throughout the Great War, but even more alluring is the beautifully engraved pattern of laurel leaves that forms a rectangle inside the double minute track. This is so delightfully Edwardian in appearance, and quite at odds from the far plainer art deco inspired dial variants that would take over in the 1920s.
The black signature, in a stylised inter-war era typeface, "Girard-Perregaux" is crisp and well defined, as is the "Swiss Made" wording at the bottom of the dial. The blued steel cathedral shaped hands are elegant in the extreme and totally original.
When the tight fitting case front in unhinged from its rear, we can assess the superbly finished movement. This is a circular unit, manufactured before the arrival of form shaped movements for rectangular cases in the early 1920s, and is fully signed "Girard-Perregaux, Swiss Made" on its bridge plates. As we would expect from any product of this famous house, the quality of decoration here is exceptionally high, with the plates entirely covered with a most attractive set of Geneva waves. Notice that, rather like the stripes of a bespoke workroom shirt that perfectly align where the yoke and sleeves join the body, the hand-polished stripes here continue to run perfectly across several unconnected components. Ensuring this straight line continuity takes time and effort, and on the majority of movements, even those by the elite manufacturers, it is assumed that the decorative striped embellishments will not be consistent across a variety of surfaces.
An interesting point regarding this movement is that it was manufactured at a time when Girard-Perregaux was still under the ownership of the family that started the house in 1791. In 1928, Constant Girard-Gallet sold the firm to Otto Graf, a highly respected La Chaux de Fonds industrialist under which it prospered. While there is no price disparity between watches produced before or after this changeover in the collectors' market, it is difficult not to find the sense of historical authenticity that inevitably comes with these pre-1928 items appealing.
In technical terms, this is a 10.5 ligne mechanism ( the ligne is the unit of movement width measurement traditionally used in the Swiss watch industry), manually wound and with 15 jewels. In common with all movements from this period, this one is without shock resistance and anti-magnetic protection, but is extremely ruggedly built, so this shouldn't pose any problem for the careful modern day wearer. Most importantly of all, it has been regularly serviced since new, with the result that it remains in literally almost perfect condition. Every component surface gleams brightly like that in a newly manufactured unit, and even when studied under high magnification, there is no evidence of discolouration, corrosion or past repair work having ever been performed. This mechanism is completely original and works perfectly, setting, winding and running extremely smoothly and without any wear or backlash in the gear train.
This watch has been fitted with a high quality crocodile skin type strap that is perfectly suited to its period appearance. This strap is not a genuine Girard-Perregaux item, and a vintage original from this period would now almost certainly be impossible to source, but it remains in superb condition and has never been worn.
Gauging an idea of the worth of this watch is very difficult, not least because so few vintage Girard-Perregaux pieces that are as early as this one appear for sale. In this very large rectangular case, I think that, very conservatively, the watch must surely have a value of £1500 to £1700 GB pounds, and almost certainly significantly more. However, a point that we often make in the descriptions that accompany the rarer items for sale on this site, to consider this watch as a potential bargain purchase is to completely fail to appreciate just how unusual it is. Even twenty years ago, when vintage watch collecting was very much in its infancy, legitimate, totally authentic and not re-cased, pre-1920 rectangular examples by the top-tier makers were notoriously difficult to locate and today, have virtually disappeared altogether from the marketplace. Simply because of what it is, and how early it is, this watch has been priced towards the top level of its theoretical value, and this is a situation that can be seen now almost universally with genuinely rare items in every area of antique collecting. More modern watches, typically those produced in the 1950s and '60s, can still sometimes be bought at a below market rate because of the relatively large volumes of these that survive, but so few first generation vintage wristwatches by famous houses like Girard-Perregaux exist in original condition that those that do always command high prices when sold today. There are far more buyers for this type of vintage watch than there are examples for sale, hence it follows that the acquisition of a piece like this one is always going to be a somewhat competitive process that will involve paying a premium over the expected price level. In the longer term, this extra amount paid will prove irrelevant, and without doubt, it is important early vintage watches like this one that represent landmarks for their makers that are the blue chip investments of the collectible timepiece world.
Price £1650 GB pounds.
Price £1650 GB Pounds
Vintage Watch Brands
Vintage Watch Decades
Vintage Ladies Watches
Vintage Watch Bracelets
Swipwreek Straps
Travel Clock/ Pocket Watches
Home
About
Brand Overviews
By Decade
Reference
Contact Details
Telephone from the UK:
07453 734666
or 07428 051005
Telephone from overseas:
+44 7453 734666
or +44 7428 051005