Girard-Perregaux Gyromatic 39 jewels steel 1960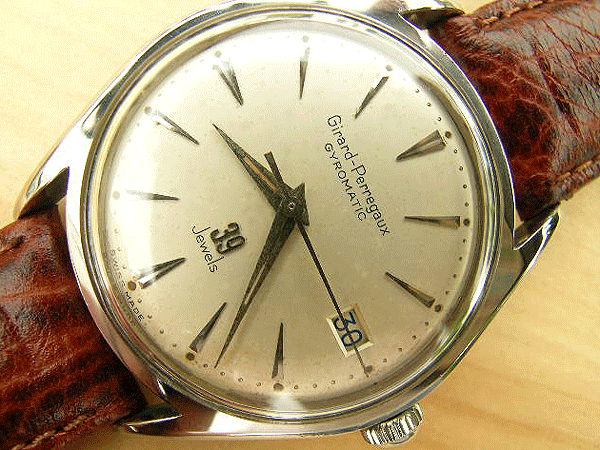 This gorgeous 1960 gentleman's vintage Girard-Perregaux in a large stylised stainless steel case is the perfect watch that combines the most appealing aesthetics with an in-house self-winding movement that will satisfy the most experienced horological purist. In common with most pieces of this grade, it isn't going to be an inexpensive purchase, but treated well, it will last a lifetime and only ever appreciate in value.
Nobody would ever argue that Girard-Perregaux wasn't among the most important Swiss watch making houses, or that its products were not at the very finest quality level. Founded in 1791, the firm has always catered not for the transient fashion market, but for those with a genuine understanding of mechanical movement making. While production quantities have typically been significantly lower than those of its competitors, there has never been a weak era of Girard-Perregaux manufacture and today, the house remains as one of the most highly respected in its field. We would imagine that the majority of those reading this are already familiar with the brand and its achievements, but for those newcomers who are not, it will be worth visiting its official website at http://www.girard-perregaux.com where a potted history is given.
There has always been a certain glamour to Girard-Perregaux watches, and we cannot help but think that it was this association that led the author Ian Fleming to mention the brand by name as "a badge of the rich man's club" on the first page of his 1957 James Bond novel "From Russia with Love". Queen Victoria owned Girard-Perregaux timepieces, and in more recent years, the company has enjoyed a successful relationship with the Italian sports car manufacturer Ferrari. But to view one of the firm's vintage models as some sort of lifestyle accessory is to completely miss the point about just why these watches were so desirable in the first instance. Studied closely, they are superb pieces of mechanical engineering, and have a degree of integrity and intrinsic quality that very few models by competing houses could match.
The condition of this particular watch is almost perfect, yet it remains completely original throughout. Its large case ( the watch has a width of 36mm) is virtually unmarked, with just the tiniest few imperfections that must be expected on even the most carefully worn timepiece of this age. Something that we particularly like, notice that this housing is just slightly stylised with the most attractive bombee lugs, rather than the standard straight lugs that we would normally associate with the late 1950s and early '60s. The overall aesthetic here is very pleasing, combining vintage charm with a chic streamlined shape that is evocative of this period. Just as with some classic cars, not all vintage wristwatches look appealing when viewed through modern eyes, but this one certainly does, and has a timeless quality that will ensure its desirability will be just as great in twenty or thirty years time as it is today.
While we certainly wouldn't dream of taking any collectible vintage watch anywhere near water, this model was originally designed to be waterproof. Its deeply threaded case back is signed internally as "Girard-Perregaux 1791, Swiss, Stainless Steel" and externally is in almost perfect condition, with no tool slip marks whatsoever. The cost of these watches when new meant that they were initially well cared for, but particularly in the low point of mechanical timepieces in the mid-1970s, when the world came under the spell of newly introduced battery powered movements, many were abused and neglected. Small aspects, like the condition of a case back or the presence of an original winding crown, can tell us an awful lot about the past life of an item and confirm that it has been the property of conscientious owners. The winding crown here is very distinctive and entirely correct for this model. This is signed with the company's "GP" emblem on its outer domed surface.
Any vintage timepiece will be primarily judged on its dial, and in order for a watch to have its full theoretical maximum value, this must be both original and in almost mint condition. A point that is often conveniently glossed over in the online auction environment, a watch with a so-called "restored" dial, or a dial in a badly discoloured state, will be devalued tremendously, to the extent that it will be judged as totally unacceptable by the majority of experienced collectors. At a lower level, where a relatively cheap watch is bought by someone who intends to wear it with no regard to its future worth, perhaps a restored dial is something that may be considered, but in a higher price bracket, we would always advise that only all original pieces are chosen. When a dial is restored, the reality is that its original surface is completely stripped away and replaced with a modern substitute. A significant part of the watch as it was when new has been irrevocably lost, and can never be recovered, and hence it is that such examples are the pariahs of the serious collecting scene.
This dial is guaranteed to be original and in near perfect condition. It isn't absolutely mint, and if one looks closely enough with a jeweller's eyeglass, there is the very faintest of almost invisible spotting to its surface, but in the real world, this is one of the best preserved 1960s dials that any of us is likely to encounter.
This is a fully signed item, with "Girard-Perregaux, Gyromatic" stated above the centre point and "39 Jewels, Swiss Made" below it. The chromed spearhead batons are original and in almost mint condition. The correct pitched dauphine shaped hands are in place and in excellent condition, though curiously, the flash used for the photographs here has resulted in them looking rather corroded in the pictures, which is not at all the case in the flesh. The date wheel is undarkened, and perfectly matches the body of the dial. This particular Girard-Perregaux dial layout was one of the most attractive that the company offered in its post-war period and not surprisingly therefore, it was one that often featured in the firm's advertising at the time. On page 115 of Francois Chaille's book "Girard-Perregaux", this exact model is shown as the centre piece in a full page advert from 1960, with the caption that the "King of jazz", Sidney Bechet, selects "the Queen of self-winding watches".
At every level, there is something appealing about vintage Girard-Perregaux watches. Their looks are eye catching, and even the most ignorant individual with no knowledge of fine horology will quickly realise from their weight and solid feel that he is handling a luxury item of uncommon quality. But the real purist will buy a Girard-Perregaux because of its beautiful movement, and will understand that these classic mechanisms were engineered and finished to a standard that is almost extinct today.
The movement in this watch is especially appealing on account of it being universally regarded as one of the all time finest self-winding mechanisms by any maker. This unit, calibre 21.29, was introduced in 1957 as the second revision of calibre 21, a movement that had debuted a year earlier. As an aside, it is worth noting that Girard-Perregaux arrived very late in the self-winding marketplace, its first automatic mechanism having only appeared in 1956, almost two decades after those of its close competitor Rolex. While calibre 21 and its related offspring were not the earliest of their type, they are of vital importance to the collector now on account of a fascinating feature that Girard-Perregaux patented and used uniquely on these units. Since the 1930s, watchmakers had been plagued by the problem of reducing the size of automatic movements while still keeping their accuracy. On the calibre 21 series, the click wheels, which traditionally converted the two way movement of the winding rotor into a one directional circular movement that wound the watch, were replaced by tiny uni-directional clutches than ran on precision ruby rollers, trademarked by the company as "Gyrotrones". This arrangement was ingenious yet very simple, totally reliable and exceedingly robust, and it was perhaps not surprising then that it was an immediate success from its start.
In common with almost all the first generation automatics by the major houses, calibre 21 and its relatives were built on a two-part "piggyback" principle. A conventional 17 jewelled hand wound movement was mated with a totally separate self-winding module that screwed onto it rather like a hat on a wearer's head. The remarkable 39 jewel count was comprised of the number in the time keeping section of the movement, the 7 ruby rollers in each of the two Gyrotrones, and a further 8 that were used in the reduction drive and the rotor module. It is worth mentioning that every one of the 39 jewels in this movement has a specific and legitimate function, and not one of these was decorative or included as a passive component in order to make a more impressive total that could be advertised to the general public. This is a genuine 39 jewelled movement in the truest sense, and has a fascinating architecture that makes it quite different from anything that came before or after it.
This particular movement is in almost perfect condition, and is completely original in every respect. Its frosted gilt finish gleams brightly, and there is not even the slightest hint of discolouration to any part of the unit. The signature "Girard-Perregaux & Co, Gyromatic, Thirty Nine Jewels" is stated on the rotor, with "Swiss" and the individual serial number for this movement, 2209506, on the bridge cover. Incidentally, anyone wanting to identify the first two versions of this movement type should note the number of jewels mentioned on the rotor. The earliest version, calibre 21, featured steel, rather than ruby, rollers and therefore had 17 jewels. The second generation, the movement here, featured ruby rollers and was therefore legitimately signed as being with 39 jewels.
We would actually go so far as to say that the 21.29 was among our all time favourite automatic movements. Not only are its basic engineering principles sound, it is also beautifully executed and finished to a standard that was unsurpassed by any other maker at the time. This was an in-house movement, designed and built entirely in Girard-Perregaux's own factory in La Chaux des Fonds. This last point is an increasingly important one to many collectors. The majority of the high level Swiss houses, then as now, did not manufacture their own movements, but instead purchased "ebauches", movements in their most basic raw form, from third part suppliers, and then finished and signed these as required. Hence it follows that a movement in a particular model can also often be found in a variety of other examples, often at wildly differing price levels. Girard-Perregaux was, and is now, a true "manufacture", this being the correct term used in the Swiss watch industry to define a company that is capable of autonomous production. This is something that, quite understandably, the company is extremely proud of and again, much is made of this on its official website.
Having been serviced regularly throughout its life, this movement works perfectly. Any of the Gyromatic mechanisms will be extremely reliable if cleaned and lubricated every three or four years, and the quality of these units is so high that if this schedule is followed, they will remain functional almost indefinitely. One of the most attractive aspects of high-grade vintage watch ownership is that, with a little care, the items acquired can be regarded as possessions for life. There are very few other antique objects that can be used regularly without a negative effect on their value, and that have, at the same time, a proven track record of steady appreciation regardless of the prevailing economic climate
We have fitted this watch with a high quality crocodile skin type strap that is perfectly suited to its vintage appearance. This is not a genuine Girard-Perregaux strap, but is of an almost identical look and construction to that which was supplied by the company with this model when new.
Early vintage Girard-Perregaux Gyromatic movements like the one in this model were an important chapter in the history of the self-winding wristwatch, and it isn't surprising therefore that a considerable amount of published information exists in relation to these.
Francois Chaille's book "Girard-Perregaux" goes into considerable detail regarding calibre 21.29 on pages 110 to 115, including a double page reproduction of the original blueprint drawings for this movement.
The work "Wristwatches" by Gisbert Brunner also has an excellent section on Girard-Perregaux, this describing the early Gyromatic movements as "legendary" on page 175 and commenting that when launched in 1957, their reverser gear, running on the Gyrotrones explained above, caused a sensation within the industry.
"Time in Gold", a book that gives the background histories of the key Swiss horological houses, by Gerald Viola, includes the invention of the Gyrotrone system as one of the most important achievements of the company. It also mentions in passing that Girard-Perregaux timepieces were the preferred choice of Napoleon III and King Farouk, together with many crowned heads today.
Common sense should tell us that with this kind of pedigree and a genuinely innovative construction that will delight the most knowledgeable enthusiast, this is unlikely to be an inexpensive purchase. On the other hand though, we would undoubtedly suggest that when compared with the prices attained for examples by the firm's competitors from the same era, particularly Rolex, Jaeger LeCoultre and IWC, good vintage Girard-Perregaux pieces are still undervalued at present. The Gyromatic is far from being just another generic model, and has technical substance that is not reflected in its current market worth.
We have priced this watch at £725 GB pounds. At this level, this is an awful lot of extremely high quality machinery for a very small amount of money and any experienced collector would agree that these early Girard-Perregaux automatics cannot continue to hover at this modest level for much longer. This is certainly a exceedingly appealing vintage watch by one of the world's most prestigious horological houses that will delight its future owners. It will prove to be a solid investment and will be much admired by any knowledgeable collectors to which it is shown.
Price £745 GB Pounds
Vintage Watch Brands
Vintage Watch Decades
Vintage Ladies Watches
Vintage Watch Bracelets
Swipwreek Straps
Travel Clock/ Pocket Watches
Home
About
Brand Overviews
By Decade
Reference
Contact Details
Telephone from the UK:
07453 734666
or 07428 051005
Telephone from overseas:
+44 7453 734666
or +44 7428 051005