Girard-Perregaux alarm watch 1966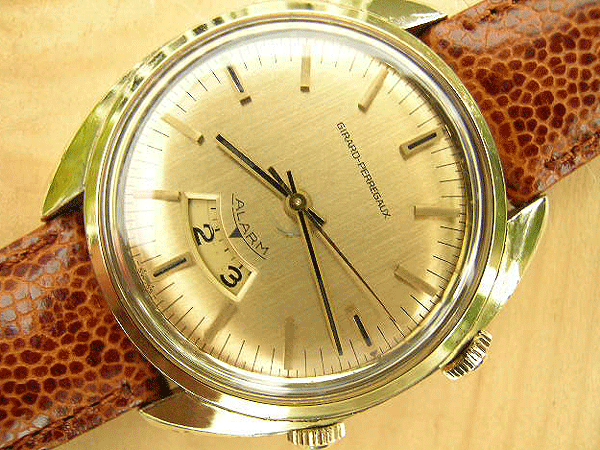 This 1966 gentleman's vintage Girard-Perregaux alarm watch is a fascinating piece that will interest many of the serious collectors out there, but at the same time, it also boasts a complication that is very usable in a real world sense. Most of us love the appearance of complicated watches, but the harsh reality is that when we acquire models with additional functions, these usually prove to be of no practical value and are quickly forgotten. Probably no better example of this exists that the chronograph. Initially we might operate the pushers a dozen times in our first forty-eight hours of ownership, but after this, in our experience, we simply wear such watches as timekeepers and fail to utilise the chronograph feature altogether, despite having probably paid a high price premium to secure a watch with it at the time of purchase. All of us have found ourselves staying in hotels having forgotten to pack an alarm clock. In such situations, this piece would be a Godsend, and we will guarantee that at some stage, any owner of an alarm watch will use it for its intended purpose.
The alarm wristwatch appeared on a serious commercial scale in the 1950s with the launch of the Jaeger LeCoultre Memovox in 1951. There had been other wristwatches with this feature as far back as the 1920s, but they failed to penetrate the market in a serious sense and today, it is the Memovox that most collectors regard as the pioneer in this field.
The Memovox was a resounding success and it was inevitable that Jaeger LeCoultre's competitors rushed to release their own alarm models. Girard-Perregaux was unquestionably one of the most prestigious horological houses at this time and fought directly against Jaeger LeCoultre for market share. The company brought out its first alarm wristwatch in 1954, three years after the Jaeger LeCoultre debut, but garnered critical acclaim on account of its exceptionally high quality and ergonomic design.
The condition of this watch is good throughout, though it would be a large exaggeration to describe it as being nearly mint. Looking it at closely now, we would suggest that it has been worn on a regular basis, but by a careful owner who may well have bought it when new.
The large case is in a typically 1960s style and is gold filled, suggesting that it was sold originally in the USA. Unlike gold plating, which involves a thin layer of gold being applied via immersion in an electroplating bath, gold filling is achieved by mechanically bonding a thick sheet of gold to a base metal backing. Gold plating is associated with economy of production, whereas gold filled cases, while clearly less expensive than those in solid gold, do contain a high gold content and were never particularly cheap.
Quite correctly, the case back is in stainless steel and decorated internally with an engine turned pearled pattern. "Girard-Perregaux 1791, Swiss" is signed here, together with the firm's eagle motif. Also present is the wording "Fond Acier Inoxydable", this being the French term for stainless steel. Externally, the phrase "Stainless Steel Back" appears in the case back's centre section.
The dial here is completely original and in very good condition. It has not been restored and is certainly of a grade that could be sensibly bought for investment. There is some very slight deterioration in places, but to find a better original dial on this unusual model would be exceedingly difficult. "Girard-Perregaux" is stated in black above the dial centre point, with "Swiss" below the six o'clock marker. All this wording, and the minute track running around the edge of the dial, is in perfect condition and is instantly legible.
The alarm time was indicated on Jaeger Le Coultre's Memovox by means of a rotating central disk onto which an arrow had been printed. This disk formed the centre of a two piece dial and was turned via the upper winding crown. Girard-Perregaux opted for a neater method and instead had a rotating disk onto which the hours were printed located behind a one piece dial. The dial has a cut out in it, similar in appearance to that typically seen on power reserve indicator models, and, again, the upper winding crown allows the alarm time to be set.
All three hands are totally original, as are the two winding crowns. When buying the more obscure vintage wristwatch models, of which this is certainly one, it is vital to ensure that all their component parts are correct and unchanged. So many older timepieces have been modified to some extent over the years and finding the correct spare parts to put a watch back to factory standard specification can be both time consuming and very expensive. This watch is just as it should be both internally and externally, and thought it isn't cheap, will require nothing more in the future than routine servicing.
The most interesting part of any mechanical alarm watch will always be its movement. To create the unit in this model, calibre 111-285, Girard-Perregaux worked closely with Adolph Schild. Founded in 1896, the Schild concern of Grenchen was one of the most important producers of unfinished, raw movements during the golden age of the mechanical wristwatch. Experienced collectors will recognise its name in the context of the company supplying Rolex with its movements in the 1930s, but in fact, at one point or other, it also had connections with the majority of the top tier brands.
While signed on the bridge as "Girard-Perregaux", the 111-285 was based on Schild's calibre 1475 and is identifiable as the Girard-Perregaux version only because of the high standard of its finishing. Released in 1954, this mechanism had seventeen jewels and a steady running speed of 18000 half beats per hour. A forty hour power reserve was useful and, in common with its Jaeger Le Coultre equivalent, the 111-285 had two barrels. The first of these powered the clockwork ( the time keeping aspect of the movement) and was wound via the bottom winding crown, while the second provided the power for the alarm function and was wound via the upper crown. The additional expense of creating a two barrelled movement was high, but it enabled a far more accurate item to be offered to the public. Earlier alarm wristwatches had employed a single barrel, but trials had shown that the sudden extra surge of power needed when the alarm sounded caused the balance wheel oscillation rate to drop and the watch to run slowly. By separating the power sources for clockwork and alarm, the former was unaffected when the latter function used.
Incidentally, the approximate age of a 111-285 can be judged by careful examination of its features. On the first models, after the alarm was set, the upper crown was pushed back in to its down position, next to the case side. When the alarm sounded, the drowsy sleeper reached for his watch and pulled out the upper crown to silence the noise. This was regarded as too complicated and post-1960, a revision was made by which the upper crown was left out after setting, and pushing it in would stop the alarm. Similarly, early units were fitted with spring balances whereas later versions, like this one, came with the luxury of Incabloc shock protection.
Production of the 111-285 ended in 1970, but its influence lived on after this date. The Japanese watch brand Citizen used the Girard-Perregaux and Schild classic as the blueprint for its own alarm calibre, have the cheek to even allocate it the same 1475 reference number. The Russian brand Poljot followed suit and examination of its calibre 2612.1 movement will reveal it to be a clone, albeit a very crudely finished one, of the mechanism here.
A final point of general interest regarding the base calibre of this movement is that it was one of the only wristwatch alarm mechanisms to be capable of achieving a chronometer rating. This particular example wasn't sent for chronometer testing but others were, and it is very telling of the 1475's quality and design that it could obtain pass results in observatory trials of this kind.
The condition of this particular movement is quite superb. We would be justified in going further and describing it as virtually as new. The rhodium finish to the plates is bright and not rubbed in the slightest. Regardless of the amount one was prepared to pay for a Girard-Perregaux alarm watch, we would strongly doubt if an example with a better-preserved movement could be found.
It hardly needs to be said that this movement works perfectly. The watch winds up very smoothly and its alarm rings out loudly for a full ten seconds, exactly as it did in 1966. Given the extra number of moving components in an alarm movement and the relatively large amount of kinetic force involved to produce the alarm sound, it is especially important that routine servicing is performed in accordance with the manufacturer's originally intended schedule. There is no reason why an alarm model shouldn't enjoy the same prolonged longevity as its time-only counterpart, but in order to achieve this potential it must not be starved of lubrication and allowed to run for years on end without maintenance.
Gisbert Brunner's book "Wristwatches" includes a photograph of a very similar Girard-Perregaux alarm watch to this one on page 175. This has a gold filled case and exactly the same dial as the piece for sale here. The movement is stated as being a Schild derived unit.
The recently released title "Alarm Wristwatches" by Michael Horlbeck goes into quite a bit of depth regarding the calibre 1475 movement in this model. Its development is discussed in detail and the comment made on page 88 that "the 1475 was so good that it was used in alarm wristwatches by such renowned makers as Girard-Perregaux".
We have fitted this watch with a high quality crocodile skin strap and having never been worn, this remains in perfect condition. It is not a genuine Girard-Perregaux strap, but it is very similar to the one that would have been supplied with this model when new.
This is a very collectible watch that will appeal to many potential buyers. When we think of alarm wristwatches, most of us automatically conjure up a mental picture of the Jaeger LeCoultre Memovox. Certainly, the Memoxox is deservedly an icon, but given a straight choice between the two, we might be tempted to opt for this Girard-Perregaux model. It's certainly a rarer watch and in the last twenty years, we have probably only seen perhaps three or four of these in total, as opposed to maybe a hundred or more of the various Memovox versions. From an investor's perspective, this is a strong choice. In an ideal world, we would prefer an example that was slightly less worn condition, but in the vintage watch world, as with any field of antiques, what is purchased is dictated by what is available in the market at any given point.
The price of this watch is £645 GB pounds. If it was a new old stock, unused example, the asking price would be around £1700, so the slight degree of wear to its dial and case have certainly been more than taken into account. This is an ideal vintage timepiece for somebody who wants to own a quirky model by one of the most respected Swiss houses, but doesn't want to spend a fortune to do so. At this level, the watch will always appreciate in value. Ten years from now, it will be worth considerably more than it is today, especially if the current level of interest in alarm watches continues at the present rate.
Price £645 GB Pounds
Vintage Watch Brands
Vintage Watch Decades
Vintage Ladies Watches
Vintage Watch Bracelets
Swipwreek Straps
Travel Clock/ Pocket Watches
Home
About
Brand Overviews
By Decade
Reference
Contact Details
Telephone from the UK:
07453 734666
or 07428 051005
Telephone from overseas:
+44 7453 734666
or +44 7428 051005