Girard-Perregaux 1965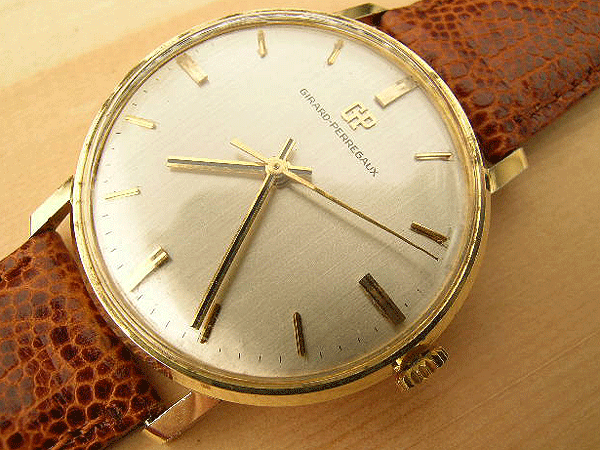 This watch offers the opportunity to acquire a virtually new old stock item by a celebrated maker that has probably been worn on no more than half a dozen occasions. Girard-Perregaux was always among the elite Swiss houses and its output was exceedingly expensive when new. Founded in 1791, Girard-Perregaux has maintained consistently high standards of quality ever since and, much to the credit of successive managements, there has never been a weak era of Girard-Perregaux production. Queen Victoria favoured the firm's work and in Ian Fleming's 1957 James Bond novel From Russia With Love, it is said on the very first page that a Girard-Perregaux watch is one the staple membership badges of "the rich man's club".
We have not offered a better-preserved vintage Girard-Perregaux for sale from the classic post-war period than the 1965 gentleman's watch here. If we look very closely at its large case through a jeweller's eyeglass, there are the tiniest few imperfections here and there, but these must be expected on any vintage watch that has not remained wrapped in tissue paper in a safe all its life. Even when viewed from a distance of two or three centimetres, this case is faultless and in an immaculate state, giving rise to our earlier suggestion that this item has only ever been worn on the fewest of dress occasions.
While the case body is thickly gold plated, the case back is in stainless steel. This combination was a common one used by almost all of the major manufacturers. The case back exterior is stamped with the wording "Fond Acier Inoxydable" ( the French term for stainless steel), together with the serial number "575307". Interestingly, while it can be said with absolute certainty that case and movement here are original to each other, the case is unsigned. Girard-Perregaux has a superb set of archived records at its La Chaux de Fonds headquarters and if supplied with case and model numbers will produce, for a small fee, an extract that confirms that this combination is quite correct.
The dial is completely original and as near to being perfect as could ever be found. Its silvered surface is free from discolouration and has clearly been kept well away from bright sunlight, damp and dust. It must be stressed emphatically that this is not a restored, refinished dial, but one that is totally untouched and virgin. Restored dials will often return a watch to superficially mint condition, but are regarded as highly undesirable by collectors because they have no rarity factor and take away enormously from a piece's originality. A dial can be restored at will, but only years of careful treatment will result in an original dial being in anything remotely approaching the condition of the one here. The dial on this piece realistically almost doubles the value of the watch as it would have been with either a restored dial or an original in a deteriorated state.
"Girard-Perregaux" is stated in black above the dial centre point. The hour batons are in gilt and match the applied "GP" emblem perfectly. Batons, logo and hands are all in superb condition and free from deterioration.
Girard-Perregaux watches contain some of the finest mechanical movements that have ever been produced, and this one is a delight for the aficionado. This unit is the company's calibre 30, a manually wound unit with seventeen jewels and Incabloc shock protection. It runs at a fast 21600 half beats per hour, and this rapid beat rate is certainly a factor in it being extremely accurate. Interestingly, calibre 30 was built around an ebauche ( this is the term used to describe a movement in its most basic form, without gears, pinions or any form of finishing) manufactured by A. Schild of Grenchen. Founded in 1896, Schild was one of the greatest movement producers of the vintage period and at one time or another, almost all the major Swiss houses used its ebauches as the building blocks for their own mechanisms. IWC, Ulysse Nardin and Rolex all purchased ebauches from Schild, and there are very few manufacturers that had such a reputation for excellence as this concern. It is worth noting that the ebauche on which this movement was based, Schild calibre 1687, was also supplied to Eberhard and appeared in its watches of the mid-1960s.
While Girard-Perregaux purchased this movement in a raw state from Schild, it then proceeded to entirely re-process it in-house to its own exacting standard. Nothing about the finishing of this item has been dictated by production cost and the quality here is second to none. All the screw heads have been polished individually by hand to a mirror finish, while the edges of the bridges have been bevelled, again by hand, rather than left as plain right angles. These small aspects, which may seem inconsequential to the uninformed, in fact all aggregate to make the difference between a movement that is simply of a good general standard and one that is genuinely exceptional.
The bridge is signed "Girard-Perregaux, Seventeen Jewels, Swiss" together with the serial number 336564, which dates the piece to late 1965. Having been serviced regularly, this movement works perfectly and is in a state that can only be described as virtually mint. In fact, we can go further and suggest that if we didn't know that this was a vintage movement, we would have automatically assumed from its condition that it was a brand new item. Perhaps not surprisingly then, everything here is totally original. There are no changed parts and, unlike many movements of this age which are currently in circulation, this mechanism remains totally standard throughout.
We have fitted with piece with an ostrich skin type strap that is perfectly suited to it. Whilst not a genuine Girard-Perregaux strap, it is virtually identical in both appearance and construction to that which would have been supplied with this model new in 1965. Having never been worn, this strap is in mint condition.
The price of this watch is £425 GB pounds, which, for a near mint, totally original piece by one of the most respected makers in the world, isn't at all unreasonable. If we pause for a moment to actually evaluate this item and think of just how much quality is being bought for a tiny amount of money, the value for money that it offers will become very apparent. If we walked into a high street jeweller's shop anywhere in the UK with a straight five hundred pounds to spend on a brand new wristwatch, we would be offered a selection of mostly battery powered models by brands with little or no credibility whatsoever in the world of serious horology. This sum wouldn't buy even the most basic watch by any of the top tier Swiss houses. But by opting instead for a nearly mint vintage watch, we could own an example by a highly respected house, with a movement of such high quality that we would have to pay several thousand pounds to find its equivalent in a current model. Better still, having already obtained collectible status, provided it is treated with care and kept in its present superb condition, it will only ever appreciate in value, whereas its modern counterpart will plummet in worth from the moment it first leaves its place of sale. This is a beautifully preserved, completely original watch that offers some of the best value that is to be found anywhere on this website and could be enjoyed on the wrist on a regular basis, while remaining a very solid investment and an appreciating asset.
Price £425 GB Pounds
Vintage Watch Brands
Vintage Watch Decades
Vintage Ladies Watches
Vintage Watch Bracelets
Swipwreek Straps
Travel Clock/ Pocket Watches
Home
About
Brand Overviews
By Decade
Reference
Contact Details
Telephone from the UK:
07453 734666
or 07428 051005
Telephone from overseas:
+44 7453 734666
or +44 7428 051005