Girard-Perregaux 14k gold art deco rectangular 1938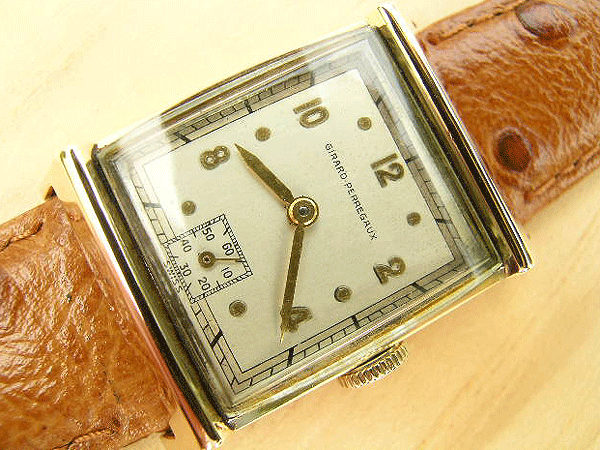 This exceptional gentleman's rectangular Girard-Perregaux in solid 14 karat gold from 1938 in almost "as new", virtually unused condition is a glorious example of the pre-war output of one of the very finest quality of all vintage Swiss wristwatch makers. Collectors and knowledgeable enthusiasts will argue endlessly as to which of these top tier makers actually produced the superior watches of their day, often citing the tiniest aspects of movement finishing to add weight to their opinion, but nobody would every dream of suggesting that Girard-Perregaux were not among this elite, and its older watches are sought after worldwide today. As is sadly the case with vintage watches from any of the prestige houses, really premium condition examples by Girard-Perregaux, completely original and in almost perfect condition, are almost impossible to locate now, simply because the surviving items at this level are nearly all part of serious private collections from where they are unlikely to be relinquished in the foreseeable future. The greatest challenge to the new collector of fine vintage wristwatches today is simply finding items that are actually worth purchasing in an environment where authentic unmolested pieces have effectively disappeared from the market place and the remainder are largely cosmetically enhanced, second rate examples that should never be considered for investment purposes and would have been almost unsaleable even a decade ago.
We are often asked the question "Is it too late to start collecting ?" and have to answer that while it is still possible to purchase high grade elderly watches today, the effort required to actually source such items is far greater than in previous years, and perhaps more alarmingly, the knowledge required to eliminate those pieces that are not authentic is increasingly detailed. As the pool of vintage watches dries up and consequently prices continue to rise at an ever-steepening rate, there is an increasing temptation for unscrupulous dealers to release onto the market items that are not necessarily outright fakes in the traditional sense of the term, but are "enhanced" pieces, often resulting from the marriage of cases, dials and movements that did not start life together, but have been assembled to effect a boom-time sale to a novice collector. As regular visitors to this website know, we go to great lengths to dissect each item that we have for sale not only to clarify that these watches are entirely original, but also to hopefully rapidly educate less experienced enthusiasts as to what to look for when considering a potential purchase. There is nothing more soul destroying than acquiring a watch that is believed to be a premium example of its type to only discover at a later date that for any number of reasons, this is not the case. Over the thirty years that we have dealt in high grade vintage watches, we have attempted to absorb as much pertinent information as possible, much of it from very obscure period horological publications and old factory bulletins, and it is with the aim of passing on this data in a condensed form to a new generation of collectors that we go into such detail in our descriptions here.
We have included a history of the Girard-Perregaux company on the relevant brand category sections of this site and it therefore seems a little superfluous to repeat it again here. Suffice it to say that the company is one of the oldest and most respected of all the Swiss houses, first setting up in business in 1791. The origins of the wristwatch are to some extent clouded in mystery, there being references to ladies' wrist worn time keeping devices as far back as the early 19th century, but it is unquestionably the case that Girard-Perregaux produced the first series run of wristwatches in 1880 after these were commissioned at the Berlin horological trade show in 1879 by Kaiser Wilhelm II in person for use by officers in the German navy. Since this time, the company's products have always been at the vanguard of the fine wristwatch genre, in many ways the brand remaining commercially smaller than it might have been had it not refused to lower standards in order to fulfil the demands of a large eager buying public. Even today, Girard-Perregaux is very much a connoisseur's choice of wristwatch and its watches are sold to buyers that appreciate the superb mechanics inside them and purchase on the basis of the integrity of this company as a true manufacture, a point that will be discussed in a moment in the context of the beautiful movement in this particular piece. We would also recommend a browse through the excellent official Girard-Perregaux website at http://www.girard-perregaux.ch , which includes a considerable amount of company history.
This particular watch is one of the finest 1930s Girard-Perregaux pieces that we have seen for a long time, and is the perfect example of the art deco style that so typified the work of the major Swiss houses in the later inter-war years. The fabulous short deco lugs are highly attractive and were very much a fashion at this time. The 1930s were a prosperous decade in which the wristwatch designers employed by the top tier makers indulged themselves with a myriad of opulent case shapes and styles, but a connecting thread between these was very much the use of prominent lugs as a major feature of the case. On the very early wristwatches from the World War I era, lugs were perceived very much as being an afterthought , usually created from wire and soldered to a circular case that took its inspiration from the pocket watches of the preceding Edwardian era. In the 1920s, the wristwatch developed its own emerging identity, with some of the most elegant designs of all time being created during this decade but still, lugs were very much secondary to glorious engine turned dials and flared tonneau shaped cases. But in the 1930s, all the top tier power house manufacturers, of which Girard-Perregaux was obviously one, were exaggerating their lugs to great effect. In three decades, lugs had gone from being an evil necessity required to connect the strap to the watch case, to an overriding aesthetic feature that was integral to the overall style of the case and often added a great flamboyance to the final look of the product. Stepped, turtle, teardrop and horn lugs all proliferated during this decade, and this piece would be perfect for anyone looking for a very beautiful example to represent the heady pre-World War II era of art deco in a chronologically based collection charting the early development of the wristwatch.
The very heavy solid 14 karat gold case on this watch is in almost mint condition, with only the very lightest of almost invisible imperfections that one would expert to find on any carefully cared for watch of this age. On a very elaborate case like this one, there is often a tendency for the detailing, to become worn with use, losing its crisp definition, but on this item, the case is unworn and has obviously only ever been subject to occasional use. The case back interior is wonderfully finished with an engine turned pearled pattern and correctly signed as "GP" ( Girard-Perregaux ), together with the case reference number 936944 and the wording "14 Karat Gold".Both the use of 14 karat gold and the presence of the Wadsworth reference inform us that originally, this watch was sold in the USA. In order to avoid punitive rates of import duty on gold and silver, Girard-Perregaux, like almost all of the major Swiss houses, shipped uncased movements only to the USA, and had these then housed in extremely high grade cases that were domestically manufactured, these obviously not being subject to import duty.
The Wadsworth company of Illinois was often chosen to supply cases to the important Swiss brands not least because its quality was out of the very top drawer. Indeed, from 1932 onwards, when Girard-Perregaux set up its own distribution company in New York specifically to oversee this process, Wadsworth cases were almost exclusively present on American market pieces by this legendary house. In view of the fastidious nature of our interest in vintage wristwatches, we hardly need to point out that this case is absolutely original to the movement contained within it. It should also be mentioned that this is a wonderfully elongated item, with a glorious total length of 33mm and a width of just over 26mm, and is immediately eye catching on the wearer's wrist.
The beautiful French two tone, fully signed, dial is in almost mint condition, and is absolutely original in every respect. Again, so typical of this era, the dial is very understated and clean looking, simple art deco Arabic numerals and a double minute track complimenting the elaborate case perfectly to produce a breathtaking overall effect. The dial originality and condition of this piece are very significant, as indeed they are on any rare watch of this value. It is universally agreed among serious collectors that the dial accounts for typically 40% of a watch's value and in order to be a suitable investment piece, a watch must have its original dial without any discolouration. This example is as excellent as one could ever wish to find, particularly on a rectangular watch, the poor sealing of these watches always being prone to the ingress of dust and moisture far more than that of a circular waterproofed model with a threaded case back.
In any vintage Girard-Perregaux watch, the movement will always be of the very finest quality and finish, this always causing considerable excitement to the knowledgeable enthusiast examining it for the first time. One of the most important points that must be understood about this house is that it was a true "manufacture", this term being the one given to those companies that were ( and are) capable of producing their movements entirely in-house without importing any out sourced components from external suppliers. Surprisingly perhaps to most new collectors, there have only ever been a small handful of such firms and, quite deservedly, their products have enormous credibility today. In some ways, we disagree with this growing trend of "manufacture elitism" among vintage watch enthusiasts, simply because it seems illogical that a movement is of any lesser grade only because it was not entirely produced from scratch by the brand stated on the dial. If a movement is well finished and processed by a particular factory, which often additionally includes its own ingenious "twists" to its operation while doing so, we can see no reason to mark down this item simply because the ebauches, or raw movement blanks from which it was built were produced by another concern. Often by the time these outsourced movement blanks have been reworked, they bear little or no resemblance to the eventual finished movement used in the final product anyway, but we do understand why some enthusiasts prefer to collect only pieces by manufactures like Girard-Perregaux on the basis that these watches have more innate integrity that those of many brands from the same era , even if we don't entirely concur with their reasons for this preference. There is no doubt whatsoever that, having complete autonomous control over every aspect of the manufacturing process from design to finishing, Girard-Perregaux certainly produced movements that were exceptional in every respect, and among the very highest grade of their time, hence the firm's coveted position in the vintage horological world today.
This is a fully signed movement, signed "Girard-Perregaux & Co, Swiss" on the perfectly polished bridge plate. This is a fully adjusted movement with 17 jewels, checked for accuracy while in several angles of elevation and regulated to keep excellent time in extremes of temperature. Everything about these vintage Girard-Perregaux movements simply screams of quality and attention to detail, with every surface having been hand finished and edges carefully bevelled, again by hand. Even the jewels are held in their own individual screwed brass housings rather than being simply press fitted into place, this being something that one hardly ever encounters, even on movements at this high level of the market. A significant reason for the explosion in appreciation of high-grade vintage wristwatches over the last twenty years is the realisation that this type of quality is simply no longer available today, at any price. These watches were still built in an era when there was no computer controlled machinery and were essentially created with a large amount of hand input from traditional master watch makers.
There is absolutely no reason why, with careful servicing every three or four years, a watch of this exceptional build quality will not be in perfect running order a century or more from now, as any number of high quality 18th century pocket watches are today, and this aspect of vintage wristwatches, this permanent nature if you like, is one that many buyers find particularly wholesome. If an exquisite piece like this one is bought and looked after, it can be enjoyed by several generations in the future while at the same time being a valuable appreciating asset. Vintage watches at this level are obviously costly today, but when compared to their brand new equivalents, produced to a much lower standard and with a horrendous initial depreciation factor, these items still represent superb value and in the current bull market for elderly watches, are appreciating at a rate that far outperforms traditional investment options.
Having been serviced regularly since new regardless of expense, this movement works perfectly and is in superb, gleaming condition throughout. Most importantly, it has no changed parts whatsoever and is absolutely standard down to the very last detail. In this desirability bracket, watches like this one will be largely bought by experienced collectors, to whom complete originality will be paramount. Any watch of this type bought as an investment must be correct in every aspect in order for it to appreciate to its fullest amount in the future. At a lower level, where vintage watches are bought largely as attractive items to be regularly used, such considerations are not so important, but this is a serious collector's piece and its excellent condition and authenticity make it the perfect example to be bought for long term financial gain.
We have fitted the watch with a very high quality crocodile skin type strap that is perfectly in keeping with the upmarket vintage flavour of the piece. This is not a Girard-Perregaux item, but is in mint condition and is almost identical in appearance and quality to the strap that would have been supplied with the watch when new.
Overall, this is a sumptuous and extremely rare example of late art deco 1930s production by one of the most sought after of all the great Swiss houses. Finding Girard-Perregaux pieces with rectangular case styles from the inter-war years is not easy, particularly in the almost mint, totally original condition of this particular watch. The combination of such an attractive and unusual solid 14 karat gold case and two tone dial, the prestige of the Girard-Perregaux name and the condition of this watch will obviously make it a very exciting potential purchase to both serious collectors and those looking for an investment opportunity. Valuing the piece is difficult, not least because so few really exceptional Girard-Perregaux items are ever offered for sale, the majority being re-cased, tired examples that are not considered by the knowledgeable buyer. We deliberately try to remain competitive with Christie's, Sotheby's and Bonhams and after some research into their sales of the last three years, having priced this piece at £1075 GB pounds, which is certainly less than it would sell for in a suitable thematic sale devoted to classic Girard-Perregaux output. It is a very fine, very attractive piece that will be very difficult to replace in our stock once sold.
Price £1075 GB Pounds
Vintage Watch Brands
Vintage Watch Decades
Vintage Ladies Watches
Vintage Watch Bracelets
Swipwreek Straps
Travel Clock/ Pocket Watches
Home
About
Brand Overviews
By Decade
Reference
Contact Details
Telephone from the UK:
07453 734666
or 07428 051005
Telephone from overseas:
+44 7453 734666
or +44 7428 051005