Rolex Jubilee bracelet steel and gold, short length, 1968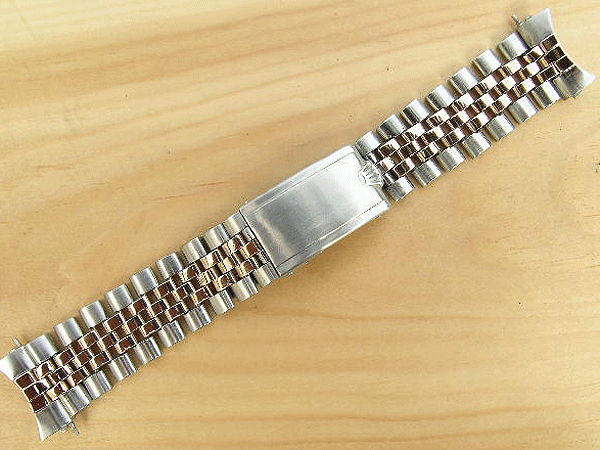 From 1968, this is an unusual gentleman's vintage Rolex Jubilee bracelet for sale in a combination of steel and 18 karat gold.
The Rolex Jubilee bracelet was introduced in 1945, just months after the end of World War II, its name marking forty years since Wilsdorf & Davis, the company that became Rolex, was created.
A lot of the early Jubilee bracelets that are offered to us in mixed metal combinations are in pretty poor shape, showing a degree of wear that we find unacceptable. When used on a day in, day out basis for many years, the steel of the outer links tends to chew away at the soft gold central section of the bracelet. While not perfect, this one is very good and has clearly not seen a great deal of wear.
This is an English market bracelet that was manufactured in Switzerland, almost certainly by the Gay Freres concern, which was subcontracted to produce most European market Rolex bracelets during the vintage period, Rolex itself not having the facility to make bracelets in-house at that stage.
Everything about this bracelet is totally original and correct. Both flush fit end pieces are in near mint condition and the Rolex coronet emblem on the outside of the steel clasp isn't at all rubbed. The internal two clasp plates are signed "Rolex, Patented & Registered, Swiss Made, Steelinox".
Originally, this bracelet would have been supplied with a steel and gold Rolex Oyster. It would not have been sold in the first instance with either an all gold or all steel watch and it would be inappropriate for either today.
The width of this bracelet between the lugs is 19mm. If you carefully measure the gap between the lugs on your watch, you'll get a good idea as to whether this item will physically fit. As a guide, this bracelet is suitable for a full sized man's Rolex Oyster and not the smaller, mid-sized models.
As with all the vintage Rolex bracelets for sale on our site, if you require assistance as to which bracelet is correct for your year and model of watch, then please contact us, either by email or telephone. We are always happy to advise and understand that this can be a confusing area for many buyers.
We have priced this item very cheaply because of one negative aspect. The bracelet has been shortened to the extent that it will no longer fit most Western European wrist sizes. If you have very slim wrists or are of Asian origin, then this bracelet might be perfect for you. With the clasp closed, the total length of this item is 147 mm. If this bracelet does fit you, or you have a source of suitable extension links, then it is unquestionably something of a bargain. If it was of full length, we would ask perhaps £675 GB pounds for it, whereas in this shortened state, the price is £345.
Price £345 GB Pounds
Vintage Watch Brands
Vintage Watch Decades
Vintage Ladies Watches
Vintage Watch Bracelets
Swipwreek Straps
Travel Clock/ Pocket Watches
Home
About
Brand Overviews
By Decade
Reference
Contact Details
Telephone from the UK:
07453 734666
or 07428 051005
Telephone from overseas:
+44 7453 734666
or +44 7428 051005