Rolex Tudor with bombee lugs 1949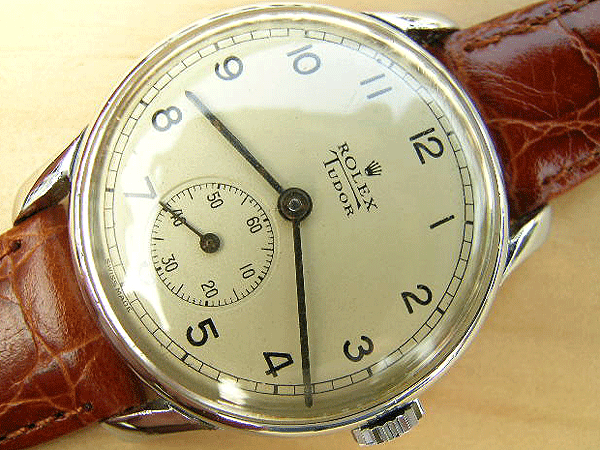 This gentleman's vintage Rolex Tudor from 1949 is a delightful item that typifies the elegance of high grade Swiss watch production in the years immediately following World War II. Despite its remarkable condition and perfect pedigree, this is not an expensive item and can be purchased for considerably less than many bland, mass market luxury watches currently offered in the high street.
The condition of this piece is almost as-new throughout. We should always remember that these watches are now over sixty years old, but in realistic rather than literal terms, we could honestly describe this item as virtually mint. Just like classic motor cars, the vast majority of vintage wristwatches, even by makers like Rolex, were bought in the first instance by people who intended to wear them regularly. As a business, we specialise in those examples that have hardly been worn and as a result, are now suited for serious investment. With every year that passes, replacing the watches we sell becomes more of a challenge and items in the superb state of the one here are seen less and less frequently by both collectors and dealers.
Looking at this watch casually, we would automatically assume that it had a steel case. In fact, this case is an unusual combination of steel case back and chromed brass body. Experienced collectors will be familiar with this type of case and associate it with the Mark X pilots' watches supplied to the British Government for military use by various makers in 1945. There have been various suggestions as to why brass was used as a case material, ranging from a shortage of steel during and just after the War, through to a desire to increase resistance to the effects of strong magnetic field. Whatever the reason, these chromed brass cases were very successful and extremely attractive, having a brighter, colder shine than their steel equivalents.
Case style has a large influence on commercial worth, with cases like this one, with stylised twisted lugs, carrying much higher price tags that similar models with plain lugs. This was one of the most attractive case variations offered by Rolex at the time and while we have owned several of this model over the last decade, it certainly isn't something we see with any regularity.
Internally, the snap on case back is decorated with pearled engine turning and correctly signed "Tudor, Geneva, Switzerland". "Stainless Steel Back" is also stated.
At the bottom of the case back interior is the stamped number 1181. This enabled Rolex to quickly match case fronts and backs together during the assembly process. If we look carefully, this same number appears on the rear of the case body. To the modern day collector, this is useful as it confirms that case body and back were originally paired together when new.
The smooth case back outer is stamped with the individual serial number of this watch, 635129. Rolex production for that year started and ended with the numbers 608000 and 673500 respectively, confirming that this item dates to 1949. Later models in the Tudor range would be allocated their own serial number sequence but at this early stage, the numbers used for the Tudor models conformed to the order used for mainstream Rolex Oysters.
The model reference 768 is also here. Rolex allocated a unique number to each specific combination of case and movement. This number did not define a dial format, hence it is that often the same model reference is found on watches with entirely different dial styles.
This dial is extremely attractive, combining a double minute track with large Arabic numerals. The signature "Rolex Tudor, Swiss Made" is printed above and below the dial centre point, together with the Rolex coronet emblem. Quite as it should be, the Tudor word is in its earliest form, with an extended top to its "T". This elaborate signature, with both the Rolex and Tudor names displayed with equal prominence, is not common and extremely attractive. Author James Dowling shows a similar dial in full colour on page 139 of his book "Rolex Wristwatches, The Best of Time".
The condition of this dial is extremely good. It isn't absolutely perfect and if we look closely enough with an eyeglass, there is the slightest amount of yellowing to the dial surface, not unlike the effect caused by sunlight on the pages of an antiquarian book.
Inside this watch is one of the most significant Rolex movements of the vintage era. The hand wound calibre 59 was used in various Rolex Oyster models, including the Raleigh, the Centregraph and the Lipton. Interestingly, despite having achieved all time classic status with serious collectors, this unit was not actually manufactured in-house by Rolex. In common with many of its competitors, Rolex wasn't strictly a movement maker, but instead purchased movements in raw, unfinished form from a number of trusted third party suppliers. Calibre 59 was produced by the Fabrique d'Horlogerie Fontainemelon, better known today as FHF. Founded in 1793, FHF was highly respected and along with the Aegler concern, manufactured almost all the movements used by Rolex during what we regard today as its golden period.
The condition of this particular movement is extremely good. Most importantly, it remains original throughout and has not been modified at any point. A lot of these early Rolex movements still run, but have been fitted with incorrect components to keep them going at a time, typically in the 1970s during the quartz crisis, when owners were understandably unwilling to spend large sums on mechanical watches that were worth very little. To find one like this, which has clearly been carefully looked after, is always a pleasure.
"Tudor" is stated on the winding wheel, with "17 Rubies, Swiss Made" on the bridge. Calibre 59 was offered in various finishes at various times. This version, with plain plates in rhodium, is exactly as called for on a 1949 Rolex model.
Previous owners have had the good sense to have this watch serviced, with the result that it works perfectly today. The quality of these 1940s Rolex mechanisms was so outstanding in the first instance that provided an example is sourced today in excellent condition and routinely cleaned every three or four years, it will survive almost forever. Unlike modern luxury watches, these vintage pieces were designed to last a lifetime and be items that could be passed on to the next generation.
We have fitted this watch with a high quality crocodile skin type strap. This is not a genuine Rolex strap, but is entirely appropriate for this piece. It is in mint condition, having never been worn.
This is a very good representative specimen of an early Rolex Tudor watch, manufactured only four years after the range was launched in 1945. It is immaculately preserved ,both cosmetically and mechanically, and ideal for investment purposes. As demand for vintage watches increases, it is inevitable that we'll see ever diminishing quantities of worthwhile early Tudors and prices will rise accordingly. It is difficult to think of anyone not being highly delighted with a piece of this kind and at the time of writing, this item, and others like it, represent some of the best value to be found in the classic wristwatch world.
Price £645 GB Pounds
Vintage Watch Brands
Vintage Watch Decades
Vintage Ladies Watches
Vintage Watch Bracelets
Swipwreek Straps
Travel Clock/ Pocket Watches
Home
About
Brand Overviews
By Decade
Reference
Contact Details
Telephone from the UK:
07453 734666
or 07428 051005
Telephone from overseas:
+44 7453 734666
or +44 7428 051005