Rolex Tudor Royal gold 1966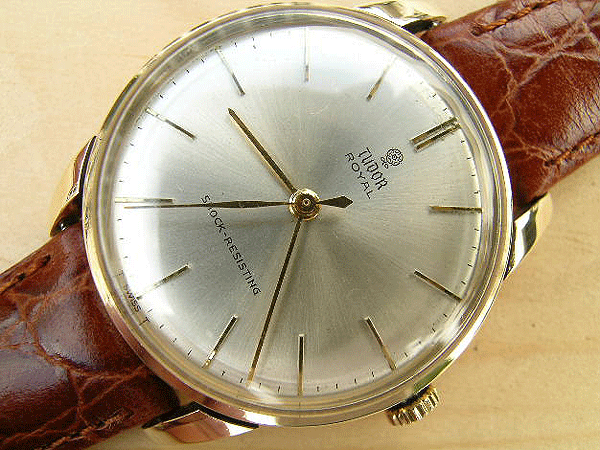 There is always a good selection of carefully vetted vintage Rolex Tudor watches for sale on this site, and this 1966 gentleman's example in gold is a near mint specimen that could be bought for regular use or as an investment. Over the last decade in particular, the Tudor models have really come to the forefront, with high prices being achieved for these at Bonhams, Christie's and Sotheby's. This increased desirability has led to greater pressure on the pool of available worthwhile vintage Tudor watches for sale and whereas even seven or eight years ago we were buying good, original Tudors without too much difficulty, now we're rejecting a lot more pieces than we're buying on the basis that they have aspects that are not correct.
The condition of the large sized gold case is literally almost perfect. As with any vintage watch that isn't literally unworn old stock, there are a few very tiny imperfections here and there, but in realistic terms, this case is as close to being mint as any of us is ever likely to see.
The case construction is unusual in that there is no removable case back. Instead, the case back is integral with the case sides as a single unit, onto which the bezel is press fitted. The movement is removed from the front of the watch rather than accessed from the rear as would be more commonly found. From a personal perspective, I think this arrangement is a very effective one. It eliminates the joint between case body and back which has always been vulnerable to the ingress of damp and dust. There is actually a precedent for this type of Rolex case going right back to the 1930s. In James Dowling's book "Rolex Wristwatches, The Best of Time", a cushion shaped gold model from 1937 is pictured on page 176 that employs exactly the same architecture as the case here.
Internally, the case back is covered with an engine turned pearled pattern. "Rolex" is signed in large upper case letters, together with the Rolex coronet emblem and the letters "R.W.C" ( Rolex Watch Company). Also here is the individual serial number 029474 and a full set of British hallmarks, these telling us that this case was assayed as solid 9 karat gold in Edinburgh 1966.
When studying vintage wristwatches for sale, the primary concern should be careful assessment of their dials. The dial is the yardstick by which experienced collectors will differentiate between several examples of the same model, with the difference in value between a watch with a near mint, virgin dial and one that has been restored, or is in deteriorated condition, being vast. Vintage watches with superb original dials will be worth roughly twice the amount needed to buy the same models with dials in a poor or refinished state. If you're buying with a view to investment, you should be concentrating on obtaining the very best dials that you can find within your budget.
This dial is very close to being perfect. Its French white surface is free from deterioration and isn't even starting to spot. There is no dust staining around its outer edges and it seems likely that, in order to have survived in this state, this watch must have been kept in a dark, dry environment, well away from the bleaching effects of bright sunlight. Most fundamentally of all, this is an original dial that has never been refinished and remains today exactly as it did when it left Rolex for the first time in 1966. This isn't the cheapest Rolex Tudor you'll find, but as with every field of antique collecting, you get what you pay for and it would be a challenge to find a cleaner, more unmolested dial than the one here.
"Tudor Royal" is stated above the dial centre point, with "Shock Resisting, Swiss Made" below it. All this wording is crisp and not at all corrupted.
All three hands are original to this watch, their gilt finish matching that of the batons in the hour positions. Even when examined very closely, the surfaces of these hands are in an almost mint state, with no oxidisation whatsoever. Finding original hands for vintage Rolex watches as spare part items is no easy task and I would, from my own bitter experiences over the years, recommend that it is better to pay a bit over the odds in the first instance and buy a watch that is totally correct, rather than take the initially cheaper option of buying something that has known non-original aspects and then trying to return it back to factory standard specification at some stage in the future.
For its Tudor range, Rolex purchased movements in their most basic form, completely without components or finishing, from several highly regarded third party suppliers and then refined these in-house to its own exacting standards. Buyers are often surprised by this and unaware of the fact that, strictly speaking, Rolex was never a manufacturer of its own movements during its golden period.
The movement in this watch was based around the bare bones of a calibre 2402 mechanism by ETA. Founded in 1856, ETA, based in Grenchen, was, and still is, one of the most respected of all Swiss movement makers. Today, ETA movements are still used as standard by Omega, IWC, Breitling and numerous other top level houses. What is interesting here is that Rolex modified the 2402 movements that arrived with them to the point that they were no longer recognisable as being ETA products. This movement is stamped with its calibre number beside its balance wheel, but if this hadn't have been there, I'm not sure that I would have been able to identify its origins. Rolex took these standard ETA units and literally re-built them from the ground up, re-engineering them to the point that they weren't really the same animal as they were when shipped out of ETA.
The 2402 is a classically designed manually wound movement. It was offered by ETA in both 17 and 21 jewelled format, with the latter of these being chosen by Rolex. It featured Incabloc shock protection, ran at a steady 18000 half beats per hour and had a very useful power reserve of 48 hours, this being the length of time that the watch will continue to run from fully wound to stopped if left untouched.
Consistent with the rest of the watch, this movement is almost in brand new condition. There is no tarnishing anywhere to the plates or wheels and the whole unit gleams brightly. Every screw head has been polished by hand to a mirror finish and these remain in a perfect state, without any of the chewing to their slots that is the tell tale sign of a movement that has fallen into the hands of incompetent repairers. It can be said with absolute certainty that every component part in this movement is original. Nothing has been changed at any time, which is, of course, exactly what we want to see from an investment point of view.
Having been serviced on a regular basis, this movement works perfectly and is in superb mechanical shape. If this watch is looked after sensibly and cleaned and oiled every three or four years without fail, it will continue to go on running almost forever. Unlike today's throwaway vintage timepieces, these classic Rolex watches were built to last a lifetime. It is quite reasonable to buy a watch like this one, even today as an almost fifty year old collectible, and wear it on a regular basis for the rest of one's life.
This watch has been fitted with a high quality crocodile skin type strap. This is not a genuine Rolex strap, but is virtually identical to those which are shown in vintage Rolex advertising of the period. Having never been worn, this strap remains in mint condition.
The price of this watch is £685 GB pounds. For a genuine vintage Rolex watch in gold that will never lose a penny in value if treated with care, this isn't expensive. We could stroll down the high street of any town in the UK and see brand new watches by very non-descript makers, in the flimsiest gold cases, for similar amounts. If these are purchased, their value falls like a lead weight from the moment they leave their point of sale. If you buy a vintage classic like the one here, by Rolex, Omega, Jaeger LeCoultre or any of the top tier Swiss brands, you are acquiring something that is built to a quality standard that has almost disappeared today, with one of the weightiest gold cases that have ever been offered. It is remarkable that there are still buyers out there for the mass produced gold watches sold new, when for the same amount, buyers could buy something genuinely exceptional by one of the most respected of all the famous horological brands.
Price £685 GB Pounds
Price £685 GB Pounds
Vintage Watch Brands
Vintage Watch Decades
Vintage Ladies Watches
Vintage Watch Bracelets
Swipwreek Straps
Travel Clock/ Pocket Watches
Home
About
Brand Overviews
By Decade
Reference
Contact Details
Telephone from the UK:
07453 734666
or 07428 051005
Telephone from overseas:
+44 7453 734666
or +44 7428 051005