Rolex Tudor gold automatic 1968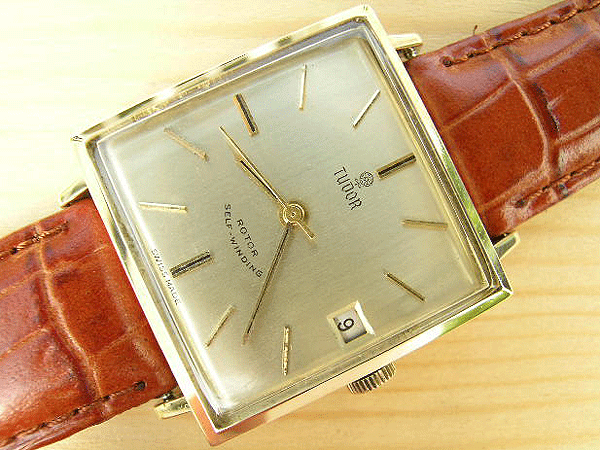 Dating from 1968, this beautifully preserved gentleman's Rolex Tudor gold automatic is an extremely unusual item that would be the perfect choice for the buyer looking to acquire a collectible classic watch that is also eminently practical and can be worn on a regular basis. As regular browsers of this website will already be aware, we often recommend vintage Rolex Tudor models as ideal purchases for investment purposes on the basis that are still undervalued against their contemporaries when we take into account their technical sophistication and impeccable pedigree. Introduced by Rolex in 1945 and still in production today, the Tudor range has included variations on almost every famous model by the Geneva house, giving a great deal of scope to collectors intent upon building up a selection of watches that represent the changing nature of Rolex through the second half of the 20th century.
In general terms, the Tudor range, in common with other Rolex offerings, can be divided into two basic categories, these being the Oyster and, for want of a better term, non-Oyster models. First launched by Rolex in 1926, the Oyster achieved widespread acclaim as a consequence of it being the world's first reliably waterproof wristwatch. The defining features of the Oyster were its single piece case body, threaded case back and screw down winding crown, these combining to create a unit that was hermetically sealed against the ingress of water. The other distinct category of vintage Rolex watches consists of those that did not have these same construction features and therefore tended to have a more flamboyant, slightly dressier appearance. Into this bracket fall the rare rectangular models from the 1930s, the hooded lug cushion styles of the 1940s and the coin edged examples from the 1950s. Both the Oysters and non-Oysters are highly collectible now, with the majority of serious collectors having representative samples of important landmarks within each category.
What makes this wonderful looking watch so interesting is that it combines an oversized rectangular gold case, very much in the elegant 1950s tradition, with a self-winding movement, something that we would always associate with the Oyster models. Though completely original throughout, this blend of a hardly ever seen rectangular non-Oyster case with an automatic movement is unusual in the extreme, and something that we have only encountered on two other occasions in almost three decades as very active dealers in vintage wristwatches. Items like this, that are subtly different from the standard output of the factory concerned from the same period, are exactly what the investment buyer should be looking for to capitalise to the maximum extent on the current boom in elderly wristwatch prices. A watch that stands out as unusual in some respect, even to a relatively minor extent with a rare case signature or unusual hands, will always attract more attention than its run of the mill equivalent and command an escalating price premium in the future if it is liquidated.
The condition of this watch is almost perfect throughout and, in real terms, it is effectively indistinguishable from a brand new item. If one wishes to be deliberately over-critical and pick fault artificially, then it might be suggested that there are the tiniest, almost invisible, imperfections to the case from careful handling, but in real terms, a better Rolex from this period would be almost impossible to find. Fashionable today, this is a large watch with a width of 35mm, making it probably best suited to those with substantial wrist sizes.
The press fit case back is beautifully decorated internally with a pearled, engine turned pattern and is fully signed " RW Co ( Rolex Watch Company), Tudor, Geneva-Switzerland". Also present are a full set of both British and Swiss hallmarks, the former indicating that this case was assayed as imported solid 9 karat gold in London 1968. In keeping with the superb standards that we would always expect of Rolex, this case is remarkably thick walled, this resulting in a watch that is very heavy compared to the majority of gold watches of the same size by lesser manufacturers. The individual case number 567989 is stated inside the case back, with the model reference number 12032 being on its outer surface.
Very interestingly, there is also the tiny coded signature of Blum, fils de Jules, a case making concern ,based at Serre 89, 2300 La Chaux-de-Fonds, to which Rolex regularly subcontracted the machining of complex precious metal housings. Due to the large relative volumes of these required, Rolex had manufactured their stainless steel cases in-house after purchasing the venerable Genex company, at one time one of their key independent suppliers. However, even up until the 1980s, Rolex did not manufacture their own gold cases and worked closely with a number of relatively small ateliers in their local vicinity. It is quite unusual to find a Blum, fils de Jules Rolex case, and the fact that very few of these non-Oyster selfwinding examples seem to have survived suggests that only a small number of this model were ever produced in the first instance.
The lightly silvered, French white dial is in almost pristine condition and is totally original and untouched. Notice how the signature "Tudor, Rotor Self Winding" is identical to that used on the automatic Tudor Oyster models, the only difference being the lack of the Oyster word after the Tudor name. An original dial in excellent condition accounts for at least 40% of the value in any well-preserved collectible watch, and we would strongly recommend that only those pieces with dials meeting this criteria are considered as investments. Experienced collectors have long been aware that the dial is the aspect of an elderly watch that ultimately decides its value when compared to others of the same type, but this point is often glossed over by sellers in the internet environment. Too many watches are purchased today by enthusiastic novice buyers with refinished or badly discoloured dials, often for very high prices that are out of proportion to their real worth and rarity. Finding genuinely well preserved vintage watches by the important houses has never been easy, and these command high prices when located, but we would always suggest that it is better to own a relatively small number of totally original, immaculate examples than a greater quantity of tired, renovated and generally second rate pieces that are sourced at lower price levels.
The gold hands and winding crown, that were fitted originally to this watch in 1968 are still present and in excellent condition. The milled edges of the crown are sharp and well defined, as is the Rolex coronet emblem. When buying a vintage Rolex Tudor, ensure that the emblem present on the dial and crown is correct for the period of watch.
We have already mentioned that the most compelling reason for the serious Rolex collector to purchase this piece is the unusual presence of an automatic movement in a non-Oyster case. The movement used here is Rolex's Calibre 2484 unit, introduced in 1967 and particularly interesting on account of its fast beat escapement, this oscillating at a lightning 28800 half beats per hour and enabling an extraordinarily high standard of accuracy to be achieved. It had long been appreciated that the faster the oscillation rate of a balance wheel, the more accurate a movement had the potential to be. However, it wasn't until the late 1960s, with the advent of new manufacturing technology and advancements in lubrication, that the horological industry started to crank up the running speed of its most exotic mechanisms. In every respect, the fast beat movements were a triumph, and consequently are now the standard in Rolex current production, but we would add the caveat that it is important to only buy a vintage example of one of these types in which the movement remains in gleaming, nearly mint condition, as corrosion and lubrication starvation on a fast beat mechanism can quickly lead to irreversible wear and associated problems. The example here is literally almost perfect and is totally original. It has been serviced thoroughly since new, by Rolex in Geneva until 1993, and since then every three years by an independent specialist in the UK. It works perfectly and is in the very best of mechanical health, winding, setting and running extremely smoothly and with excellent amplitude.
It hardly needs to be mentioned that this movement is fully signed, with "Tudor, 25 Rubies, Swiss Made, Auto-Prince" being stated around the rotor. There is no evidence whatsoever of any past repair work and we will happily guarantee that nothing more has ever been performed on this unit that routine cleaning and re-lubrication. Correctly serviced every three of four years, there is no reason whatsoever why a mechanical watch movement of this superlative quality should not be in full working order a century or more from now, and indeed, a major factor in the current renaissance of the vintage wristwatch is the realisation on the part of many buyers that bought sensibly, a cosseted piece by one of the top tier manufacturers can be regarded as a watch for life.
We have fitted this piece with a high quality crocodile skin type strap. This is not a genuine Rolex strap, the original having deteriorated too badly to be used, but is perfectly in keeping with the style of the watch and, having never been worn, remains in mint condition. For the perfectionist, the correct strap for this model is still available from Rolex, but is prohibitively expensive and to be brutally honest, not significantly better than the one on the watch at present.
In summary, this is an extremely attractive Rolex Tudor gold automatic in very unusual rectangular non-Oyster format. The quality of this watch, both in terms of its heavy weight outer housing and hand built movement, is almost beyond criticism and the general condition of the watch is as near to being unused as one could ever hope to find.
We have priced this watch at £945 GB pounds. If it was a standard hand wound Rolex Tudor from the same era, in the same heavy gold case, we would have sold it quickly for perhaps £875 GB pounds. With the added attraction of an automatic movement this is an unusual, and very attractive, item that will fit in with any Rolex collection that focusses on the post-war period. At this level, when we take into account the sophistication of its movement and the fact that this is a rare model, this piece is among the best value of any of our current vintage Rolex offerings. Over the last two years, we have seen Tudor items from this era shoot up dramatically in value and if this trend continues, which it almost certainly will, then the very best surviving examples from this much celebrated Rolex range, like the one here, will be worth considerably more even twelve months down the line than they are today.
Price £945 GB Pounds
Vintage Watch Brands
Vintage Watch Decades
Vintage Ladies Watches
Vintage Watch Bracelets
Swipwreek Straps
Travel Clock/ Pocket Watches
Home
About
Brand Overviews
By Decade
Reference
Contact Details
Telephone from the UK:
07453 734666
or 07428 051005
Telephone from overseas:
+44 7453 734666
or +44 7428 051005