Rolex Tudor gold 1964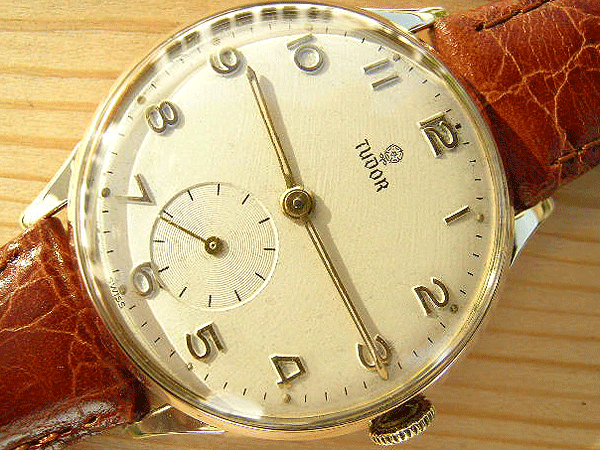 These classic early post-War Rolex Tudors have been a staple of our business for many years, though unfortunately we don't see anything like the numbers of them today that we did even five years ago. For buyers, they offer the opportunity to acquire a genuine, completely authentic vintage Rolex watch in a heavy solid gold case for a very reasonable amount of money. From our perspective as dealers they are very easy to sell with a minimum of effort and while we only make a small net profit on each watch, it is very unusual that one of these pieces remains in stock for more than a month.
We always view the Tudor range as the, ironically superb, younger sibling to the watches that formed, and continue to form, the bulk of the mainstream Rolex range. Rolex created Tudor in 1946 with the idea of offering a selection of watches that were produced to the renowned Rolex level of quality, but at a price that made them more affordable to a greater number of the population in a period when Britain was still gripped by austerity after the 1939-45 conflict.
Tudor was possible because Rolex mated cases that were the equivalents of those in its main range with movements that, though completely reworked at Rolex in Bienne, were based around ebauches ( the correct name for a movement in its raw, unprocessed state, without components of any kind) manufactured by external suppliers. The makers of these movements were highly credible and worked to standards that were unquestionably the equal of Rolex's own, but taking this approach meant that the overall cost to the company per watch was considerably lower than it otherwise would have been. The resulting watches were immensely successful and in more recent years have now ascended in the esteem of the collecting community to the extent that they have arguably become a source of some embarrassment to Rolex. The Tudor range in the 1950s and '60s was so well made that it prompts uncomfortable questions as to why the mainstream Rolex offerings were priced at so much more in the first instance.
The condition of this 1964 watch is so outstanding that we would have to ask whether it has been worn on more that just a few occasions in the past. The large gold case is almost indistinguishable from new, yet a close internal inspection reveals that it has never required repair work in the past. Looking at cases from the inside is a habit that is well worth acquiring when vetting vintage wristwatches. A skilled repairer can usually cover his tracks pretty well on the outside of a case, carefully polishing out any filled in any areas that sit proud of the surface. Much harder, and in fact almost impossible, is eradicating solder and solidified molten gold on the inner surfaces due to a lack of accessibility and the problem that would be encountered when trying to get a tiny buffing wheel into such a confined space. This case is faultless both inside and out, but it is surprising how many, especially bought in the fast paced world of the mass market online auction, are not.
This is a two piece case, meaning that the case back and body are combined as a single unit with no separate case back. The movement is held in place by a press fit bezel and is removed for servicing from the front of the case. This format has no drawbacks but has the great advantage that it eliminates the potentially vulnerable joint between back and body through which moisture and dust have gained entry on many once-fine older watches.
Unusually, the lugs on this model of Rolex Tudor are formed as continuous loops of metal, rather than having the facility to use spring bars. This arrangement pre-dates the invention of the spring bar but is hardly ever encountered on watches manufactured after World War II. The exception to this is military watches where fixed strap bars were used for the reason that they were considered as more secure and less likely to fail in demanding conditions.
Internally, this case has been decorated with an engine turned pearled pattern. It is so typical of Rolex production from this era, whether Tudor or from the mainstream range, that an aspect of a watch that would normally be hidden from view has been laboriously finished, by hand, to spectacular effect. There is no logical reason for engine turning case back interiors and this has been done for no other purpose than the pursuit of luxury. One of the most appealing aspects of classic Rolex watches is the attention to detail that went into their creation. There is so much more to items like this one than most of their owners even begin to realise.
"Rolex" is signed inside the case, together with the firm's famous coronet emblem. Beneath this are the letters "R.W.C" ( Rolex Watch Company) and the case number 22998.
Crisp and very well defined, there is a full set of British hallmarks present, these telling us that this case was assayed as solid 9 karat gold in Edinburgh 1964. While absolutely correct for this model, Edinburgh hallmarks on vintage Rolex watches from this period are not common. Almost every gold Rolex watch from the period between 1930 and 1970 was assayed in Glasgow and the marks of the other assay houses used from time to time, most notably Edinburgh and Chester, are found far less frequently.
Last but certainly not of least importance is the case maker's mark of the British Watch Case Company of Pentonville Road, London N1. Rolex was never a manufacturer of its own cases and instead purchased these from various specialist makers who would be commissioned to produce housings to Rolex blueprints. British Watch Case was one of the most highly regarded case makers in the 1950s and '60s, with a strong association with Rolex at this time. This is a UK made case, which had the advantage that it was not liable for the high duty that would have been charged on a Swiss made case imported into the UK during this era. Rolex almost exclusively used domestically made cases for the non-Oyster ( the Oyster was the company's range of waterproof models) gold models that it sold in the UK during this era. A final note about British Watch Case Rolex cases is to comment that we always found it rather odd that a letter "T" was used to represent this firm. On the face of it, this didn't seem to relate to anything obvious. Some time ago, we bought a period catalogue by the British Watch Case Company and noticed that its highest grade of cases, of which this certainly would have been one, were marketed under the Trebex heading. We can't be sure that this is so, but it seems likely that the T in this context, particularly as it only ever appears on British Watch Case Company housings of superb quality, stands for this range of products.
The winding crown is original and is signed with a large Rolex coronet emblem. This logo is sharp and not at all smoothed by wear. A lot can be learned about a manually wound watch by examining its winding crown under high magnification. Here, the milled edges of the crown are still very defined, which is consistent with a piece that has seen very little use and therefore been wound on a relatively small number of times.
None of us will ever find a better preserved original vintage Rolex dial from the 1960s than this one, simply because such a thing does not exist anywhere, at any price level. If we were teaching a group of newcomers about what to look for in a vintage wristwatch dial then we couldn't find a more illustrative example of the ideal than the dial here. In an ideal world, both dealers and collectors would only ever buy dials in the state of the one here but unfortunately, those that have survived in this untouched immaculate condition are few and far between.
Almost half the value of any vintage watch will relate directly to its dial. Watches with superb, undeteriorated dials that have never been restored will be worth approximately twice as much as those with discoloured, grubby dials or freshly refinished dials. An original, near mint dial from the 1960s is rather like a motor car from the same era with its authentic paint still in showroom condition. Very few dials have survived in this state, hence those that have are sought after and expensive.
Even when studied from a distance of a few millimetres with an eyeglass, this dial can hardly be distinguished from new old stock. Its French white surface is unblemished and there is no foxing at all. A perfectionist might argue that the overall dial colour had changed subtly, becoming a marginally creamier shade than it was when new, but is a subjective point that may or may not actually be so. In the real world, this dial is an exceptional specimen of its type.
"Tudor" is signed above the dial centre point, with "Swiss" stated around the bottom edge. The minute markers and this wording are all very clear and have not at all faded.
All three hands are original and correct. These are in gilt to match the Arabic applied dial numerals. It is remarkable just how many different dial versions were offered by Rolex at this time, to the extent that we can perhaps buy seven or eight of this model reference in a twelve month period and every one will have a different dial layout.
While completely original and in almost mint condition throughout, the origin of this movement is difficult to pinpoint. Rolex purchased ebauches for its Tudor range and so thoroughly re-worked these that in many instances, as here, they are modified from their basic format to the degree that they are no longer recognisable. The architecture of this unit suggests that it was the product of Peseux SA, a highly regarded elite movement manufacturer that began trading as Charles Bernese in 1923 before changing its name to Fabrique d'ebauches de Peseux, S.A. after it had been absorbed into the ETA group of companies in 1933. The achievements of Peseux were so high in the arena of accuracy competitions that, almost uniquely, the top brass at ETA allowed the firm to continue to operate independently as an autonomous offshoot of the parent organisation.
This is a gorgeous movement that is in every way worthy of the Rolex name. It is the equal of the Hunter calibre that was used as the flagship hand wound Rolex mechanism at the same time, which rather makes this watch seem like something of a bargain today.
"Tudor, 17 Rubies, Swiss Made" is signed on the bridge. The plates are finished in silver colour rhodium, consistent with the rest of the Rolex range and in stark contrast to the copper finish used on vintage Omega watches from this period. This movement shines like the proverbial new pin and there is no sign of even incipient tarnishing, let alone corrosion. The casual observer with no knowledge of Rolex movement types could be forgiven for assuming that this was a new movement that had left the factory only a few weeks ago.
Having been serviced on a regular basis since new, this watch works perfectly. Best of all, its movement remains completely original throughout. So many of these Rolex classic mechanisms from the 1950s and '60s have been adulterated with non-standard parts and it is a great pleasure when we stumble upon an example, like this one, that is exactly as it should be. Rolex movements from any era, either long past or present, will be inherently very reliable provided they are still in factory standard specification and in mechanically excellent order. There is sometimes a rather naïve belief on the past of the general public that a Rolex watch can be abused, starved or oil and modified with parts of indeterminate origin and still remain a dependable unit. This is simply not the case, and more than a Rolls-Royce car engine that has been bodged to accept pistons from a Ford Granada will be free from trouble. Always pay a little more in the first instance to buy a watch, like this one, that the vendor will guarantee is completely authentic and correct, and in the best possible state of preservation.
We have fitted this watch with a high quality crocodile skin type strap that is in mint condition having never been worn. This is not a genuine Rolex strap, but is perfectly in keeping with the period from which the piece originates and very similar in appearance to the straps shown in Rolex advertising from the 1960s.
The price of this watch is £875 GB pounds. We still sometimes see gold Rolex Tudors from this period in the windows of independent jewellers in the better market towns of Yorkshire with prices that are comparable with that of this piece. When closely examined, though usually pretty good, very few of these watches are entirely original and most have some aspect, usually the hands or winding crown, that has been replaced at some stage in the past. The watch here is faultless throughout and certainly well worth the amount needed to acquire it here. It is an immaculate, entirely original classic gold Rolex watch of a grade that is disappearing very noticeably from the marketplace and provided it is looked after correctly, will never lose value in the future.
Price £875 GB Pounds
Vintage Watch Brands
Vintage Watch Decades
Vintage Ladies Watches
Vintage Watch Bracelets
Swipwreek Straps
Travel Clock/ Pocket Watches
Home
About
Brand Overviews
By Decade
Reference
Contact Details
Telephone from the UK:
07453 734666
or 07428 051005
Telephone from overseas:
+44 7453 734666
or +44 7428 051005