Rolex tonneau with starburst dial 1937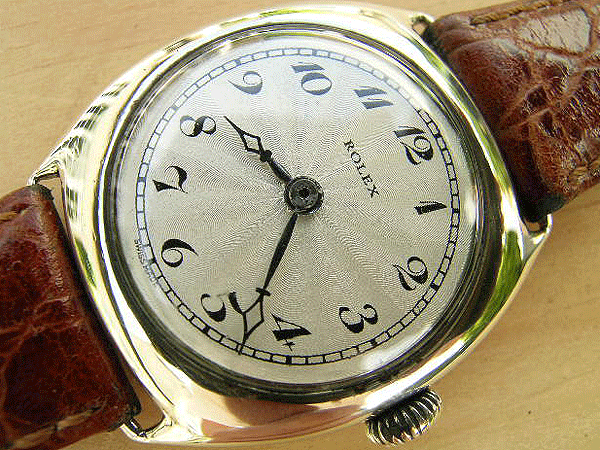 This remarkably fine 1937 gentleman's tonneau is one of the most visually appealing vintage Rolex watches for sale on our website at present. The piece is in superb condition throughout and most significantly of all, is entirely original. So many of the older pre-war Rolex watches in circulation today have been kept running with non-original parts and incorrect cases that have nothing whatsoever to do the movements contained within them, but this example is absolutely correct in every respect and, as such, represents almost the perfect classic Rolex for the investor.
In the 1930s Rolex was very much perceived, quite deservedly, as a design powerhouse, with many of its highly attractive case shapes now being universally acknowledged as being all time classics. This tonneau shape was used by Rolex as far back as the early 1920s, reaching a high point of popularity around 1930. In many ways, this case format was a natural progression from the circular pocket watch form in which most early wristwatches were produced. Though extremely attractive, the wire lugs with which most early circular wristwatches were produced, soldered onto the case body, were prone to fatigue and unquestionably, this particular tonneau format, where the case lugs are integral to the main body of the watch, was a far more practical and robust design. The case loses nothing in elegance by this evolution, in fact, just the opposite, as the wonderfully curved case sides flow freely and seamlessly into the strap bars rather than being a rather unnatural looking protrusion, seemingly added as an afterthought to the overall design concept.
This case is in almost perfect condition, with only the slightest of minor imperfections that must be expected on any vintage watch of this age. It is quite apparent that the piece has enjoyed a very easy life, with the result that it remains in a state that is now almost impossible to find among authentic vintage Rolex examples from this era.
The case is fully signed inside its snap on case back as "Rolex, 31 Victoires De Haute Precision, Geneve. Swiss". At this time, Rolex was constantly breaking accuracy records within the Swiss watch industry and used the successes at these various Observatory Contests to publicise its products. Fascinatingly, early Rolex watches can be roughly dated by the number of "World Records" or "Victoires De Haute Precision" that are inscribed within the case back. Most 1920s models state the company as having 16 or 18 such victories, with hallmarked Rolex cases from 1930 having 25 records mentioned. Rolex had added significantly to this tally by the mid-30s. There is a certainly irony that, having won all the major competitions by the mid-1940s, Rolex then proceeded not to make any reference to these achievements within its case backs.
The case back outer is stamped "Stainless Steel, R.W.C."( Rolex Watch Company) together with the Rolex model reference 3892 and the individual serial number 044511. These numbers are of full depth and not in the least bit smoothed by wear or polishing. As an aside, notice how these non-Oyster models do not conform to the serial number sequence used on their waterproof counterparts. If this was an Oyster, we could identify it as having been manufactured in 1932 when in reality, this being confirmed by the 31 accuracy records mentioned in its case back and the presence of a Superbalance equipped hunter, this piece left Rolex for the first time somewhere between early 1936 and mid-1937. When it is difficult to pinpoint an exact year of manufacture, our policy is to describe the piece as being of its most recent possible production year, hence the 1937 title above. In this instance, it is equally possible that this watch could have been created in the previous year.
The beautiful guilloche dial on this watch is one of the most visually attractive antique Rolex dials that we have ever seen and is in superb condition. It must be understood by potential buyers that this dial is absolutely original and has not been retouched or "restored" in any way. Such restoration enormously devalues any classic timepiece and indeed, it is often calculated that dial originality accounts for at least 40% of the value of any vintage Rolex watch. The dial is clearly signed "ROLEX" in large upper case letters, together with the company's coronet emblem. This dial surface is particularly dramatic, with a solid German silver dial decorated with engine turned milled lines, hand cut into the dial on a hand cranked rose engine by a very skilled craftsman. The effect of this dial texturing is to reflect light out from the dial centre point in widening "rays", hence the starburst term often used to describe the very evocative appearance of these beautifully crafted items. It is a matter of recorded fact that each guilloche dial took almost a full day to turn by hand and it should perhaps not surprise us that this type of dial was no longer seen on Rolex models in the post-war period.
This is a highly attractive dial format that always attracts a price premium among collectors. Rolex has always been famous for its attention to detail and we were particularly pleased that the watch retained its original blued steel fuseaux hands that perfectly match the colour of the printed double minute track and numerals. These small points are very significant when valuing older collectible watches. If the watch had been missing its original hands, the cost of replacing these would have been extremely high, if indeed a set could have been obtained at all, and the piece would have been reduced in value quite considerably as a result.
The movement in this watch is the famous hand wound Rolex Hunter item, first introduced in 1923 and, after a lengthy research and development program, fitted with the "Suberbalance" balance wheel in 1935 that we see here. Without going into too much technical detail that may bore the casual reader, it is worth inserting a quick note that the Superbalance was a patented invention by Rolex that recessed the balance timing screws into the edge of the balance wheel. The balance on these movements oscillates at a relatively slow ( by today's standards) 18000 half beats per hour, and it was calculated that the streamlining of this component would lead to increased efficiency and therefore greater accuracy. This development was a resounding success and even today, the balance wheels found in modern Rolex production owe much to the Superbalance of the inter-war years. The SuperBalance equipped Hunter is considered to be one of the classic landmark Rolex movements of the 1930s and indeed, it became so well known for its accuracy and reliability that within a matter of months, the three Rolex hand wound calibre grades ( Prima, Extra Prima and Ultra Prima) that initially ran along side it had been discontinued.
The watch is running perfectly having been regularly serviced throughout its life. Every aspect of it, both internal and external, is entirely original and it has no changed parts whatsoever.
The piece has been fitted with high grade crocodile skin type strap. This is not the original strap that was supplied with the watch when new, but is perfectly in keeping with the style of the piece and certainly need be changed at this point in time. The strap is in superb condition and has never been worn.
Overall, this is a totally original, late 1930s vintage Rolex watch, with a rare engine turned dial format and very elegant case style. In a sense, this is the archetypal connoisseur's inter-war classic Rolex, combining eye catching period looks with unmatched engineering excellence. It is worth mentioning that an almost identical watch, with the same model reference 3892, is pictured on page 147 in a large colour plate in the wonderful book "Rolex Scene 1913-1997" by the London based Japanese collector Shigeharu Aritake. The only difference between the watch in the book and the one offered here is the rare engine turned dial on this piece, as opposed to the less desirable conventional painted dial on the example in Aritake's collection.
Genuine older Rolex models that are unmolested and in such fine order are obviously very scarce now. When we first started in the vintage wristwatch business over twenty-five years ago, we used to find pieces like this one fairly regularly, often in provincial salerooms. Today, a worldwide demand for all things vintage Rolex has dramatically reduced the pool of worthwhile watches for sale at any point in time and we do not buy pre-war models in this condition with any predictable regularity. The prices asked for first rate materials in the specialist vintage watch shops in central London are astronomically high, reflecting enormous commercial overheads, and, based in the North of England, we make an effort to undercut these as much as we can. We have priced this watch at £1375 GB pounds, which, given its age and lovely condition, is a very modest sum. In Knightsbridge or Piccadilly, finding an equivalent example for any less than double this amount would be quite a challenge.
Price £1375 GB Pounds
Vintage Watch Brands
Vintage Watch Decades
Vintage Ladies Watches
Vintage Watch Bracelets
Swipwreek Straps
Travel Clock/ Pocket Watches
Home
About
Brand Overviews
By Decade
Reference
Contact Details
Telephone from the UK:
07453 734666
or 07428 051005
Telephone from overseas:
+44 7453 734666
or +44 7428 051005