Rolex tonneau gold, boxed 1938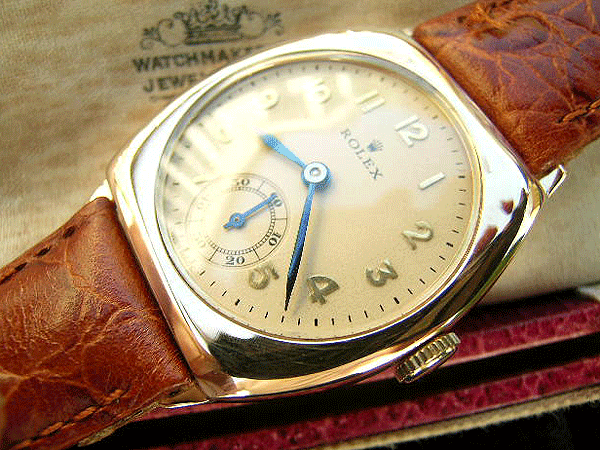 Manufactured in 1938, a year before the outbreak of World War II, and totally original throughout, this gentleman's Rolex tonneau shaped model in beautiful pink gold is a charming and rare vintage watch that would make an ideal purchase for anyone wishing to invest in this lucrative field. There is a wide disparity between examples like this one, that are correct and authentic in every detail, and the vast majority sold online which are in one way or the other deficient of the standard needed for the purist collector. There is nothing we would like more than to be able to acquire greater numbers of pre-War Rolex watches in this superb condition, simply because we can sell them so easily. The obstacle for us is locating pieces of this grade and with every year that passes, it is noticeable that we spend more time visiting more physical auctions and chasing up more leads on the telephone to acquire a gradually reducing number of items. This is a spectacular watch that will delight its buyer and it will not remain on our website for long.
This piece is typical of the era in which it was manufactured. The circular, pocket watch derived early wristwatches used in the trenches of World War I had given way to the rectangular, cushion and tonneau shaped models of the 1920s and '30s, this transition being helped along by the enthusiasm for art deco that swept both Europe and the USA at the time. When this watch was new, its tonneau shape would have been the height of fashion, though it certainly wouldn't have been regarded as a new look, Rolex itself having offered watches in tonneau form for at least twelve years before this piece was created.
Even within the category of tonneau shaped watches, there is an identifiable evolution that can be studied by the keen collector. On the very earliest cases in this style, typically those offered in the mid to late 1920s, the lugs were still of soldered round section wire, just as they had been on the officers' watches of the Great War. Later, as lugs became less of purely a means to attach a strap and more a part of the overall design concept, the wire lugs would cease and pressed, flat section lugs, like the ones here, would be seen in their place. With flat lugs and a circular snap back, this case could not be more representative of a classic Rolex tonneau housing from the late 1930s.
Case condition is immaculate and totally original. The tonneau shape is unusual in that it combines flowing curved sides with sharp angles between its sides and almost flat top section around the glass. This looks spectacular, but a lot of the cases in this shape have worn through on their corners and have had these holes carefully filled in by repairers in order to bring them back onto the market. We are somewhat fanatical about examining the cases of the watches offered to us from the inside as well as the outside before we agree to buy them. If he exactly matches the colour of gold that he's using for the infill to the case, it is relatively straightforward for a skilled repairer at the top of his game to polish out evidence of his work on the outside, but what he won't achieve, because of the impossibility of fitting a polishing mop into such a tightly angled space, is successful disguise inside the housing. We study cases under an eyeglass internally before we make a purchase, with no exceptions. If a case is not virgin inside and there is any suggestion that it has received attention in the past, we do not add it to our stock.
In typical Rolex fashion, the case back outer is plain and mirror polished. Internally, it is covered with a highly ornate engine turned pearled pattern that has laboriously been applied with a hand operated tool correctly known as a rose engine. The model number 1245 is present, as is the RWC Ltd ( Rolex Watch Company Limited) cartouche. If the Reference section of this site is visited and from there, the link to Rolex Case Backs is followed, it will be seen that this use of the cartouche in isolation, without the accompaniment of the World's Records stamp, is correct for a gold Rolex model from this period. A lot of the checking process that should be performed when buying a classic vintage Rolex is little more than ensuring that its features conform to the correct pattern for the era in which it was manufactured. Everything here is representative and as it should be.
Also present are a crisp full set of British hallmarks, these telling us that this case was assayed in Glasgow as solid 9 karat gold in 1938. It is worth pointing out that at this stage, just before war had been declared, it was still perfectly legal to import gold watches from Switzerland to Great Britain. Later, as the conflict deepened and the country's plight became more severe, the British Government would impose a ban on the importation of gold watches in an attempt to reduce unnecessary public expenditure. As an aside, this ban did not apply in the Republic of Ireland and a number of enterprising jewellers there made considerable gains by advertising on the UK mainland that they had gold Rolex watches in stock that could be bought immediately.
When a collector buys a watch like this one, he pays a price premium for its exceptionally well preserved dial. This piece is considerably more expensive than it would be with a shabby, discoloured dial or a dial that had been restored and was no longer original. It can seem rather odd to new converts to the vintage Rolex scene that such importance and financial weight are attached to this factor, particularly when in many instances, so-called "restored" dials, that have actually been stripped and refinished, look extremely attractive. In fact, what the customer pays for at this level is rarity and if we consider the matter carefully, the added value of original, near mint dials is not illogical.
If we take this dial as an illustrative example, we can see that even under a stereo microscope, its surface is almost perfect. It has not been restored and the surface that it has today is that one that it had when new in 1938, but crucially, it is virtually blemish free. Seventy years ago, its overall colour would have probably been slightly more silvery and a little less yellowed than it is now, but any change is so gentle as to be hardly worth mentioning. There is no foxing anywhere, all the printed detail is still sharp and not rubbed and the only possible criticism that could be levied by the most small minded obsessive is that there is a slight, infinitesimally small, degree of dust staining around the applied gilt numerals that is in reality impossible to make out with the naked eye.
So few pre-War vintage Rolex dials have survived in this condition, hence those that have are highly sought after and change hands for substantial prices. When buying any vintage watch, its scarcity, whether it is a commonly found model or something more exotic, will clearly influence its worth enormously, but often overlooked is that condition and originality, equally linked to rarity, will also have a huge bearing. This is a very attractive model with an immaculate untouched dial, making it ideal as a serious investment vehicle. We often explain to customers that from our experience witnessing trends in the market over several decades, it is better to pay more in the first place and acquire an item that is exceptional and noteworthy, rather than something more mediocre that inevitably will still appreciate, but at a slower rate than its equivalent in the top tier.
All three hands are original. Their blued steel surfaces are pristine and not at all corroded. Often, hands can look well preserved with a casual glance but when inspected more closely and angled into the light, there is incipient rust starting to creep through the surface finish. These hands are superb and better could not be found. Having the correct hands for a specific model is also essential if a watch is to have its maximum monetary worth. Finding old stock hands and winding crowns for pre-War Rolex, or indeed any of the other famous brands, is almost impossible and is both immensely frustrating and expensive. We have heard so many stories of buyers who purchased watches online, typically in the caveat emptor world of the mass market auction websites, only to find that aspects were not authentic and appropriate. Incredible as it may sound, having to part with sums in excess of £300 GB pounds for old stock Rolex hands is not a rare scenario, if indeed these can be located at all. Incidentally, this distinctive diamond shape is a classic Rolex hand style from this era. If we look at page 189 of London based collector Shigeharu Aritake's book "Rolex Scene 1913-1997", there is a gorgeous full page colour photograph of a reference 918, stated as being from 1930, with this exact same style of hands and winding crown. The same hands are shown again on a different model, reference 3651, on the following page, this time from 1940.
Even in our business, where we buy and sell investment grade early Rolex watches several times each week, we don't often see pre-1939 examples with movements that are as close to being mint as the one here. As can be seen from the photograph, this whole unit is nothing less than immaculate, with no brassing of the plates or tarnishing to the gears of any kind. Just as impressive, perhaps more so, is the fact that every aspect of this mechanism, every component down to its last screw, is completely original. Just as with classic motor cars from the 1930s, we tend to find that some parts have been replaced on most of these pre-War movements and to source one that is virgin throughout is quite an event. Apart from routine servicing, which has been performed on a regular basis, it doesn't appear that any repair work has even been carried out. Always a tell tale sign of a movement that has required very little attention, even the screw head slots are unmarked, with no suggestion that they have ever interfaced with a screwdriver.
This is a hand wound Rolex Hunter movement in 10.5 ligne size ( the ligne is the unit of movement width measurement used in the Swiss watch industry. 10.5 ligne was the classic size used for a gentleman's Rolex Oyster during the vintage period). Introduced in 1923 and, quite remarkably, in continuous production until 1969, the Hunter was the flagship Rolex manual movement and has attained iconic status in the eyes of collectors. If there is one movement that defined Rolex as the world's most respected luxury wristwatch brand, without doubt this was the Hunter. Incredibly reliable, very robust and easy to service, the Hunter can be regarded as a major factor as to why Rolex attained its boa constrictor-like grip of the market. There are other movements from the same period that are its equal, most notably Omega's 30mm series and IWC's calibre 88 and 89, but none that surpassed it.
Rolex did not arrive in its prominent position through resting on its laurels and it is important to appreciate that while the basic bare bones of the Hunter remained consistent for almost half a century, its specification was continually updated to take account of the latest developments by the Rolex research engineers. A Hunter from 1923 looks noticeably different from one manufactured in the War years and one created in the 1950s or '60s.
This causes many problems for the novice collector. Any two Hunter movements of the same diameter are inter-changeable without modification, even if they date from wildly varying periods. In other words, we could take a scrap 1930 Rolex case that had lost its movement, perhaps through wear or water damage, and resurrect it into a complete watch with a 1958, or whenever, Hunter movement that was languishing uncased in the parts bin. The finished watch would look fine to the untrained eye, work perfectly and sell for a high price to an uninformed buyer in an online auction. What it won't ever be, unfortunately, is a serious investment or an item that will be credible to any experienced vintage Rolex collector worth his salt.
It therefore follows that prior to a purchase being made, it is vital to confirm that a Hunter is of the correct age and specification for the case that houses it. This example is signed "Rolex, 15 Rubies, Swiss Made, Fab Suisse" on its bridge, with "Patented Superbalance" on its winding wheel. The Superbalance was a major Rolex invention of the 1930s, patented in 1935 and in production the same year. The concept was that instead of having its timing screws standing proud from the balance wheel rim as per usual, the Superbalance had these recessed into cut out sections let into the rim. The result was a component that boasted decreased drag and was aerodynamically superior to balance wheels offered by Rolex's competitors.
Early examples of movements fitted with the Superbalance had mention of its presence on their winding wheels, as here. Rolex was understandably keen to shout about its new wonder and made sure that it was prominently brought to the attention of the specialist press of the day. Later, certainly by the years immediately after World War II, the Superbalance had become a standard feature of almost all Rolex Hunter movements and was no longer the novelty that it had been when first launched. While the Superbalance was still present, individual movements were no longer signed with the Superbalance wording. With a little bit of specialist knowledge, we can see that Rolex manufactured the movement in the watch for sale here within the years between 1935 and approximately 1945, which of course ties in perfectly with the hallmark year letter (1938) stamped inside the case. Cross referencing of this kind is so worthwhile and is something that, after thirty years in the business, has become second nature to us. We are extremely proud to state that our watches are correct and authentic throughout, but sadly, a high percentage of those offered elsewhere are not and the importance of these basic checks to confirm movement and case originality cannot be overstressed.
This movement works perfectly and runs very smoothly. It sets and winds with all the positive feel of a brand new watch and is the best mechanical state imaginable. If future owners have the good sense to follow the example set by those who have enjoyed this watch before and continue to send it for servicing every three or four years, it will last almost forever. There is no earthly reason why a wristwatch of this quality should not be performing faultlessly a century from now, just as many antique Victorian and even Georgian pocket watches are today.
A charming icing on the cake touch is the original box in which this watch was supplied when it was new. Signed by Croydon & Sons, an official Rolex agent in Ipswich, this is in a lovely maroon faux snake skin and remains in very good, though certainly not mint, condition. Croydon & Sons still trades today, from the same premises at 50-56 Tavern Street, though it has not been a Rolex agent since the late 1960s. Boxes of this kind are highly collectible and if sold alone, this packaging would change hands for upwards of £100 GB pounds, simply because there are so many keen collectors who would love to reunite their loose watches with boxes signed with the names of documented early Rolex stockists.
We have fitted this watch with a crocodile skin type strap. This is not a genuine Rolex strap, the original having disintegrated many moons ago, but is perfectly suited to the piece and definitely does not require replacement in the foreseeable future. Having never been worn, this strap is in mint condition.
We have priced this watch at £2225 GB pounds, at which level it stands out as the perfect example of what excellent value for money we can offer, based in rural East Yorkshire where business overheads are some of the lowest in the UK, compared to the vintage watch shops of central London. The specialist dealers there have some very fine pre-War gold tonneau models, but they are no better preserved than the one here and typically sitting between highly polished Bond Street plate glass at between £4000 and £5000 GB pounds. The tonneau shape is one of the most beautiful and elegant ever produced by Rolex and it is difficult to imagine a more charming vintage watch than this. It is a text book specimen of exactly how a 1930s Rolex should be if acquired as a serious investment. It isn't cheap, but equally, it is far from over-priced and one of those watch models that is already so well established in the top tier of desirability that it will only ever rise in worth. If entered into a Sotheby's, Christie's or Bonhams fine wristwatch sale in ten years time, this watch will produce a tidy profit for its owner, particularly as early Rolex pieces in this untouched, near pristine state evaporate from the market at an ever increasing speed.
Price £2225 GB Pounds
Related Articles
Vintage Watch Brands
Vintage Watch Decades
Vintage Ladies Watches
Vintage Watch Bracelets
Swipwreek Straps
Travel Clock/ Pocket Watches
Home
About
Brand Overviews
By Decade
Reference
Contact Details
Telephone from the UK:
07453 734666
or 07428 051005
Telephone from overseas:
+44 7453 734666
or +44 7428 051005