Rolex Oyster steel black dial with instruction paperwork 1948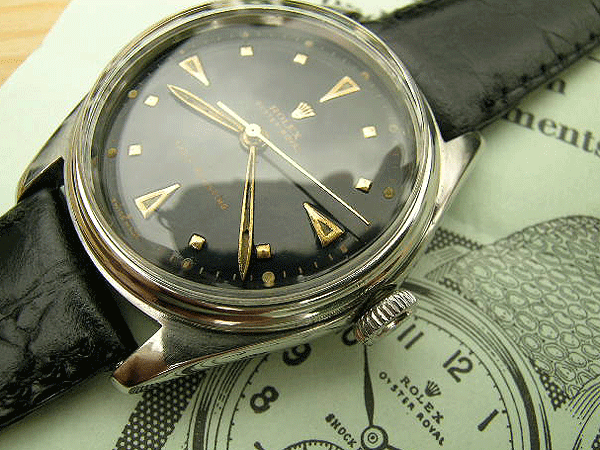 This website seems to have acquired something of a cult status within the online horological community on account of it being a source of exceptionally rare, and in some instances almost forgotten, models that would be difficult to ever locate now outside of the major Swiss houses' own factory museums.
Perhaps even more significant though is the condition of many of these pieces. We have constantly endeavoured to hammer home the message to the novice collector within our descriptions that originality is paramount when purchasing a high value vintage watch for investment, but that this alone is not enough to satisfy the most critical purist, and excellence in this area must be combined with near mint, almost perfect, condition.
This 1948 stainless steel gentleman's Rolex Oyster Royal, with a rare black dial and very distinctive triangular markers, is a textbook example of what the collector should be looking for. The Rolex Oyster, first introduced in 1926 as the world's first waterproof watch and in continuous production ever since, is the definitive vintage wristwatch. Of the finest quality, instantly recognisable, robust and yet also extremely elegant, the Oyster is the blue chip share of the collectible wristwatch scene, and has proved itself to be a very strong investment over the last thirty years since the concept of the vintage watch emerged in the early 1980s as a result of disillusionment with the all pervasive quartz technology of the day. One of the main difficulties faced now by anyone looking for a vintage Oyster, or indeed a period Rolex of any type, is that, having now been hunted down for three decades by an army of enthusiasts, there are very few genuine older models to be found for purchase. The majority of collectors who have a piece like this one, that is correct in every way, will be well aware of the problems of finding another if they choose to sell and, in the current rising market, have very little incentive to do so.
Even with the most critical eye, deliberately attempting to pick fault when in truth, there is none present, we find it very difficult to find any negative aspect of this exceptionally beautiful watch. Its stainless steel case is excellent condition throughout, with just a few tiny imperfections to the rear of the watch.
The milled edges that are the hallmark of the screw down, sealed waterproof Oyster case are in very good condition, the case back having only ever been opened in the past for servicing using the correct Rolex factory tool. There are some very small areas where the edging has become very slightly worn, but in realistic terms, this is not a significant concern. Always check this point, as major damage to this edging will be both unsightly, and perhaps more importantly, will significantly devalue a piece in the eyes of the collector.
Inside this case back, there is the full signature "Rolex, Brevete ( Brevete being the French word for patented), Geneve, Suisse", together with the coronet emblem and the model reference 4444. This model reference is again repeated, stamped between the upper pair of case lugs on the body of the watch, together with the serial number 575758. We always like to check the presence of these numbers when purchasing any Rolex Oyster, and take a few seconds to make sure that everything ties in exactly as it should. One of the most difficult things for the inexperienced buyer is to be able to assess a watch initially, based on its design features and dial variant, before confirming its age by looking up its serial number. The presence of these triangular dial markers, the model number, and, most tellingly of all, a "Rolex Oyster" signed winding crown all indicate that this watch was manufactured between 1940 and 1949, this being confirmed by its serial number falling between 543000 and 608000, these two figures being the starting and finishing production bookends for 1948. Again, take a few seconds to be sure that the same model reference is stamped onto both the case back and front. Rolex produced a myriad of different Oyster models, and sadly, as prices for vintage Oysters reach record heights, there is an increasing tendency for the unscrupulous to build up watches from scrap parts in order to release a quick profit. The matching of model numbers does not guarantee that case front and back have started life on the same watch, but, given that the numbers are original and have not been re-stamped, at least it will confirm that at least these case parts are originally from the same model.
We often have suggested that one of the most effective approaches to collecting is to identify an area, or type of watch that particularly appeals, and then deliberately contrive to locate example of this genre that are in someway different from the mainstream. In many cases, these differences might be very slight, perhaps an unusual style of hands, a double signed dial on which a retailer's name is present alongside that of the manufacturing house, or, very usually on a Rolex Oyster, a case style itself that departs from the norm.
On this watch, one of the key features that makes it so attractive is the fact that it retains, in almost mint condition, its original "Rolex Oyster" winding crown. This is unworn internally and screws down tightly and securely onto its correspondingly threaded case tube. When buying a vintage Rolex Oyster, always confirm that the threads on both crown and tube are not damaged. When these have been subjected to rough handling in the past, the resulting wear can mean that they fail to lock into place. Specialist repair can remedy this fault, but will involve the replacement of the rare original crown with a modern, post-1952, coronet signed replacement. While these will work just as well, they immediately stand out as incorrect with the consequence that any older Oyster so equipped will immediately be devalued when compared to others of the same year that are all original.
Suffice it to say in summary here, that the "Rolex Oyster" signed winder is one of the rarest of all period Rolex crowns, and an item that is hardly ever seen today.
The most striking visual aspect of this watch is its completely original black dial, with very distinctive triangular markers. A black dial on any watch of this grade will always command a high price premium, both on account of it being unusual, but also, quite simply, because it looks so wonderful. Judging how much a black dial adds to the value of a period Rolex Oyster is not an exact science, but a few years ago, there was the general opinion that at least 30% could be allowed for this feature. We would certainly suggest that, as the fashion for military and sports watches has continued to increase over the last four or five years, this figure could be increased considerably. In an article analysing the vintage wristwatch boom of the last ten years in the April 2004 edition of the specialist American publication "WatchTime", one of the founding fathers of the collectible wristwatch concept in the early 1980's, and a man who regularly advises the prestigious physical auction houses on market trends, Massimo Barracca is quoted as saying "Dials are almost everything, about 70% of a watch's value. A black dial is always the rarest, and very popular today, maybe even three times the value of a white dial. Why ? The dial is the face of the watch, the sexy part, the allure". We disagree with the extent to which Barrracca suggests that a black dial influences price, but we assent to the expressed view that such a dial has a strong bearing on a rare Rolex as a collectible. Conservatively, we would suggest that at least 40% must be added to the value of a nearly mint French white dialled model to buy the same watch with an untouched black dial.
Curiously, or perhaps not so when we really ponder the matter, it is particularly difficult to source a genuine black dialled watch by any of the great Swiss houses from the late 1940s and early '50s. This is pure speculation on our part, but we would suspect that the sales resistance against this appearance largely stemmed from the buying public's subliminal desire to distance themselves from the military look that had obviously been very much on display during World War II. While this watch, and others like it, was designed for civilian consumption, we can see how this theme, with its black dial, stainless steel case and high visibility triangular markers, might have been somewhat off putting for a generation that were trying to distance themselves from the horrors of the immediate past.
This dial is original, and in almost mint condition. This is a fully signed item, with "Rolex Oyster Royal" being stated below the famous coronet emblem, and "Shock Resisting, Swiss Made" being present below the dial centre point. While white dials tend to discolour as dust creeps around their edges, the problem on black dials is the opposite, with fading being the threat to condition, particularly if a watch has been worn in a climate with much strong sunlight. Curiously, and this is something that we have never heard a plausible explanation for, while a light dial will discolour from its edges inwards, a black dial will fade from its inner point outwards, over time losing its surface coating rather like bricks on the outside of a old property will lose their hard glaze to reveal a porous surface underneath. Just very occasionally, one will come across a black dial where an, often very effective at a casual glance, attempt has been made to restore this gloss around the centre point using the tiniest amount of light oil in order to put the piece through an auction sale, this being little more than a temporary remedy that is certainly not an acceptable solution in the longer term.
When assessing a black dial, look carefully at its finish and check for evidence of any restoration work to its surface. When parts of a dial have been refinished, the surface texture is not smooth as it would have been when the watch was new, but instead, takes on something on an "orange peel" finish. Also, look very carefully at the immediate area around the dial furniture ( applied markers, batons etc). On an original dial, like this one, there will be the slightest, almost imperceptible deterioration where the metal baton has reacted to the paint over several decades. This effect is very, very subtle, and on this dial takes the form of the slightest hint of yellowing just around the crown, batons and wording, but it is well worth looking for as a sign of a dial that has not been tampered with in the past. The beautiful luminous hands are entirely original and in very good condition, but as one would expect, their radium painted inserts have discoloured from a bright green to a muted khaki colour, this being identical to that found in the centre of the large, very unusual, triangular batons that are such a feature of this dial layout. It would be almost impossible to find a better condition, completely original, dial than the one offered here, and the fact that this aspect has survived so exceptionally well definitely adds a lot of value to this watch and makes it ideal as an investment piece.
However spectacular any vintage Rolex Oyster looks, the real reason for it being so revered lies beneath its case back, in the form of its beautifully hand built movement. Rolex mechanisms are universally regarded as the finest ever used in wristwatches, and occupy an interesting position on account of their being of the very highest precision, while at the same time extremely robust and capable of performing faultlessly under the most inhospitable operating conditions known to man. Very few buyers of these older Rolex Oysters really appreciate the sheer attention to detail and engineering excellence that went into them. In the 1940s, twenty years before the advent of electronic tuning fork technology, Rolex mechanical movements were so precise that they were routinely used for the laboratory timing of scientific experiments, yet were so dependable that they could be used out in the field, as indeed a Rolex Oyster was for the first ascent of Everest in May 1953, approximately four years after the watch here was produced.
This movement is the 10.5 ligne Hunter calibre, a refined evolution of the same manually wound movement that had been introduced for the first time by Rolex in 1923 and was used in all the firm's record breaking watches submitted for accuracy testing during the inter-war years. There is often the supposition among novice collectors that Rolex continually developed entirely new movements, and that a unit from the 1930s or '40s would not be the same as a 1950s example etc. This assumption is technically untrue, but not entirely incorrect either. While the actual bare bones of the movement, the basic structure of the Hunter, remained unchanged from 1923 right through until its retirement in 1969, to suggest that Rolex simply fitted the same mechanism, decade after decade, is not correct. Considerable advancements in both metallurgy and machine tool processes meant that a movement like this one, though still strictly a Hunter, is an entirely different animal to that manufactured thirty years previously. Most collectors, having studied the subject in extreme detail, now consider the 1950s to have been something of a golden period for not only Rolex, but the luxury Swiss watch industry, and looking at this movement under high magnification, we can certainly see evidence to support this view. By the late 1940s, every refinement that would come to be included in the finest mechanical movements had been developed, perhaps the most significant of these, anti-magnetic protection and shock resistance, being added after they were perfected as a result of work carried out on behalf of the allied governments during World War II. But at the same time, and this is an important point, the Swiss watch industry was still essentially operating in the same traditional way that it had done almost since the Edwardian era. Movements like the one offered here were still built individually, by highly skilled craftsmen, in much the same way that a bespoke suit or handmade pair of shoes is built up from scratch as a single unit. The components in any watch, obviously due to the precision required in these, are manufactured on a machine, but at this time, all the lathes and gear hobbing equipment was entirely hand operated, allowing a quality of finish, and a perfect part to part fit that has arguably never been equalled since, and making an late 1940s Rolex Oyster very much the model of choice for the connoisseur buyer who is informed enough to made comparative judgements about the movement quality from different eras of production.
This movement has been serviced regularly since new with no regard whatsoever to expense, and as a result, it works perfectly today, running smoothly and with excellent amplitude. It is original in every respect, down to the very last detail, and in very good condition. "Rolex" is fully signed on both the bridge plate and the winding wheel, together with "15 Rubis, Swiss Made". One of the most satisfying aspects of a watch like this one, built to such high standards, is that it has the potential to continue working indefinitely in the future. We notice that a significant number of the watches well sell each week are purchased by buyers who mention that they are intending to keep these as heirloom pieces that will be passed down to their children as appreciating assets. This does seem to make sense, given that the maintenance costs for vintage watches are relatively low, and their potential for longevity is almost infinite.
When we bought this watch, remarkably it was accompanied by its original instruction document, this detailing how it should be wound and set, giving particular attention to the operation of the screw down winding crown. In itself, this paperwork is very rare and highly collectible. In the mass market online auction environment, it would change hands for well over £150 GB pounds and in the last decade, we have only seen one other example of the same leaflet. Its condition is acceptable but not perfect and it has a slightly worn, shabby appearance which, ironically, is very attractive. We will include this document when we post the watch out to its next owner.
We have fitted the watch with a very high-grade black calfskin type strap that is in perfect condition, having never been worn. This is not a genuine Rolex strap, though it is almost identical in appearance and quality to that supplied with the watch when new.
In summary, this is a really beautiful vintage Rolex Oyster from 1948, and very much a piece for the serious collector. In many ways, this item must represent the elderly wristwatch at its most practical level, while also still being a superb investment. It has a very robust, waterproof steel Oyster case, making it perfectly suitable for regular careful use without ill effects, and combines this with a wonderful hand built 1940s Rolex movement and a very rare black dial and strikingly handsome art deco dial format.
Valuing this watch is quite difficult as so few black dialled Oysters from this period ever seem to surface for sale. The English collector James Dowling's book "Rolex Wristwatches, The Best of Time" features a stainless steel Oyster from 1957 with this same dial format, but with a French white dial. The watch shows looks to be in excellent condition and is stated in the price guide at the rear of the work as having a value of 2500. This seems reasonable, considering that the book was first published in 1996, and prices have risen enormously since then.
The Italian bible on all things vintage Rolex, the book by Osvaldo Patrizzi "Collecting Rolex Wristwatches 2001", shows an almost identical looking model to this one, with the same dial format and Rolex Oyster crown, on page 177, but this is in 18 karat gold, which obviously is far more desirable than stainless steel. The gold watch has the reference number 6084 and is stated as being worth 7000 Euros, but we think it would be almost impossible to locate a worthwhile 1940s Oyster in 18 karat for this sum in the current bull market. This actual model, 4444, is included in the price guide in Patrizzi's book, but only with a white dial, and in stainless steel, and is suggested as being worth 3000 Euros ( approximately £2150 GB pounds or $4000 US dollars) if in excellent condition, which sounds far more realistic. Patrizzi also includes the note next to this piece that it falls into category "B", this being "rare", and only coming second in his grading system to category "A", this equating to "practically unavailable".
We have priced this watch at £1450 GB pounds at which level, it represents extremely good value for money, both in terms of the sheer quality present in its movement and when compared to new luxury watches today. It is easy to forget that 1940s Rolex Oysters have been sought after collector's items since the early 1980s and locating watches that are original and untampered with, like the one here, becomes more of a challenge with every year that passes. This is a very attractive, eye catching classic Rolex that will give a great deal of satisfaction to its next owner.
Price £1450 GB Pounds
Vintage Watch Brands
Vintage Watch Decades
Vintage Ladies Watches
Vintage Watch Bracelets
Swipwreek Straps
Travel Clock/ Pocket Watches
Home
About
Brand Overviews
By Decade
Reference
Contact Details
Telephone from the UK:
07453 734666
or 07428 051005
Telephone from overseas:
+44 7453 734666
or +44 7428 051005