Rolex Oyster Speedking tropical case 1948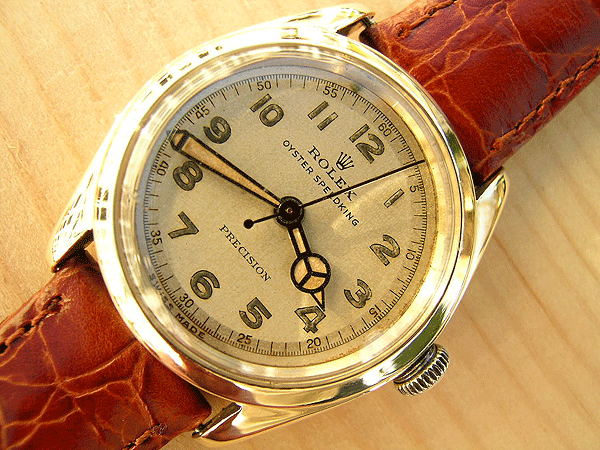 There are always a number of really exceptional vintage watches for sale on our site that will excite even the most hardened collector. There is no doubt that this beautiful, near mint condition, 1948 Rolex Oyster Speedking in a rare "tropical" case in solid gold with a stainless steel back fits into this category. We actually have two tropically cased vintage Oysters listed for sale here at present, and choosing between them would be a difficult task. Both have enormous appeal, and a distinct character of their own. Either would make an impressive addition to any serious period Rolex collection.
The concept of the so-called tropical case was a interesting innovation from Rolex, starting in the late 1930s and continuing as an option on several Oyster models for around twenty years, being sold mainly through the company's Far Eastern and Indian distributors. It was suggested that in very hot climates where there was a lot of concentrated sunlight, a solid gold case would become uncomfortable to the wearer. The watch crystal would act as a lens and as a result, particularly if the watch was held in the same position in bright sunlight for a considerable length of time, the dial would heat up, this heat being then conducted through the case sides to the gold case back, which would cause much discomfort when placed on the wearer's wrist. Living here in England, where the hottest summer day is relatively cool by Indian or African standards, this problem was not one that would have occurred to most of us, but to Rolex, who had long since courted the lucrative ex-pat colonial market, this was certainly an issue which was a cause for concern.
The ability to efficiently conduct heat is far greater in gold than in stainless steel, so for their tropical cases, Rolex used a solid gold case front, but allied this with a stainless steel case back in order that even in the most extreme temperatures, the area of the watch in contact with the wearer's skin would remain acceptably cool. There seems to be a perpetuated myth, which is re-enforced in the various vintage Rolex reference books available, that the tropical case was not only produced for the reason explained above, but also because its steel back would be far more resistant to the elements when worn in humid conditions. It is not easy to make sense of this comment, yet it has been repeated on many occasions. Gold is far higher up the periodic table that iron, and is therefore far less likely to react in any way upon contact with any of the chemicals contained in perspiration. Indeed, this point is illustrated when we look at many of the early stainless steel wristwatches, by Rolex and many other Swiss luxury makers, that were re-imported into Europe during the first wave of vintage wristwatch mania in the mid 1980s. A relatively new invention, and only really perfected as a result of research carried out during World War II, early stainless was resistant to rusting, but would pit very badly when exposed to acids. It is far from unusual to see considerable, and often very unsightly, pitting on the case backs of vintage steel watches, this occurring particularly at the point on a Rolex Oyster case where the case back screws into the threaded case front, which is always a particular moisture trap. Gold, on the other hand, is entirely unaffected by such dilute acids, and would therefore seem to be, in chemical terms, a more suitable choice for a case that would be used in extremely humid conditions. In short, there may be some reason to support the oft repeated view that the stainless steel case back on these tropical cases was more robust and resistant to damage, but a more logical view is that the primary reason for its use was to cut down on uncomfortable heat transfer from the front to the rear of the watch.
Tropical cased Oysters can be rather difficult things for the novice collector to buy, not least because on initial inspection, they can be confused with gold shell, also known as gold capped, cases. On these items, the front of the watch is not in solid gold, but is actually in steel, thickly clad with a mechanically bonded covering of gold. Gold capping is, in turn, not to confused with gold electroplating, on which the gold covering is very thin, but it is important to be aware that even a gold capped watch will not be as valuable as a tropically cased example like this one, on which the entire case, except for the stainless case back, is in solid gold throughout. On Rolex Oysters, an easy way to identify these two types is to simply look at the reverse side of the case front. On a gold capped watch, the gold cladding covers only the front face of the case and when viewed from the back, the piece appears to be entirely stainless steel. Because the whole front of a tropical case is in gold, when viewed from the rear, the case lugs are clearly visible as being in gold, this contrasting with the steel of the case back.
The beautifully elegant case on this particular watch is in almost mint, virtually unused condition, with just the very faintest few imperfections that must be expected on even the most carefully looked after watch of this age. The milled edges of the case back are in almost perfect condition, having only ever been in contact with the correct Rolex factory tool when the watch has been opened for servicing. The case back itself screws down smoothly and securely, creating a perfect waterproof seal. This case is in the classic Oyster shape that we still see in production today, despite it having been first introduced in 1932. The case back interior is fully signed internally as "Geneva, Suisse, Rolex, Brevete" ( Brevete being the French word for "patented"), together with a large coronet emblem and the model number 4220. Between the upper two lugs on the case body is the serial number 586116, this clearly identifying the watch as having been manufactured in 1948 ( the two starting and finishing Rolex serial numbers for that year were 543000 and 608000 respectively). A point that we often repeat as part of our Rolex Oyster descriptions is the wisdom of taking a few moments to check that the serial and case numbers all make sense when viewed in the context of the watch offered. As a starting point, make sure that the model reference is the correct one for the model concerned. In this case, using Shigeharu Aritake's excellent book "Rolex Scene", we can identify the 4220 reference as being that of the Speedking. Finally, look up the serial number in one of the several acknowledged Rolex related books and try to identify any features of the watch that back up the date that is indicated by this reference. To use this watch as an example, we can see that the serial number clearly defines the watch as being from 1948, but this is confirmed by the presence of the original "Rolex Oyster" signed winding crown that was used in the early to late 1940s and the very distinctive flared Mercedes hands, which are a classic Rolex feature of the inter-war years, but not seen in the form here post-1950. In goes without saying, in view of the pride that we take in our watches, that this piece is absolutely original and authentic throughout, but we like to constantly repeat this basic checking process that we feel should be applied when any vintage Rolex Oyster is considered as a potential purchase.
A final note should be mentioned regarding the inclusion of serial numbers when any watch is sold, a subject on which we have very strong views. Being a small, high value commodity, vintage Rolex watches are unfortunately very attractive to the criminal fraternity, and in an effort to crack down on the sale of stolen goods, we firmly believe that all online offers of used Rolex models should be accompanied by their serial numbers in full. We deliberately always include all such detail with our website descriptions in order that, if he so wishes, a potential buyer can contact Rolex to confirm the authenticity of a piece before making a purchase. We have absolutely no problem at all with this, and feel that it should be standard practice throughout the vintage wristwatch community.
There is almost a flowchart-like progression in the consideration of any vintage wristwatch at this level, where obviously a considerable sum of money is involved. After deciding that the model of watch concerned is worthy of purchase, and fills a strategic gap in one's collection, the phase is reached of trying to grade a watch on its relative merits when compared to other surviving examples of its type. More than on any other factor, the experienced buyer will be influenced by the dial, and more specifically, whether this component is absolutely original and in excellent condition. Yet unfortunately, this is one of the areas in which a novice collector is most likely to come unstuck, through a combination of over-enthusiasm, and a desire to purchase the most cosmetically attractive piece. A watch with a so called "restored" dial, which in truth is a deceptively pleasant euphemism for the process of completely stripping down a poor condition original dial with acid and replacing its surface with a complete replacement, will often look very appealing, but will be devalued by a minimum of 40% in the eyes of the serious collector.
Always establish whether a watch has its original dial when buying for investment, and be very critical of dial condition. The ultimate prize for the collector is an original dial in perfect condition, and correspondingly, any item that falls short of this idea will be reduced in worth from its theoretically full value if in literally "new old stock" condition. Obviously, on a watch that might be, as this one is, over half a century old, there must be some degree of realism put into this equation, though it is still not acceptable to purchase a piece with a badly discoloured dial for investment. The dial on this particular watch is completely original, and in French white. Its condition is excellent, with just the very tiniest degree of patina that prevents it from being in perfectly preserved fettle. Short of stumbling across an item that had literally been sitting in a jeweller's safe unused since new, it would be almost impossible to find a better condition original 1940s dial than this one. This is a fully signed item, with "Rolex, Oyster Speedking" being stated above the dial centre point and "Precision, Swiss Made" below it. The unusual layout of a very wide double minute track around the outer edge with Arabic numerals inside it is extremely attractive and is very much reminiscent of the dials that were in vogue on Rolex Oyster production in the 1930s and late pre-War years. This decoration, the Rolex signature and the beautiful blued steel Mercedes hands are all in almost perfect condition and are, of course, totally original to this watch.
The movement present here is an exceptionally beautiful 17 jewelled version of the classic Rolex Hunter Calibre, this being first introduced in 1923 and, quite remarkably, in production, albeit with many revisions along the way, until 1969. The main reason for the longevity of this mechanism was simply that Rolex had the design absolutely right from the outset, and for the length of its production span, the Hunter was the most accurate and dependable wristwatch movement by any of the major Swiss houses.
As one would expect in a high grade Speedking model, and particular when housed in a gold, rather than steel case, Rolex used one of their finest Hunter variants here, this having 17 jewels rather than the standard 15 and being complete with a SuperBalance balance wheel. The SuperBalance is an extremely ingenious piece of engineering design in which the timing adjustment screws are recessed into the surface of the balance wheel, rather than sitting proud around its outer edge as would normally be the case. The balance wheel on the Hunter runs at 18000 half beats per hour, and by streamlining this component, Rolex found that in laboratory tests, it oscillated more efficiently and kept a more stable timekeeping rate. These movements are signed "Rolex, 17 Jewels, Swiss Made, Patented SuperBalance" and because of this are often referred to as "SuperBalance" movements. While this clearly identifies this very desirable feature, it should be appreciated that the SuperBalance was one component in a larger mechanism, which was otherwise the traditional Hunter calibre.
The quality and condition of this particular movement are nothing short of breathtaking, and it functions perfectly, running reliably and with excellent amplitude. By the late 1940s, Rolex had developed their production processes to almost an art form, and looking at this mechanism now with an eyeglass, we would find it difficult to class it as anything less than a working sculpture. When studying a vintage Rolex movement from the 1940s or early 1950s, particularly when found in this almost mint, gleaming order, it really brings home just how remarkable these older calibres were, and how much pride and traditional craftsmanship went into them in comparison with that found in today's luxury watches. We can see parallels today with every top level commodity, be it fine English sporting guns through to exotic sports cars. Today's products are fine, but they don't have that really superlative excellence that we find on vintage pieces, the reason for this being that, in an increasingly cost conscious world, it is simply not economically viable to have a craftsman spend so much time on one unit.
Vintage wristwatches became collectible initially as a result on an appreciation of the incredible quality of these period pieces by a few very discerning buyers in Italy in the early 1980s. Today, we can attribute the ever growing popularity of this fascinating hobby to the fact that more of the buying public are gradually realising that a half century old watch by Rolex, or one of the other grand Swiss houses, was built to a far higher standard, and will last far longer, than anything offered brand new currently. If properly serviced every three or four years, just as this watch has been throughout its life, there is no reason why an item of this quality should not be in fully working order several centuries from now, just as many pocket watches, built in the 18th century to a far lower standard or precision, are today. The fact that a well-preserved Rolex Oyster has the potential to effortlessly outlast its owner, and his offspring, is something that is very appealing, and this permanence is unquestionably a major influence on many buyers today.
We have fitted this watch with a high quality crocodile skin type strap that is perfectly suited to its upmarket, period appearance. This is not a genuine Rolex strap, but is almost identical to the one that would have been supplied when new, and is in mint condition, having never been worn.
In summary, this is an exceptionally rare tropical cased Rolex Oyster Speedking in almost mint, completely original condition. Accurately valuing the piece is difficult, not least because it is hard to gauge whether this case variant is more, or less, desirable than an entirely gold, front and back, unit. Theoretically, one would expect a watch with a gold case back to be of higher value, but in all things vintage wristwatch related, rarity has a great effect on price and there is no doubt that a tropical case is a more unusual Oyster variant than an all gold housing. The Speedking was almost always produced in stainless steel, and is not often found in either all gold or gold and steel tropical format. Osvaldo Patrizzi's mammoth work "Collecting Rolex Wristwatches 2001" features a full colour plate of a steel Speedking from this period on page 120, with the price guide accompanying the book suggesting that the piece was worth around 3000 Euros in excellent condition when this list was compiled over a decade ago.
Shigeharu Aritake's book "Rolex Scene" has an entire eight page colour section devoted to the Rolex Speedking ( pages 34 to 41), but features only all steel and all gold examples, with no tropical cased model being shown. Two reference 4220 Rolex Speedkings are shown from the 1940s on pages 30 and 38, both with the same 10.5 ligne Hunter movement and Mercedes hands as here, but in more common steel cases.
A typical current value for a well preserved all gold Rolex Speedking, but in 18 karat, rather than the lesser 9 karat offered here, seems to be around £3000 to £3500 GB pounds, but we would be of the view that, though obviously a desirable collector's watch, this piece is worth substantially less than these figures. We paid handsomely for it on the basis that it was an unusual item in a condition that we were unlikely to locate again, but even so, we work on fairly small profit margins and our asking price of £1675 GB pounds is not excessive. Good, untouched Rolex material from the 1930s and '40s will never be cheap again and is disappearing from the open market with every year this passes. This isn't an inexpensive purchase, but it is a beautiful item that, if looked after and treated with respect, will only ever rise in value in the future.
Price £1675 GB Pounds
Vintage Watch Brands
Vintage Watch Decades
Vintage Ladies Watches
Vintage Watch Bracelets
Swipwreek Straps
Travel Clock/ Pocket Watches
Home
About
Brand Overviews
By Decade
Reference
Contact Details
Telephone from the UK:
07453 734666
or 07428 051005
Telephone from overseas:
+44 7453 734666
or +44 7428 051005