Rolex gold cushion re-cased 1912/ 1964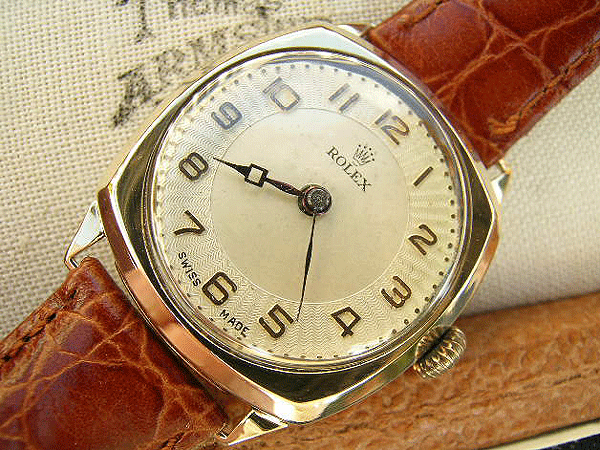 Our business specialises in very high grade vintage wristwatches that are suitable for investment, but from time to time we come across a piece that clearly isn't entirely as it should be, but still has genuine merit and is worth buying for our stock. While most of our customers want items that are correct in every detail and capable of withstanding expert scrutiny at the highest level, there is a market for interesting watches that while not technically first rate, still make interesting collectors' items.
When we were offered this watch, it took us a while to work out exactly what it was. The case is in the cushion shape, with flat section integral lugs, which would suggest that it was manufactured in the 1930s or '40s. The distinctive dial, with an engine turned band behind the applied numerals, is classically 1940s and the movement, which has the historically important W & D signature, more about which will be mentioned below, is a beautiful, and very exotic, early Rolex unit from around 1912.
The truth of the matter is that this watch has gradually evolved over almost a century, being updated to keep it relevant to modern fashion. Every component part here would be perfectly acceptable in a Rolex watch from its respective era, but combined, they produce a piece that will not satisfy the detail minded purist. If we pick up one of the better quality motoring magazines, Octane or Classic Sportscar being the most obvious choices in the UK, we can see the same situation in the automotive world. There are typically several Bentleys and Aston Martins for sale that have mis-matched engine and chassis numbers. So, for instance, we might have a 1927 WO Bentley made engine that was upgraded in Derby under Rolls-Royce ownership in the late 1930s before having a second replacement body in the 1950s after Bentley production shifted to Crewe. There is absolutely nothing wrong with cars or watches of this kind as long as the changes made are clearly pointed out to potential buyers. So often online they are not, and this leads to the disappointing scenario of a purchaser taking his vehicle or timepiece for valuation at Christie's or Sotheby's and being told that it is not the untouched, all original item that he was lead to believe it was at the time he acquired it.
It is both informative and enjoyable to dissect this watch, taking its case, movement and dial in turn.
The case is in excellent condition, with just the faintest few imperfections here and there. It has never been repaired and finding a more untouched example would not be easy.
Internally, the snap on case back is signed "R & M", which was the sponsor's mark of Rye & Marchand, of 1 Hatton Garden, London. Both a distributor and an importer was responsible for the sale of some very high quality watch cases and indeed, this is one of the heaviest walled that we have encountered for some time.
Also present is the individual case number 42052 and a full set of British hallmarks, these telling us that this housing was assayed as solid 9 karat gold in Edinburgh in 1964. More informative still is the coded case maker's mark of the British Watch Case Company. Based at 236-240 Pentonville Road, London, N1, British Watch Case Company was a major case supplier to Rolex, which, contrary to what many novice collectors imagine, was never a manufacturer of its own cases. It was common practice for Rolex to have its movements fitted into cases that were manufactured domestically in the country of retail sale to avoid the high import taxes often imposed on gold from overseas. This was almost standard procedure for almost all the top tier Swiss brands when selling in the UK, with concerns like Dennison in Birmingham producing precious metal Rolex housings that were ironically of a higher standard than those offered in Switzerland. The fascinating aspect of this case is that its style suggests that it is much older than its 1964 hallmark. We must remember that a hallmark letter only tells us when an item of precious metal was assayed in the UK, not when it was created. We have no way of knowing and this is pure educated guesswork on our part, but it seems likely that Rye & Marchand were given the task of disposing of a number of old stock cases that had lingered at British Watch Case Company for some considerable time.
When we bought this watch, we were fascinated by the dual marking of Rye & Marchand and British Watch Case Company. There was no obvious link between these two concerns and it seemed a little odd that these businesses had clearly both been involved in bringing the case here to market. However, a little research on our part revealed that the managing director or Rye & Marchand, a Mr Marcel A Leuba, was at the same time also on the board of British Watch Case Company. Furthermore, the sponsor's mark of Rye & Marchand was registered in Edinburgh to none other than British Watch Case Company. The drawing in of the mists of time has made the exact relationship between these two businesses unclear, but it seems very likely that Rye & Marchand was a subsidiary of the larger British Watch Case Company, which would explain the dual markings of both firms on the same housing.
The dial is extremely attractive and complex, combining a flat central area with an engine turned guilloche band that runs behind the applied Arabic numerals. This type of dial was in vogue among the top tier of Swiss manufacturers for a relatively short period in the 1940s and many enthusiasts would argue that better looking dials have never been offered, before or since.
This dial is in extremely good condition, bordering on the almost mint. The creamy white dial surface is original and has not been refinished, though obviously, this is going to be a less significant factor on a piece of this kind than one that is entirely original and untouched in every other respect. Without a doubt, we would regard this dial as being in a state that commends it as a serious investment purchase.
"Rolex" is signed above the dial centre point, with "Swiss Made" running around the lower edge. This wording is not at all faded and is extremely clear.
Finally, we come to the movement. This unit is one of the earliest Rolex mechanisms that we have ever owned and is also one of the most interesting. It was genuinely tempting for us to buy this watch just for its movement and hope that one day, sometime in the future, we might stumble across an empty Rolex case of the right size from this pre-World War I period. Anyone that can mate this movement with the correct case will immediately have a watch that is worth several thousand pounds and alone, this item is well worth the asking price of the complete watch here.
In order to explain why this movement is so exceptional, we need to give a little bit of background information. Today, we know Rolex as a Swiss company, but its origins lie in London. Before the name Rolex was officially registered, two partners, Hans Wilsdorf and his brother in law Alfred David traded from as an importer of watches from Switzerland. Their trading name was Wilsdorf & Davis, with the decision being made to re-name as Rolex due to anti-German feeling in the run up to World War I. They are not easy to find, but pre-Rolex Wilsdorf & Davis watches have the W & D stamp inside their cases and on their movements.
This unit is nothing short of fascinating because it dually has the W & D and Rolex signatures. In thirty years in the vintage watch business, we have only encountered three examples of early Rolex movements that were signed in this way. Quite literally, this is one of the rarest of all vintage Rolex mechanisms and among the most challenging for the collector to acquire. James Dowling's book "Rolex Wristwatches, The Best of Time", includes a colour plate ( p. 319) of an extremely early movement, made before the one here, that has the identical "W & D" logo on it as on this example, but crucially, it does not also have the Rolex signature. These units symbolise the transitional moment when the Wilsdorf & Davis turned into the embryonic Rolex and could not be more historically important. Pinpointing the exact date of these mechanisms is not easy, but we know that by 1914, Rolex movements were signed only with the new company name and W & D was no longer mentioned. Pre-1911, we find the W & D signature, but not yet any mention of Rolex. If we had to tie this unit down, we do know that it must date from 1912 or 1913.
Not only the signature is worthy of comment. This is a Rebberg movement, this being the first generation of mechanisms used by Rolex for male wristwatches and so named because of the district in which its manufacturing factory was located. However, the later Rebbergs from 1914 onwards had either a striped finish to the plates in 7 jewel form, or a pearled engine turned surface in the better, 15 jewelled grade. This unit has 15 jewels and, remarkably, has a frosted gilt finish that is totally different from that of the Rolex mechanisms with which we are all familiar. In fact, it has to be said that if it wasn't for the distinctive shape of the bridges, which aficionados could identify from fifty paces as those of the Rebberg, this could be mistaken at a casual glance for an IWC or Zenith movement from the same era, both of which were finished in frosted gilt as standard.
The quality here is beyond criticism. Rolex created a reputation for building the finest wristwatches in the world with movements like this one and studying this item closely with a jeweller's loupe is a source of great pleasure. The condition of this particular movement is nothing short of astonishing, particularly if we reflect on the fact that it is now a century old and qualifying as a genuine antique. We're going to be bold and state that a better preserved pre-World War I gentleman's Rolex movement probably does not exist anywhere, either for sale or in a private collection.
Everything about this movement is original and as it should be. Not a single component has been changed and nothing has been modified or altered. Even the winding stem and distinctive mushroom shaped crown are authentic and as called for. "Rolex" is signed on the winding wheel with "W & D, Swiss Made" stamped on the plate. This combination, as discussed above, is so early and so unusual that we have included a large close up photo of these dual signatures with this description.
We have just had this watch cleaned and serviced, with the result that it works perfectly. The early Rebbergs were built to last almost forever and if treated with care and oiled every three or four years without fail, they will still be in good running order a century or more from now. The blend of brilliant engineering and very simple design results units that are inherently extremely stable and have the potential to go on and on without ever needing major overhaul.
The watch is boxed in packaging supplied by Thomas Armstrong and Brother Limited, a jeweller based at 89 Deansgate, central Manchester. Armstrong is a name that crops up now and again on account of it having been an Omega agent, but we can find no documentation to suggest that it was ever an official Rolex stockist. In itself, this box is a collectible and its sets off the watch in it perfectly.
We have fitted a brand new crocodile skin type strap to this piece. This is not a genuine Rolex strap, but it suits the watch and does not need replacement.
At the asking price of £775 GB pounds, this watch represents incredibly good value for money. The low price simply reflects the fact that it is not a factory standard item and has a case, movement and dial that are from three different eras. To try to quantify the discount offered here, we could say that this very early movement, if found with an original 1912 case and porcelain dial, would have a value of perhaps £4500 GB pounds. If a gold Rolex cushion watch from the 1960s was sold with its correct movement, it would change hands for around £2000 GB pounds. So the amount needed to buy the watch here, with its blend of very early movement and newer case, is not much more than a third of that required to acquire a standard watch using the same housing.
It is difficult to advise a potential buyer as to whether this piece is a suitable purchase for them, because each individual will have his own criteria. If you're a purist who requires a vintage watch that is the absolute best of its type and is of a standard suitable for museum display, this is not for you. We have plenty of watches, both here in Yorkshire and on our website, that will fit your needs perfectly and indeed, the purist collector market is our specialist area. If on the other hand you want to purchase a very attractive vintage Rolex watch that has all the quality of an early "correct" example, but at a much lower price level, and you're not concerned as to whether it has an authentic factory standard specification, then this may well be manna from heaven for you. It certainly offers a lot of very high grade machinery for a very small outlay. We have to confess that despite its failings, we like this watch very much, hence we bought it, and to the right buyer, it will give an awful lot of pleasure.
Price £775 GB Pounds
Vintage Watch Brands
Vintage Watch Decades
Vintage Ladies Watches
Vintage Watch Bracelets
Swipwreek Straps
Travel Clock/ Pocket Watches
Home
About
Brand Overviews
By Decade
Reference
Contact Details
Telephone from the UK:
07453 734666
or 07428 051005
Telephone from overseas:
+44 7453 734666
or +44 7428 051005