Omega steel with calibre 269 movement 1963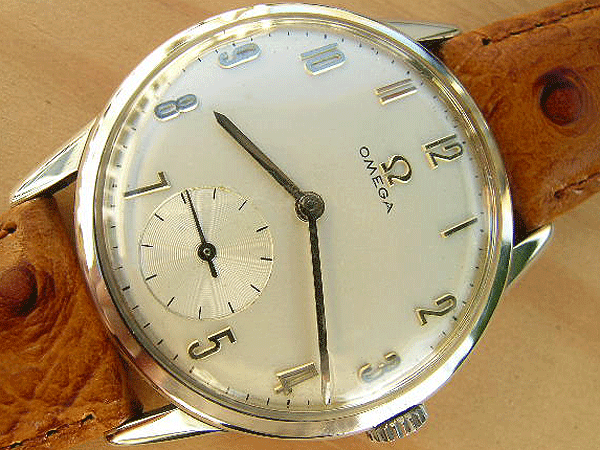 This gentleman's steel model from 1963 is one of the most immaculately preserved vintage Omega watches for sale on our website and an item that would be perfect both as a serious investment or as an exotic gift, perhaps in celebration of a significant event in a close friend or family member's life. In our business, we spend a vast amount of time attending physical auction sessions, country house and catalogue sales, and negotiating to buy old stock from retiring jewellers both in the UK and overseas, but we very rarely come across classic Omega pieces that are as clean as the one here.
When this watch was manufactured, Omega was arguably the most prestigious watchmaker in the world, with the brand having more prestige in the eyes of the general public than its arch-rival Rolex. In 1962, master regulator Joseph Ory had fine tuned a series of conventional, standard production Omega wristwatches in a variety of different size classes and literally pulverised the two previously held category records for accuracy at Geneva observatory. Omega was officially the manufacturer of the most precise wristwatches on earth and this fact featured heavily in the company's publicity material at the time. Quality was at an all time high and sales boomed, creating a desirable situation where funds were available in large quantities for research and engineering experimentation that would further improve what was already a brilliant product. Omega didn't really have any serious competition at this point, and if we look at records kept by the observatory testing stations, we see that almost three times as many Omega movements were issued with chronometer grade accuracy testing certificates in 1963 as those by Rolex. Die hard Rolex aficionados may hate to hear it, but comparing watches by the two firms side by side and judging them without favour on build quality, engineering ingenuity and finish, the unassailable fact is that Omega was manufacturing a superior, more sophisticated product than its competitor. Later, as the 1960s wore on, a brilliant marketing campaign by Rolex would gradually bring the brand to the number one position that it occupied in the 1980s and '90s, but when the watch here was new, Omega was undoubtedly ahead.
The large stainless steel case of this watch is almost unblemished and it wouldn't be a stretch of the imagination too far to describe it as being almost as-new. With any vintage wristwatch that is not literally new-old-stock, there are always tiny imperfections that can be seen under high magnification, but it is obvious that this piece has seen very little use, being almost certainly a prized possession that was brought out to impress on special occasions only.
Styling is classical, which is perfect from the viewpoint of the long term investor. While always expensive to buy into, the major advantage of traditionally styled watches is that they never appear dated, which renders them immune from changes in fashion that do inevitably occur in the vintage watch market. This is a chunky, solid model that is also very elegant and would look equally at home with a tailored business suit or a check shirt and a pair of jeans. These circular models, by Omega, Rolex and Longines, have a delightful old money look to them that is a world away from the rather tasteless brightly coloured sports watches that were all the rage five or six years ago but now, post-recession, look rather embarrassing. If we look at the current ranges by almost all the top tier Swiss makers, they are returning to the grace of 1950s and '60s models like this one, often even with a reference to these two important decades in their titles. At the time of writing in 2012, the appearance of this watch could not be more in vogue.
As we would expect, case construction is two part, with a snap back mated to a deep body onto which angled lugs have been welded. This case format was, and is, used by almost all the key Swiss luxury makers from the early 1930s right through to the present day.
Internally, the case back has been covered with an engine turned pearled pattern. Decoration of this kind was expensive to create and applied by hand, which is remarkable given that under normal circumstances, it would never be seen by the purchaser. One of the lovely things about vintage watches by top level makers like Omega is that they were built to a much higher standard than their equivalents today. Just as so much more craftsmanship and hand work went into the luxury motor cars of the 1940s and '50s than is present in modern production line models, so it was with high grade watches. Even the vast majority of serious collectors do not really appreciate just how high the quality was during the golden period of Swiss watch making.
The case back interior is signed "Omega Watch Co, Fab Suisse, Swiss Made, Acier Inoxydable ( the French term for stainless steel)". Also present is the model reference 121.001-63. It is worth noting that Omega model reference numbers from this period can be deciphered and actually relate to the specifics of a particular variant. Here, for example, the first digit, the 1, identifies a man's watch that was supplied on a leather strap rather than a bracelet. The second digit, the 2, tells us that this is a manually wound version, with a subsidiary, not centre, second hand. The last digit before the decimal point, another 1, relates to a non-waterproof case and additionally confirms that no date display window is present. All these things are instantly visible when the watch is examined, but the purpose of cross referencing the model string in this way is to ensure that case and movement are correct for each other. For instance, if we had found a date feature on a watch stamped with this model reference, this would have been a strong warning sign that its movement had been replaced at some point with one of the incorrect type. In our business, where we buy vintage wristwatches literally every day, both from the general public and the jewellery trade, we come across, and reject, so many examples that have aspects that are not as they should be. Over the years, cases and movements often become swapped over and learning to perform these basic checks for authenticity acts as an initial safety net against the possibility of buying items that have been patched up from spare parts that were never together in the first instance.
Finally, the 63 at the end of the model reference confirms that this case was manufactured in 1963. Not all vintage Omega watch cases are stamped with a date reference, but particularly in the early and mid-1960s, Omega followed the lead of its arch rival Rolex and adopted this approach which, again, is a useful guide for the modern day collector.
Beneath the model reference is the tiny coded emblem of Erwin Piquerez SA, the Swiss firm that manufactured this case. It comes as something of a surprise to many new collectors to find that Omega, in common with Rolex, IWC and Jaeger LeCoultre, was not a case manufacturer and instead purchased its housings from a small network of third part suppliers. Based at St Hubert, 2854 Bassecourt, Piquerez was responsible for some of the finest cases ever used on vintage Omega watches. This example is representative of its work, with very substantial wall thickness and the most exquisite finishing both internally and externally.
The vintage Omega watches for sale on this website stand out not least because their dials are so well preserved. They are undeniably expensive and for the average buyer looking for a watch for daily use, it may be attractive to consider cheaper options. However, for the purist who wants original, untouched dials in immaculate condition, he will not find better anywhere and the price premium charged will be worthwhile. At a serious level of the market, dial condition and authenticity becomes paramount, with approximately 40% of the commercial value of any high grade vintage watch being directly related to its dial. Online, especially in the fast paced world of the mass market auction websites, the finer points of dial grading are often glossed over, but we take a much slower, more detailed approach. If the customer is happy to pay, we can source watches like this one with virgin dials that are among the best in the world. We have to accept the high prices associated with the best dials when buying our stock and, of course, these are reflected in the amounts we ask on our website, but we try to keep our profit margin at a much lower level than that of our competitors and in fact, the vintage watches for sale here do represent very good value for money.
Even studied with a stereo microscope, this dial is almost flawless. It has no dust staining whatsoever and its French white surface is free from spotting. So often, if viewed closely from the right angle, it is possible to make out tiny fox spots caused by storage in damp conditions on watches of this age, but here, there are none at all. The overall dial colour might arguable be very, very slightly creamier than it was in 1963 and a little less stark, but this effect is so marginal as to hardly be worthy of mention. In the real world, the dial here is as close to new-old-stock perfect as any of us are ever likely to find.
"Omega" is printed in black below the firm's corporate emblem in the upper half of the dial, with "Swiss Made" around the very bottom edge. This wording is crystal clear and is not at all corrupted or faded. Appealingly, the hours are marked by large applied chrome Arabic numerals. It always cost a manufacturer more to order dials with applied, rather than printed, detail, yet curiously, there seems to be no example of this extra expense ever being passed on at retail level. The numerals here are not at all tarnished and in superb condition.
All three hands are original and in untarnished chrome. Details like hands and winding crowns must be correct for a specific model if it is to be regarded as a serious investor's watch. Assessing originality is almost impossible for the newcomer without access to a comprehensive archive of period factory parts manuals and advertising information. We spend an awful lot of time collecting background reference material, simply because we find it invaluable when examining watches as potential acquisitions. The winding crown here is also correct and is signed on its outer surface with a large Omega emblem. Notice how in the previous decade, many Omega models were originally supplied with plain, unsigned winding crowns. By the dawn of the 1960s, the shift was underway to signed crowns like the one here.
It is beyond the scope of this description to go into great depth concerning the 30mm series movement inside this watch. This range of Omega movements was one of the most celebrated that has ever been created by the company and there are collectors today who passionately put forward a strong argument that these beautifully engineered units still stand as the pinnacle of hand wound movements to date, even after well over half a century since they were first designed. In all its forms, the Omega 30mm series qualifies as truly iconic and, along with the Rolex Hunter and IWC calibres 88 and 89, is an essential inclusion in any portfolio of high level vintage watches that aims to represent the key triumphs of the luxury Swiss watch industry over the last century. These mechanisms really are that outstanding and a good one, in a completely original state, will have no difficulty in being a reliable, highly accurate companion for life. Offering vintage Omega watches for sale with the very best 30mm series movements has been something of a speciality of ours for nearly thirty years and we've learned a lot about assessing these items when they are shown to us as potential additions to our stock. In common with any sophisticated piece of machinery, they do have Achilles heels and will wear prematurely if neglected, but by carefully inspecting prior to purchase and being very critical as to component originality, we can weed out the average examples from those that are of investment grade standard like the one here.
We have written briefly about the fascinating background to the Omega 30mm series and its role as a high precision timekeeper for RAF pilots in World War II. This history can be read by clicking on the "Omega 30mm Series Movements" link in the list of Related Articles below this description.
This particular movement is calibre 269, which was Omega's tenth revision of the original 30mm of 1939. Launched in 1961, it was in every way a classic 30mm unit, but importantly, came with the added bonus of a Novochoc shock resistance system, as well as the very effective anti-magnetic protection that had been a feature of the movements in this range since 1941.
It is also worth adding that this is a "manufacture" movement, created entirely in-house by Omega without the need for any outsourced components. This is now an important point in the minds of many serious aficionados and again, is discussed in more detail below in the Related Article "What does the term Manufacture Movement mean ?".
Condition is everything with these period mechanisms, both by Rolex and Omega. They were built to incredibly high standards initially and the secret to trouble free ownership of these lovely watches today is to only buy at the very top of the condition scale and then keep up with routine servicing every three or four years without fail. Even the finest movements will prove unreliable if starved of lubrication and allowed to wear prematurely.
It is almost impossible to differentiate in condition between this movement and its equivalent in a brand new watch. Everything about this unit shines brightly and the uninformed examiner could be excused for forming the opinion that it was perhaps only a few months old. There isn't even the slightest hint of tarnishing to the copper plating of the bridges and the steel components gleam like the proverbial new pin. There is no evidence of any past repairs at all and, quite incredibly given the age of the unit, even the mirror polished screw heads have slots that are unmarked and even under high magnification, show no sign of having ever had screwdriver contact. It must be emphasised that every aspect of this movement is original, right down to the tiniest detail. Nothing has been changed and it remains now exactly as it did in 1963 on the day it first left the Omega factory. In short, it is the very best example of the classic Omega 30mm series movement that could be found anywhere, at any price and it would not be difficult to spend more and acquire a unit in much poorer condition.
"Omega" is signed on the plate, with "Swiss, 17 Jewels". Also present is the calibre number 269 and the individual serial number 20214165. Falling between the two extremes of Omega movement production for that year of 20000000 and 21000000, this clearly dates this mechanism as having been manufactured in early 1963. Notice how, as it always would do in a perfect world, the 1963 movement serial number ties in exactly with the 1963 year stamp inside the case back inner. Online, consistency between movement and case age is often rather too conveniently overlooked by many vendors, but we guarantee quite categorically that the pieces we sell have movements, cases and dials that have always been together as the same watch.
This movement runs perfectly and with excellent amplitude. It couldn't be in a better state of mechanical good health and if it is cleaned and lubricated every three or four years in the future, it will last almost forever. It would be no exaggeration to describe this as a watch for life and potentially an item that could be passed through successive generations as an heirloom.
We have fitted an ostrich skin type strap to the piece, with a very distinctive spotted grain pattern. This is not a genuine Omega strap, but is ideally suited to the upmarket, old world theme of the watch, ironically far more so than its modern Omega equivalents.
A finishing touch is the presence of a period vintage Omega stainless steel buckle, complete with the raised emblem of the brand. On current and recent Omega buckles, the logo is set into the buckle surface, but this is inappropriate for a vintage watch like the one here. Authentic signed buckles by all the top tier Swiss brands are expensive and not easy to source, not least because so many collectors are always looking for them in order to return watches they own back to factory standard specification. If sold alone, a near mint steel vintage Omega buckle like this one would certainly command a price of at least £70 GB pounds and this extra value must be factored in when considering this watch as a potential purchase.
We have priced this watch at £725 GB pounds, at which level it is far from expensive. Ironically, despite it already being firmly established as a highly desirable collector's item and having perhaps the finest hand wound movement of its era, by any maker, it is available here for less than the most basic, battery powered steel Omega in the company's current range. The sheer value for money offered by vintage watches like this one is extraordinary and it is almost impossible to see how they could ever decline in worth. In the central London specialist antique watch shops, like the vintage Omega store in Burlington Arcade, this item would be far more costly than it is here, reflecting the enormous overheads involved in current a retail business in the capital. In rural East Yorkshire, where expenses are some of the lowest in the UK, we can offer watches, like this one, of directly equivalent quality to those of our competitors, but at approximately half the London asking price. This is an immaculate piece, manufactured during a golden era for the Swiss watch industry by one of its most celebrated brands, and it will give its future owner an enormous amount of satisfaction whenever he enjoys wearing it while climbing in value, year after year.
Price £725 GB Pounds
Vintage Watch Brands
Vintage Watch Decades
Vintage Ladies Watches
Vintage Watch Bracelets
Swipwreek Straps
Travel Clock/ Pocket Watches
Home
About
Brand Overviews
By Decade
Reference
Contact Details
Telephone from the UK:
07453 734666
or 07428 051005
Telephone from overseas:
+44 7453 734666
or +44 7428 051005