Omega Seamaster steel with transitional case back 1958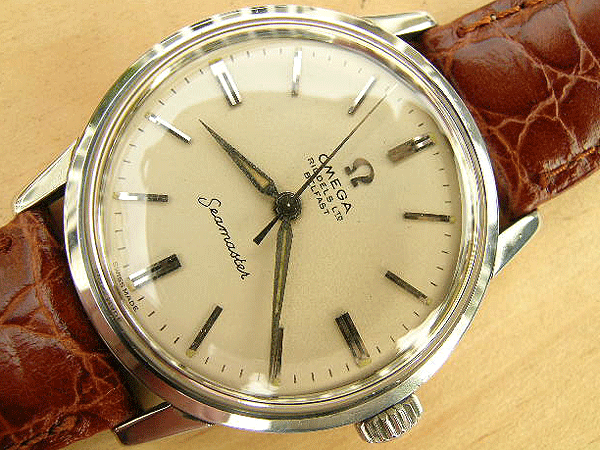 This vintage Omega Seamaster from 1958 is an exceedingly interesting watch because of its unusual transitional case. Over the last two decades, we have owned several hundred vintage Seamasters, but it can honestly be said that this is the only one of this particular variant that we have ever offered for sale.
To explain the previous paragraph a little, we should give a brief bit of background information. Omega introduced its Seamaster range in 1948 and we should consider it today as being basically a civilian version of the Mark X pilots' watch that the company had supplied to the RAF in 1945. There are differences between the two, but in general terms, the Omega Seamaster was a way of continuing production in peacetime of the rugged, waterproof military watches that had proved so successful for the company during the conflict years.
Sixty years on, the Seamaster remains a cornerstone of the Omega range, though, of course, the watches carrying this name today look entirely different to their forbears from the immediate post-war period. Omega has constantly revised the Seamaster to fit in with prevailing tastes and technical developments within the Swiss watch industry.
In its original 1940s form, the Seamaster had an entirely smooth case back onto which were stamped, around the outer edge, the words "Seamaster, Waterproof". Later, towards the end of 1960, Seamaster case backs would be decorated with the large stylised seahorse emblem that is still found on current Omega Seamaster models today. This emblem was in a mixture of cameo and intaglio, with the area around the seahorse recessed into the case back, but the circular border around the motif standing proud from the surface.
The watch here is such an oddity because its case clearly represents a stepping stone between the early smooth back vintage Omega Seamasters and those manufactured after 1960 on which the seahorse emblem as we still know it today is found. This case back features a large seahorse emblem, actually much larger than those that came later, but this has been lightly pressed into the surface of the steel, rather than, as later, deeply machined out of it.
Vintage Omega collectors will have seen this exact same style of case back before, on pre-moon landing Speedmaster models. If we look at an early Speedmaster case from the late 1950s or early to mid-1960s, it will be decorated with the same large seahorse, in the same lightly stamped way, as here, but this is the only Seamaster we have ever encountered in our business in this format.
Notice that while the seahorse is prominent, the previously used "Seamaster, Waterproof" wording seen on the smooth back models is still here. When the more sophisticated seahorse case back arrived in 1960, the "Waterproof" word was dropped. In every respect, this case is a transitional item, a half way evolutionary point if you like, between the smooth back versions of the 1940s and '50s and the now very familiar "full" seahorse Seamasters of the 1960s and beyond. We don't have access to Omega records, but given the small numbers of this case type that seem to be in circulation, we would strongly suspect that it was only manufactured for a very short length of time.
The condition of this case is very good throughout. As with any vintage watch that is not literally unused "new old stock", there are a few tiny imperfections here and there to the stainless steel case, but in the real world, its state is excellent and this is obviously an item that has been treated with care.
Internally, the case back is signed "Acier Inoxydable ( the French term for stainless steel), Omega Watch Co, Fab Suisse, Swiss Made, Patent + 315164" together with the dual model numbers 2964 3 SC and 2970. When two different model numbers are stamped side by side on a case back, this informs us that a single case back type was common to two different Omega models. Rather than having the inconvenience of having two separate stocks of identical case backs, each stamped with a single model reference, Omega simplified life by stamping both model references at the time of production in order that these could be used at will without further complication. The watch here is the 2964 3 SC, the letters in this context standing for "secondes centrales" and informing us that the movement present has a centrally pivoted sweep second hand rather than a subsidiary seconds register at the bottom of the dial.
Also here are the watchmaker's instructions "Dichtung Im Boden Einsetzen, Loger Le Joint Dans Le Fond, Fit Washer in Back, Ponga La Junta En El Fondo". This type of case was patented by Omega and achieved its waterproof status by means of a thick rubber washer that was fitted into the inside of the case back. This was compressed tightly when the case body and back were fitted together. If the washer was not replaced after servicing, there was no longer a barrier against the ingress of water, hence the need for the reminders repeated above. This case construction is classically 1950s vintage Omega and appeared on both the Seamaster and Constellation ranges. By the time 1960 came around, it was no longer in common use and I have never seen the later seahorse logo on a case back of this type, both the Seamaster and the Constellation by then having threaded, screw on case backs. It is worth mentioning that on this watch, even the original rubber washer is still in place.
The original winding crown with which the watch started life is still here. Its milled edges are crisp and not in the least bit smoothed, while its outer surface carries a large Omega emblem.
The commercial worth of any vintage wristwatch will be enormously influenced by the condition of its dial. A watch with an original, near mint dial will typically be worth roughly double that of exactly the same model with either a restored or original but deteriorated dial. This imbalance of values is actually quite logical and reflects the fact that so few vintage watches have survived with dials in this state. Just in the course of half a century of normal use, a dial will inevitably end up showing some signs of exposure to bright sunlight, dust and damp and in order to be original and near perfect, a dial must have spent most of its life in a safe or drawer away from harm's way.
This dial is the textbook example of what the investor should be looking to buy in an ideal world, but sadly, it isn't easy to find. It is completely original and untouched, with its French white surface free from spotting and any kind of age related deterioration. The overall dial colour is slightly creamier than it was in 1958, but this effect is very subtle, rather like gentle yellowing to the pages of an antique book.
"Omega Seamaster" is stated above and below the dial centre point, with "Swiss Made" running around the bottom edge of the dial.
Best of all, the name of the jeweller who supplied this watch when new, "Riddels Ltd, Belfast" is also here. Based in Victoria Street, Riddels was arguably the most prestigious jeweller in Belfast and an official Omega agent both before and after World War II. Vintage watches with double signed dials of this kind, where the names of the jeweller and the manufacturer are stated side by side, are relatively rare and were only produced by companies like Omega and Rolex for their most respected clients. All double signatures add value, and this Irish example is charming and appealing to the investor in a commercial sense.
All three hands are totally original. Their chrome finish matches that of the hour batons perfectly. These lance shaped hands are some of the most attractive that can be found on vintage Omega watches and are so typical of the firm's production from the second half of the 1950s. When considering vintage watches for sale, it is vitally important to ascertain that their cosmetic features, hands, winding crowns, bezels etc are original. Spare parts for antique watches by any of the major Swiss brands can be a nightmare to obtain. It is much wiser to pay more in the first instance and buy a watch, like this one, that is totally original, than compromise with a watch that has incorrect aspects and then try to locate the components to rectify these at some later stage.
The movement here is Omega's calibre 520. This is a classic hand wound unit, introduced in 1957 as the second revision of calibre 510 that made its debut in 1954. Certainly for its era, this was a very sophisticated unit, and was both anti-magnetic and complete with shock resistance. Its swan neck regulation system also stands out as a very appealing refinement, this allowing a far greater tuning of the movement's running speed than would otherwise have been possible.
This particular movement is in literally almost perfect condition. Its pink gold finish is not in the slightest bit dulled and has the gleam of its equivalent in a nearly new watch. Even when viewed under high magnification, all the mirror polished screw heads have slots that are mint and free from damage. Every aspect of this movement remains totally original and I would suspect that the only time it has ever been in the hands of a repairer was for routine cleaning and lubrication. It is quite amazing just how many of these early post-war movements now have a percentage of changed parts, these usually being very similar components from related calibres that have been modified to fit simply because the correct spares could not be located.
The bridge is signed "Omega Watch Co, Swiss". Also here is "Seventeen Jewels" and the calibre number 520. Alongside the winding wheel is the individual serial number 16817070, which, falling between the two extremes of Omega production for that year of 16000000 and 17000000, clearly informs us that this movement was manufactured in late 1958.
Even the new collector will see how by analysing the various features of this watch, we can put together a picture of it as being correct for its date of production. For instance, we know that vintage Seamasters had smooth case backs during the early and mid-1950s but that examples from the early 1960s had deeply engraved seahorse emblems on their reverse sides. It seems like a pretty fair bet then that this case back, with its large lightly stamped seahorse and the "Waterproof" word that appeared on the smooth back models came in between these two eras and therefore probably dates to the late 1950s. The likelihood of this is confirmed when we add into the equation that exactly the same version of the seahorse here was used on the case backs of Omega Speedmasters during the end of this decade. The movement serial number dates this watch to 1958, which ties in with our reasoning about the case and finally, the dial format and alpha shaped hands are textbook 1950s features. To use a clichéd phrase, a lot of the assessing process concerning vintage watches isn't some mysterious rocket science but actually entails little more than following a standard methodology to confirm that all major component parts are of the same period and of the appropriate combination for the specific model in question. This watch is unusual and of interest to a serious collector, and by following this step by step format, we can see that it remains unchanged and is entirely legitimate.
Having been serviced regularly throughout its life, this watch works perfectly. Winding, setting and running are very smooth indeed and provided routine maintenance is performed every three or four years, there is no reason why this item shouldn't be in full working order in forty or fifty years time, just as many pocket watches from the Victorian era still are today.
We have fitted this watch with a high quality crocodile skin strap. This is not a genuine Omega strap, but it suits the upmarket vintage appearance of the piece perfectly. Having never been worn, this strap is in mint condition.
The original vintage Omega buckle that was on the watch when we acquired it has been transplanted to the new replacement strap where it fits perfectly. Notice that exactly as it should be, the Omega emblem is raised proud from the buckle surface. A lot of the vintage Omega watches for sale online are trumpeted as having their original buckles when in fact, these are the modern type on which the Omega logo is recessed into the surface. This is not correct. Genuine period buckles by all the prestigious makers are not easy to come by and when they do appear for sale, command relatively high prices. In this superb condition, we wouldn't hesitate to suggest that if it was for sale alone, the Omega buckle here would change hands for somewhere between £60 and £70 pounds.
It is not easy to be sure how much to charge for this piece, because in nearly thirty years of daily involvement with classic timepieces, we have never seen another one and have no precedent from which to gauge a value. Certainly, in our business, we've haven't had another one in stock, which, given our almost thirty years in the field, is quite remarkable as by this stage, we've pretty much come across everything at one time or another. Normally, we have a fairly good idea of how much watches are worth at any given time from the results achieved for similar examples sold in Christies, Sotheby's and Antiquorum sales, but that doesn't apply here. Even the landmark April 2007 thematic sale "Omegamania", which included a large variety of vintage Seamasters from the 1950s and '60s, didn't offer this transitional model. It is certainly a rare vintage Omega Seamaster variant and we would guess that it was offered for no more than a year at most, but we don't have any way of quantifying the extent of this rarity.
A tidy, all original manually wound steel Seamaster from the smooth back period, typically from 1956 or '57, would change hands for perhaps £800 GB pounds. A later, post-1960 model with the heavy seahorse emblem on its case back would be worth slightly less, realistically finding a buyer at £600-ish. On the basis that this is a considerably rarer watch that both of these two types, we have set a price for it here of £875 GB pounds. This is at not at all excessive for such an interesting transitional variant of a very well known model range. Because it's just that little bit different, this is a piece that will be of interest to hardened vintage Omega watch collectors and for as long as classic Seamasters are sought after in the future, it will always rise steadily in value. For anyone wanting to build up a collection of watches that charts every step in the evolution of the vintage Omega Seamaster during its golden period, this odd version is an essential inclusion. For that reason, the simple fact that any such collection would be incomplete without this model, we think that this is an exceedingly strong choice for anyone looking for a vintage wristwatch as an investment.
Price £875 GB Pounds
Vintage Watch Brands
Vintage Watch Decades
Vintage Ladies Watches
Vintage Watch Bracelets
Swipwreek Straps
Travel Clock/ Pocket Watches
Home
About
Brand Overviews
By Decade
Reference
Contact Details
Telephone from the UK:
07453 734666
or 07428 051005
Telephone from overseas:
+44 7453 734666
or +44 7428 051005