Omega Seamaster steel black dial first rotor automatic 1955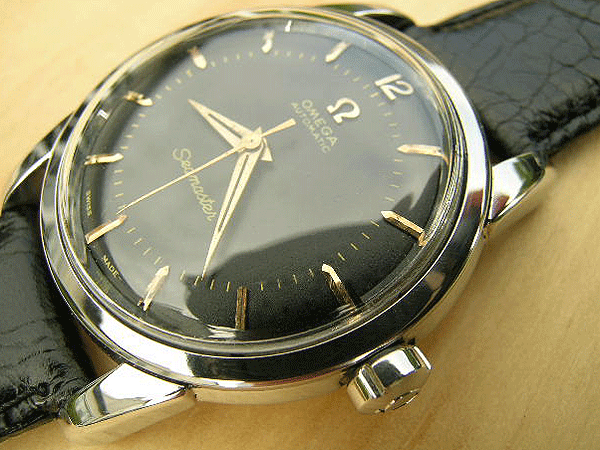 Dating from 1955, this superbly preserved black dialled gentleman's vintage Omega Seamaster is a watch that we find particularly appealing, both on account of its eye catching good looks but also because of its historical significance within the development of the famous Seamaster genre.
First introduced in 1948, the Seamaster was effectively a civilian version of the pilots' watches that Omega had very successfully supplied to the RAF during World War II, but with the added luxury, as an option, of automatic winding. To create this model made sense for the company, as enormous advances had been made during the conflict as a result of research carried out for the Allied governments, particularly in the areas of anti-magnetic protection and shock resistance, that could be applied to a suitable civilian watch in peacetime. Judged critically on their technical merits, early vintage Omega Seamasters are better watches than their military forbears, primarily because their movements were decorated to a superb standard that was deemed to be an unnecessary luxury for forces issue timepieces. In many ways, it is actually very difficult to fault period Seamasters, and we often recommend them to buyers who are overwhelmed by the variety of watches offered on our website and ask our opinion as to what represents a good all-round purchase. A genuinely well preserved early Seamaster that has been well looked after in the past won't be a cheap watch, but the general opinion among experienced collectors is that these are still substantially undervalued at present, with plenty of room to appreciate in the future, and we think this view is a realistic one.
The variant offered here is interesting, as it can be seen as the second generation of the vintage Omega Seamaster, combining the very attractive wide lugged case style of the 1948 model with a rotor driven movement, as opposed to the "bumper" mechanisms that powered the 1948-1955 watches. As many of the regular visitors to this website are aware, we have something of a soft spot for bumper movements, but we also acknowledge that the inherent inefficiency of their design concept renders them as being perhaps more suitable for ownership as collectibles, rather than as objects for regular use. All Omega Seamasters are extremely rugged watches, but the low gearing of the rotor equipped post-1955 watches means that they will self-wind with very little movement on the part of the wearer, making them ideal for use in modern, relatively sedentary working environments. The bumper requires a more active wrist to keep it running, though, to be fair, with a long power reserve as standard, this isn't the issue that some might think it to be. If buying purely for investment, we would probably choose a bumper Seamaster over an early rotor example, but if also intending to frequently wear our purchase, we'd opt for a very early post-1955 model like the one here. Both types are beautifully built classic watches that are a pleasure to own, and to compare the two in this way is perhaps needlessly critical, but these later versions are arguably just slightly less agricultural and a little bit more user friendly.
The large stainless steel case here is absolutely representative of the early Seamaster, and in many eyes, is the most visually pleasing style that Omega have ever used on this model. The condition of this particular example is almost perfect, with none of the pitting to its reverse side that we so often encounter on stainless steel watches of this age. In common with nearly all Seamasters, this is a large watch, with a width of 36mm. If this case is studied under high magnification, it is possible to pick out tiny imperfections that have occurred with careful handling and retail display, but in real terms, a better early steel vintage Omega case from this period would be almost impossible to locate.
When new, a major selling point for the Seamaster was its impermeable construction, and to achieve this status, Omega developed a fascinating sealing system for its case backs at this time. While the company already had threaded case backs on several of its other models, and indeed used these on the first Seamasters, it abandoned this approach in the early 1950s and instead reverted to press-fit case backs, but inserted into these a thick rubber gasket that was compressed against the case body when the former component was fitted into place. As long as the gasket material wasn't allowed to perish, this was a very effective sealing system, and this point is proven by the number of vintage Seamasters that can still be sourced today on which the movements remain free from discolouration or corrosion.
We can accurately date this watch from its movement serial number, but even if we didn't have access to this, the case back signature would still let us tie its year of origin down pretty closely. The case back outer is completely smooth, with the wording "Seamaster, Waterproof" stated around its outer sloped edges. On later watches, those manufactured from approximately 1958 onwards, we would see the presence of the distinctive Seamaster seahorse emblem, this still being used on current production today. Personally, we very much like the look of early polished back Seamasters, but equally we have customers who prefer the decorated case versions, and this is a purely a matter of individual taste.
Internally, this case back is fully signed as "Omega Watch Co, Fab Suisse, Swiss Made, Patent Applied", together with the model reference 2846-1 SC. Notice how these final two letters refer to "Seconde au Centre" as opposed to a separate subsidiary seconds dial situated at the 6 o'clock dial position. Even by the late 1950s, centre seconds would be the norm and this appendix to the model reference would be dropped. Similarly, the "Patent Applied" wording informs us that this case was manufactured approximately between late 1952 and early 1957. On post-1957 cases of this type, this signature is replaced with a full patent number, this having been granted to Omega in respect of this innovative rubber gasket seal. Also present here is the wording "Dichtung Im Boden Einsetzen, Loger Le Joint Dans Le Fond, Fit washer in back, Ponga La Junta En El Fondo", this being a reminder in four languages that after servicing the watch, this sealing washer must be replaced in order for the piece to remain effectively waterproof.
The original gasket sealed winding crown is still in place, and this is in excellent condition. Fully signed with a large Omega emblem, this is the correct crown type for this model. There is an understandable automatic presumption on the part of many newcomers to the watch collecting field that if an item has a signed winding crown, that this must be of the appropriate pattern for the model onto which it is fitted. Sadly, this is not the case. Omega manufactured literally hundreds of different winding crowns during the vintage period, and the vast majority, having the same tap eight thread, are completely interchangeable. This crown is absolutely right for the early Seamaster here, but many others are not, and it is a good idea to try to obtain copies of period adverts, sales brochures etc to confirm that cosmetic features such as winding crowns, hands etc are as they should be. To a serious collector, these points are important, and a watch like the one here, that will withstand scrutiny at any level, is worth paying a significant premium to obtain over a merely average example with possible component substitutions.
As regular visitors to this website will already know, our watches do tend to be pricey, perhaps more so than those offered by any other online seller based outside central London. However, simply because they are such superb examples of their type that are head and shoulders above the average, we would unquestionably say that they offer better value than the more common lesser grade pieces in a cheaper price bracket. As with any field of antiques, the quality of an item is reflected in its price, and our items represent the very best surviving examples of their type. Probably the most graphic illustration of this point is their dials, which are entirely original and, in most cases, in almost perfect condition. On any vintage watch, the dial will be the component that defines its value when compared with others of the same model, and a piece with a so-called "restored" dial, or a dial in badly discoloured condition, will typically have a market worth of around 40% less than an example, like this one, on which the unmolested dial is beyond criticism.
Black dials are always the most desirable variant on any vintage timepiece and will command a high price premium, but we find them particularly fitting on early Seamasters as they continue the same aesthetic precedent set by the military pilots' watches from which this model was developed. The dial here is almost mint, with no fading or spotting whatsoever. The signature "Omega, Seamaster, Swiss Made" is crisp and well defined, as are the single track minute markers, set inside the gold arrowhead hour batons to give the dial a faux-pie pan appearance that apes the look of Omega's much sought after Constellation model from the same era. To find another original black dial in this exceptionally well preserved state on an almost sixty year old watch would be a very difficult task, and this factor alone will greatly commend this item to the serious vintage Omega watch collector.
Every experienced collector would agree with the statement that vintage Omega watches represent remarkably good value for money, and this becomes even more obvious when one studies the quality of their hand built movements under a jeweller's eyeglass. At this time, in fact up until the early 1980s, Omega manufactured its own mechanisms entirely in-house, and imported no components from external suppliers. To the purist, this distinction is an important one, and these "real" Omega movements are of far more interest from a technical point of view that the rather bland, mass produced ETA derived units that followed them.
This movement, the company's calibre 501, is especially important to the Omega connoisseur on account of it being the first offered by the brand with a 360 degree rotor rather than an oscillating self-winding weight in the bumper style. We deliberately won't go into huge detail here, as a discussion of these two automatic movement types is included as part of the Reference section of this website. Suffice it to say that, in general terms, the first wave of automatic movements by nearly all the major Swiss houses utilised the bumper concept, whereby a weighted arm moved backward and forward through a limited arc of travel, winding the watch in one direction only. The bumper nickname is used almost universally for this movement type as it captures in a nutshell the way in which this arm literally swings inside the watch, bumping back in the opposite direction from which it came. In contrast, the rotor principle is more refined, with a centrally pivoted weight being allowed to smoothly rotate through a full 360 degrees in both directions, eliminating the jarring motion of the bumper as it bounces backwards. In text format, describing these two types is rather clumsy, but if a movement of each design is studied side by side in the flesh, their differences will become obvious within seconds.
First offered in 1955, the year in which this watch was produced, the 501 movement is a beautifully built unit that Omega itself now regards as among its most significant mechanisms, including an example on permanent display in its own factory museum in Bienne. In common with the first generation rotor movements by nearly all the major brands, the 501 wasn't actually a complete new mechanism, but, strictly speaking, a mating of an existing manually wound timekeeping unit with a purpose built self-winding module. This two part construction, the automatic rotor sitting on top of the basic movement rather like a hat on a wearer's head, was slightly Heath Robinson in theory, but in practice, worked extremely well. Perhaps the only slight disadvantage to this sandwiched design was that the finished movement of necessity was slightly thicker than the integrated automatic mechanisms that would follow in the 1960s, but to today's wearer, in an environment where bulkier watches are very fashionable at present, this is certainly not a problem.
Despite its somewhat improvised origins, calibre 501 is extremely refined, and features every possibly luxury that was available to the movement designer in the mid-1950s. The ability of this mechanism to resist shock is exceptional, it is shielded against the effects of strong magnetic field and has a very ingenious swan's neck regulator system that enables its running speed to be fine tuned far more precisely than would otherwise be possible. It is a measure of the 501s remarkable accuracy that this movement was used not only in the Seamaster, but also in Omega's Constellation, each unit chosen for this flagship model being independently certified as a chronometer. However, it is a matter of recorded fact that those mechanisms selected for chronometer testing were not specially tuned in any way prior to Observatory submission, but were merely standard examples that were taken at random from Omega's 501 stock pile.
This particular movement is a beautifully preserved example of its type. Its distinctive pink gold finish gleams brightly and is free from corrosion and discolouration. The signature "Omega Watch Co, Swiss, Nineteen Jewels" is stated on the rotor, with the calibre number 501 stamped onto the bridge. On the base plate is the individual serial number for this movement of 14684504, this informing us that it first left Omega in 1955, falling between the two extremes of production for that year of 14500000 and 15000000. This unit contains no changed or replaced components and is completely original throughout. Having been serviced regularly throughout its life, it works perfectly, automatic winding very smoothly in both directions and running with excellent amplitude.
We have fitted the watch with a high quality ostrich skin type strap that is perfectly in keeping with its period appearance, though it is not a genuine Omega strap. This item remains in mint condition, having never been worn. A nice touch is the stainless steel 1950s Omega buckle, complete with the company's famous emblem, that we have transplanted to the replacement strap. This is in superb condition, and in itself is a collectible item. Nearly every vintage wristwatch that survives today has lost its signed buckle, these having been discarded during past strap replacements. As a consequence, when such buckles do appear for sale, they command high prices from those looking to restore their watches back to full factory specification. We wouldn't hesitate to suggest that as a loose component, this buckle would sell for around £70 GB pounds, and this additional value must be weighed into the equation when considering this watch as a possible acquisition.
In summary, this is a well cared for, immaculately presented 1955 black dialled vintage Omega Seamaster, in a very desirable format. These second generation early Omega Seamasters make ideal watches for those wishing to own a reliable vintage timepiece for regular use, while still having a rare watch that will always be highly regarded as a collectible. Based on the similar black dialled mid-1950s Seamasters that we have seen sell on the physical auction circuit over the last two or three years, we have priced this watch at £945 GB pounds, which is less than we would expect it to make if included in a suitable Christie's, Sotheby's or Bonhams specialist fine wristwatch sale. Lot 117 in the thematic "Omegamania" sale held on the 14 and 15th April 2007 in Geneva by Antiquorum was an almost identical Seamaster to this one, but in gold rather than steel, and was described as "fine and rare". It featured the same calibre 501 movement, case style, black dial, hands and distinctive winding crown as the watch here. Its case back interior was stamped with the same 2846 model reference, but its movement serial number, 16252487, dated it to 1959, four years later than our watch.
The asking price for this watch represents superb value in terms of the quality of its movement, and when we consider this mechanism's historical importance as the first rotor driven automatic calibre to be offered by Omega. If we look at comparable early rotor equipped watches built in this same two-part way by Rolex, Omega's main competitor, these are all in the £2500 and upwards bracket today, and, for no obvious reason, early Omega Seamasters are unquestionably undervalued at the moment. The period Seamaster is very much an icon of vintage wristwatch design and makes a solid cornerstone in any serious collection of classic luxury timepieces.
Price £945 GB Pounds
Vintage Watch Brands
Vintage Watch Decades
Vintage Ladies Watches
Vintage Watch Bracelets
Swipwreek Straps
Travel Clock/ Pocket Watches
Home
About
Brand Overviews
By Decade
Reference
Contact Details
Telephone from the UK:
07453 734666
or 07428 051005
Telephone from overseas:
+44 7453 734666
or +44 7428 051005