Omega Seamaster automatic steel oversize 1956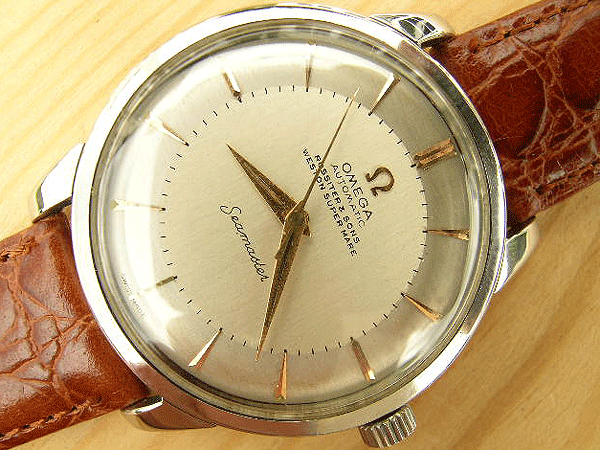 In an extremely rare oversized case, this vintage Omega Seamaster automatic in steel from 1956 is a high desirable watch that will charm the most hardened Omega collector. We have been in the specialist vintage watch business right from the start of the concept of the antique wristwatch in the mid-1980s, and can state categorically that we've never had another of this large diameter vintage Seamaster for sale. While completely original throughout and entirely authentic, it certainly falls into the bracket of an oddity, which makes it ideal as an investment. In almost any field of antique collecting, rarity directly correlates with commercial value and vintage wristwatches are no exception. This isn't an inexpensive watch, but it is a genuine rarity that will always command a price premium when sold again in the future and be an object of desire to vintage Omega aficionados.
The size of the stainless steel case is quite remarkable. With a diameter of just over 34mm, this case is very noticeably larger than other vintage Omega Seamaster automatics of the same era. Even today, when oversized wristwatches are the norm, this is still a noticeable watch that has presence on its wearer's wrist. To most vintage watch dealers, classic Omega Seamasters are very much a stock in trade that we buy on a regular, almost daily, basis. Looking at this particular watch for the first time was memorable, because it was effectively seeing a very familiar object in a much larger size that we were not aware even existed.
Exactly as it should do on a vintage Seamaster of this age, this case features a snap on back that employed the sealing system patented by Omega in 1955. This was extremely innovative and made use of a rubber washer that was compressed tightly between the case back and a lip protruding from the case body. As long as the rubber washer remained in good condition, these cases were effectively sealed against the ingress of water. Very unusually, the original sealing ring in this watch is still in place.
Inside the case back inner is the wording "Acier Inoxydable, Omega Watch Co, Fab Suisse, Swiss Made, Patent 315164" and the reference for this specific Omega Seamaster variation 2857-2856-2 SC. The SC in this context stands for "second centrale" and informs us that this watch has a centrally pivoted sweep second hand rather than the subsidiary seconds register that we would often encounter on vintage Seamaster models from the late 1940s and early '50s.
Also here are watchmaker's instructions in four languages, these all stressing the importance of replacing the rubber gasket in the case back after the case has been opened.
As a matter of policy, we try to obtain copies of any patent documents that relate to the vintage watches we offer for sale on this site. In this instance, we have tracked down the registration documents that deal with Omega's patenting of this case back arrangement. These will be included with the watch when we post it to its next owner.
It wouldn't be easy to find a better preserved or more attractive vintage Omega dial than the one on this watch. Despite being over fifty years old, it remains free from staining or deterioration, with the only criticism that could possibly be levied at it being that the overall dial colour is perhaps just a fraction creamier and a little less stark white than it would have been when brand new. Most fundamentally of all, this is a completely original dial rather than one that has been restored. Untouched, virgin dials like this one that are also in near mint condition are the ultimate finds for serious collectors. A very high percentage, almost half in fact, of the asking price of this watch reflects that fact that its dial is so exceptional. Exposed to bright sunlight and any dust of moisture that might creep down the sides of the glass, a dial is the most vulnerable part of any vintage watch and accordingly, the one with the greatest potential for variation in condition. Really first rate original dials on vintage Omega watches from the 1950s are rare, and this one is nothing short of a gem.
"Omega, Automatic" is stated above the dial centre point, with "Seamaster, Swiss Made" appearing around the bottom edge. More interestingly, also here is the name of Rossiter & Sons of Weston Super Mare, the English retailer that supplied the watch when new. Vintage watches with double signed dials of this kind, where both vendor and manufacturer appear alongside each other, are not common and have become something of a speciality of this site. It is easy for the novice collector to assume that these second names were added by the retailers themselves, but in reality, they were already in place upon their arrival at their intended place of sale. Omega didn't print dials for many of its clients in this way and as a percentage of the total number of vintage Omega watches in circulation, very few are double signed. Certainly over the last decade, we've seen a great rise in enthusiasm for double signed dials. They always carried a premium over their singly signed counterparts, but recently, this gap has widened to the point when even a dial signed with the name of a fairly run of the mill English retailer will add 25% to the value of the watch as it otherwise would have been, with huge amounts being paid for vintage watches with dials carrying the names of long lost jewellers in India, Africa or other British colonial outposts.


Vintage Omega movements are some of the finest that have ever been produced, at any time. At this stage, Omega was still a manufacturer of its own in-house movements which gives its vintage models a great degree of credibility with collectors who are slightly uneasy about acquiring high priced modern watches with movements based around generic ETA mechanisms. This movement, and others from the same period, are "real" Omega movements in every sense, designed, built and regulated entirely in the Omega factory in Bielle. For anyone purchasing with a view to investment, I would always recommend that a vintage Omega with an in-house movement is sourced and it seems universally agreed that these will always appreciate in value at the fastest rate.
The movement in this watch is calibre 501, which occupies a significant position in vintage Omega history. The 501 was part of the group of calibres that were the first ever rotor driven automatic movements by Omega for use in men's watches. Previously, Omega had built its self-winding calibres along the bumper principle, with an oscillating weight rocking forward and backward through a limited arc of travel. In 1955, the decision was taken to adopt the path traditionally taken by Rolex and introduce a rotor movement, with the bumper movement gradually being faded into obsolescence from then on.
One of the major reasons for the Omega 501 movement being so charming is that its construction is Heath Robinson in the extreme. Rather than tooling up to produce an entire new movement from scratch, Omega took a standard hand wound movement, of the kind that it had manufactured brilliantly for decades, and screwed onto the top of it a completely separate rotor module that facilitated automatic winding. While the result worked perfectly, this wasn't really a genuine automatic movement in the truest sense, but in fact, was a combination of a hand wound movement and a separate device that enabled it to auto wind with the motion of a wearer's wrist. Omega can't actually take credit for this ingenious approach, as Rolex had used exactly the same piggyback architecture on its early bubble back automatic movements of the 1930s and '40s. Our view has always been that Omega actually made a better job of this project that Rolex had done, and if anyone specifically requires an example of an early two part automatic movement with a separate rotor module, then my advice would be to opt for a vintage Omega unit from the second half of the 1950s.
This type of Omega movement made its debut with the launch of calibre 470 in 1955. The movement in this watch is essentially the same, but with some minor fine tuning of the design, and appeared a year later in 1956. Interestingly, almost all the calibre 501 movements manufactured were sent for chronometer testing and used in Omega's Constellation models, these being the flagship for the company at the time. It is relatively unusual to find a non-chronometer rated 501 in a Seamaster, which again makes this watch especially interesting.
The condition of this particular movement is quite remarkable, verging on the almost as-new. A lot of movements in vintage watches for sale today are pretty much worn out and are identifiable as such by their tarnished appearance. The distinctive pink gold finish of this movement shines brightly like that of a brand new watch, without the slightest sign of dulling or corrosion. All the screw heads slots are crisp, with none of the unsightly chewing that one often finds on these vintage movements as a consequence of repairs having been performed by amateur enthusiasts who didn't have the correct tools to complete their work without causing damage.
Every component part here is also original. As these movements became older, there was a tendency for repairers to adulterate them with incorrect parts from other related calibres just to keep them running. Everything here is absolutely correct for this calibre and nothing has been replaced or altered.
"Omega Watch Co, Swiss, Twenty Jewels" is signed on the rotor, with the calibre number 501 stamped on the rotor bridge. Also present is the individual serial number of this unit, 15696728. Falling between the two extremes of Omega production for that year of 15000000 and 15500000, this clearly dates this movement as being from early 1957. Notice how this ties in perfectly with the specification of this item. In its original 1955 form, calibre 501 had nineteen jewels, but was revised by Omega in 1957, when an extra jewel was added. Correlating the jewel count and the serial number, it is clear that this must have been among the first Omega calibre 501 movements with twenty jewels to be produced.
A very interesting point that's well worth mentioning is that Omega used the standard sized 501 movement in this watch, despite its oversized case. In order to pack out the area around the movement, a specially machined metal washer, also finished in pink gold to make it indistinguishable from the movement, was used. We have always disliked this approach, despite the fact that it was the standard one taken by Omega, Rolex, IWC and Jaeger LeCoultre when they wanted to offer very large cased models. We always feel that the original purchasers of watches like the one here probably assumed that they contained enlarged movements that filled their cases completely, which was never actually so. Having said this, we have never heard anyone else ever voicing the same opinion, so it may be just us that feel these items were somewhat deceptive.
Having been serviced on a regular basis, this movement is in peak health. It runs very smoothly and with excellent amplitude. The quality of these vintage Omega movements was so high in the first instance that provided one is very critical when selecting a purchase today and only buys something in really outstanding condition, it should be possible to acquire a watch that lasts a lifetime. The key to everything is to only buy a watch with a movement that is near mint in appearance and has obviously never been neglected or abused. The movement in the watch for sale here is as close to being perfect as it gets and provided it is sent for cleaning and lubrication every three or four years, it will continue to perform faultlessly for many decades.
This watch has been fitted with a brand new high quality crocodile skin type strap, the original having deteriorated to the point where it was no longer serviceable. This is not a genuine Omega strap, but it is perfectly in keeping with the theme of the watch and almost identical in appearance to those pictured in vintage Omega advertising from the mid-1950s.
An original vintage Omega buckle in steel is here, and this is worthy of quick comment. A lot of the vintage Omega watches for sale online tend to be offered with Omega buckles, but of a modern variety rather than period originals. Recent Omega buckles can be identified by their recessed Omega emblem, this contrasting with the raised Omega emblem on the vintage buckles. Good original vintage buckles by any of the top tier Swiss watch brands are not easy to find for sale and many owners of classic Omega, Rolex etc watches are forced to compromise and fit modern buckles simply because they can't locate, if you like, the "real" thing. This vintage buckle is a superb example and if it was sold alone, would quickly find a new home at around £70 GB pounds. This added value, and the convenience of not having to track down a vintage Omega buckle, should be factored into the equation when considering this watch as a potential purchase.
This is another of those vintage watches that is difficult to price, primarily because we certainly haven't seen another similar early Omega Seamaster for sale with this same oversized case. In a sense, whatever price we offer this watch at is little more than a figure pulled out of a hat, because neither Sotheby's, Christie's, Bonhams or Antiquorum has offered this unusual variant to set a price precedent in the last few years. We typically have a wide selection of bumper and early rotor automatic vintage Omega Seamasters for sale in steel priced at between £750 and £1200, depending on their specification and exact condition. This very large watch is considerably rarer than its standard sized equivalents and it doesn't seem at all excessive to put a price on it of £1145 GB pounds. It is an exceptionally attractive collector's watch that will delight the most hardened Omega purist and, because of its rarity, always be an asset that will appreciate steadily in value. It isn't the least expensive vintage Omega Seamaster automatic that can be found for sale, but it is one of the best we've owned in some time and for the buyer who doesn't mind spending a little bit more to own something genuinely out of the ordinary, it would make a good choice.
Price £1145 GB Pounds
Vintage Watch Brands
Vintage Watch Decades
Vintage Ladies Watches
Vintage Watch Bracelets
Swipwreek Straps
Travel Clock/ Pocket Watches
Home
About
Brand Overviews
By Decade
Reference
Contact Details
Telephone from the UK:
07453 734666
or 07428 051005
Telephone from overseas:
+44 7453 734666
or +44 7428 051005