Jaeger LeCoultre steel calibre P478 buckle 1955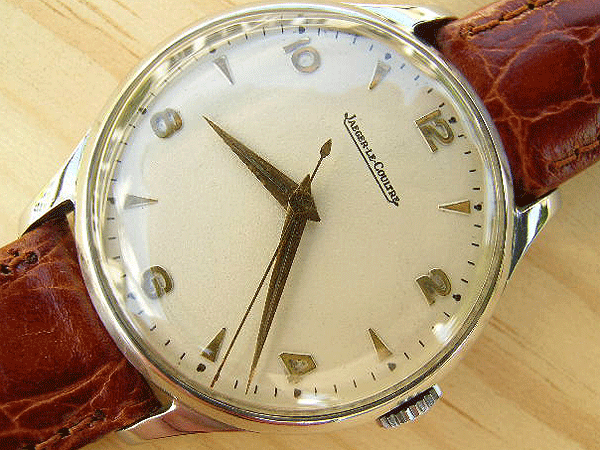 For anyone intending to purchase a vintage watch on the basis of sheer quality, this 1955 gentleman's steel Jaeger LeCoultre is probably a choice that would be impossible to better. In immaculate, almost unused condition and with arguably the most revered hand wound movement that this famous house has ever made, it is among the ultimate purist's choices from this era. The 1950s are regarded by many connoisseurs are the decade in which mechanical watch making in Switzerland was at its height and certainly, the quality of both construction and finish in the calibre 478 movement has not been equalled in recent years. To the man in the street with a limited knowledge of classic wristwatches, this is an attractive and elegant old Jaeger LeCoultre, but to someone who is really familiar with the subject, it is also far more than that on many levels.
The large stainless steel case is in almost mint condition and has only the very faintest of tiny imperfections. There is no measurable wear to this item at all and it would be impossible to find a better, cleaner example than the one here.
The case back interior has been covered with an engine turned pearled pattern and is signed "Acier Inoxydable ( the French term for stainless steel), LeCoultre Co, Swiss". Also here are the watchmaker's instructions "Pour Deboiter, Tourner Le Mouvement". Raised in the wilds of Yorkshire, we do not have a terribly good command of French at the best of times, but it would appear that this indicates that the movement can be removed from its case by a turning motion.
On the case back outer, there is the serial number 634374. This is of full depth and has not been polished out in the slightest.
The white dial is completely original and has not been restored in the past. So many watches of this age are now either with freshly restored dials or dials that are original and unsightly, and both categories are undesirable. In order to have its maximum theoretical value, a vintage watch must have its original dial in superb condition. Anything less will reduce its value dramatically, typically by at least 40%. Being aware of this, serious collectors are notoriously dial critical and the majority will refuse to even consider any watch with a sub-standard dial as a potential acquisition.
Even when scrutinised under high magnification, this dial can be regarded as almost perfect. There is no spotting or dust staining to its surface and the "Jaeger LeCoultre" signature remains crisp and clear. The gleaming gilt arrowhead batons and Arabic numerals are free from corrosion and match perfectly the alpha shaped hands. All three hands are completely original and in virtually mint condition. From a collector's point of view, this dial could not be any better than it is. In order to exist today in anything even remotely approaching this state, a vintage dial must have been stored in clean and dry conditions throughout its life. Those that have been cosseted this way represent only a tiny percentage of the total dials in existence and hence they command a high price premium when offered for sale.
The superb condition of this watch's original dial commends it as a suitable example for purchase as a serious investment, but it is the utterly gorgeous calibre 478/C movement inside the piece that makes it mouth watering to the aficionado. Introduced in 1945 and in production until 1965, this calibre is regarded by many as the most accomplished hand wound movement in Jaeger LeCoultre's back catalogue.
In simple terms of plain specification, the 478/C is a 16 jewelled manual movement with an exceedingly advanced system of regulation, this allowing the running speed of the balance wheel, and therefore the accuracy of the watch, to be adjusted far more precisely than it could be on almost ever other movement from the same era. But to not look any further than a skeletonised view of this calibre is to completely miss the point as to why it is such a gem.
There is no doubt at all that the design of the 478/C was correct from the outset, but it is really the finishing of the unit that sets it apart so dramatically. Jaeger LeCoultre was one of only a small number of Swiss houses that manufactured its own movements entirely in-house without the need for components from third party suppliers. This autonomy gave the company complete control over every stage of the production process and ensured that no compromise was ever made in terms of quality.
The bridges here are finished in rhodium plate, and their edges are bevelled rather than left plain. Every individual screw head has been polished by hand to a mirror finish and even the signature "Fab. Suisse, Swiss, Jaeger LeCoultre" has been carefully filled in with gold in order to render it more legible against its background. It sounds excessive, but the fact is that the 478/C is more of a piece of mechanical sculpture than simply a wristwatch movement.
Falling between the two extremes of Jaeger LeCoultre movement production for that year of 1050000 and 1130000, the stamped serial number 1060435 on this mechanism tells us that this unit was manufactured in 1955.
It is worth noting that this same movement was purchased from Jaeger LeCoultre by Vacheron Constantin, which assigned it the calibre number P1008/BS and fitted it to its "Chronometre Royale" models of the 1950s. These change hands for several thousand pounds each and are immensely sought after by collectors, many of whom are probably unaware of the availability of the identical movement in its original Jaeger LeCoultre signed form. There was a very good article on the 478/C in the August 2003 issue of the Amercan magazine WatchTime in which it was stated that "the vintage P478/C numbers among Jaeger Le Coultre's most beautiful movements". We don't know any experienced Jaeger Le Coultre enthusiast who would disagree with this statement and certainly if a sample watch is sought to showcase the company's movement making ability from the immediate post-war years, then a model fitted with this calibre would make an ideal purchase.
This particular movement is in superb, in fact almost perfect, condition throughout. It is entirely original and has never been adulterated with non-standard components at any time. Vintage movements by any of the top level of makers from this period were built so well that provided they are looked after with care, they will last almost forever. This one has been serviced regularly throughout its life, with the result that it runs perfectly. Jaeger LeCoultre will still undertake the servicing of calibre 478/C today at its Le Sentier factory, but be warned that while its quality of work is very high, it is also pricey. The reality is that despite its exotic finishing, this calibre is relatively simple and can be serviced perfectly well by any experienced local watch repairer for a very modest sum.
We have fitted this watch with high quality crocodile skin type strap. This is in perfect condition and has never been worn. While the strap is not a Jaeger LeCoultre item, we have transplanted the original buckle onto it that was supplied with the piece when new. This is signed with the company's "JL" emblem and remains in superb condition. While perhaps seeming trivial to the newcomer to the field, the value of this buckle should not be overlooked. Original buckles by manufactures like Jaeger LeCoultre and Rolex from the 1940s and '50s are very difficult to source. Many collectors actually end up fitting their vintage watches with modern buckles, simply because they can't locate old original examples. This pressurises the market and when they do appear for sale, prices are very high. There is no doubt at all that if sold in the online auction environment, this buckle would change hands for in excess of £100 pounds and this must be factored into the equation when considering the purchase of this piece.
The price of this watch is £985 GB pounds. At this level, even in the short term, it would be almost impossible to ever lose a penny on this item and if owned for several years, it will produce a tidy profit. Twenty years ago, original Jaeger LeCoultre watches from the 1940s and '50s were already very difficult to find and today, they have virtually dried up entirely. The simple fact of the matter is that, quite understandably, those collectors who do own superb, all original watches don't see any reason to part with them in the present rapidly rising market. If one trawls the internet auction sites long enough, if will be seen that average examples pop up now and then, usually with freshly restored dials and sometimes with non-standard cases, but untouched, absolutely correct items are hardly ever seen. This particular watch couldn't be better and is the ideal piece for anyone specifically looking for a near pristine sample of a Jaeger LeCoultre with the much celebrated 478/C movement for long term ownership.
Price £985 GB Pounds
Vintage Watch Brands
Vintage Watch Decades
Vintage Ladies Watches
Vintage Watch Bracelets
Swipwreek Straps
Travel Clock/ Pocket Watches
Home
About
Brand Overviews
By Decade
Reference
Contact Details
Telephone from the UK:
07453 734666
or 07428 051005
Telephone from overseas:
+44 7453 734666
or +44 7428 051005