Jaeger LeCoultre Memovox alarm automatic steel 1976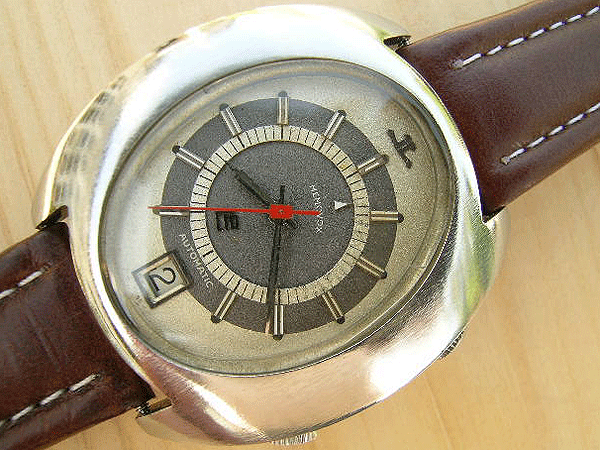 This large sized gentleman's vintage Jaeger LeCoultre Memovox alarm watch from 1976 is very evocative of its era and an item that is extremely in vogue at the present time. Jaeger LeCoultre released its first alarm watch in 1954 and from then on, there have been a succession of models built according to this concept. The original versions were hand wound, with the first automatic example appearing in 1958. Initially, the styling of these watches was very classical but in the late 1960s and '70s, the Memovox took on a fashion influenced identify that is typified by the watch for sale here. Studying this item is a lesson in how changing trends can affect prices in the vintage watch market. Even ten years ago, the strong 1970s look of this model would have rendered it quite difficult to sell. Knowledgeable buyers with an appreciation of fine movements would have still rated it very highly because of the superb quality of its mechanism, but without the interest of the less specialised general purchaser, its worth would have been perhaps between £600 and £750 GB pounds. Today, simply because the wheel of fashion has turned to favour all things 1970s, this is a chic watch in a much sought after style. It is priced here at £1475 GB pounds and while this is far more than its bargain basement value of a few years ago, when, as discussed below, its movement is compared with its almost identical twin in today's Master Compressor Memovox models, it certainly isn't at all expensive.
The condition of this watch is superb throughout. It certainly would have been a costly purchase in the first instance, and it makes sense that anyone making a substantial investment of this kind would have looked after their acquisition. The large ( the watch has a width of 37mm) case is virtually unmarked and still retains its original finish combination of a mirror polish to the case sides and a brushed effect to the top. As with any collectible watch that has been carefully worn from time to time, if one looks closely enough there are a few almost invisible imperfections to the case here and there, but in realistic terms, this housing is as close to being perfect as any of us could ever hope to find.
A footnote should be briefly added in connection with the case to say that this wasn't the only model by Jaeger LeCoultre to utilise this distinctive shaped housing. The company's Master Mariner of the same era was also offered in the same style. Notice that despite this cosmetic similarity, the two cases are clearly not interchangeable with each other, that of the Master Mariner having a single hole in its side for a winding crown instead of the two holes for the twin crowns of the Memovox.
The threaded case back has no tool slip marks whatsoever and is signed externally as "stainless steel". Internally is the signature "Cased and Timed in the USA by LeCoultre, Star W.C Co, Stainless Steel, Case 3072-916" ( notice how the first part of this model reference relates to the case type and the digits after the hyphen represent the calibre number. Checking that the calibre number stated inside the case is the same one stamped on the movement inside it is a useful basic safeguard against buying a watch made up from incorrect aspects ), together with the individual serial number 6728016.
The signature here clearly tells us that this watch was originally sold in the USA. Jaeger LeCoultre, in common with almost all the top tier Swiss houses, shipped uncased movements to the USA in the post-war period on the basis that they attracted a much lower rate of import duty than that imposed on complete watches. The US government was keen to support the domestic wristwatch industry, and by introducing these punitive taxes on imported watches, these could be made uncompetitive in the American market. This particular case is of extremely high quality and is typical of the work of the Star Watchcase Manufacturing Co, of Luddington, Michigan, a concern which, along with DiVincenzo & Arienti, of Manhattan, New York ( signature "D & A" ) was used almost exclusively to provide cases for Jaeger LeCoultre items retailed in the USA.
The two tone dial is very attractive, with a central area in dark silver grey contrasting with a much lighter, French white section around its outer. This is a totally original dial that has never been restored or refinished. While not literally perfect, its condition is extremely good, with just the slightest degree of faint deterioration in places almost certainly caused by exposure to sunlight. The dial will account for a high percentage of the market value of any collectible wristwatch, and the example here is without doubt good enough to be purchased for investment.
At the top of the dial is the distinctive "JL" emblem in applied chrome, this matching the chrome frame around the date window at the 6 o'clock position. The wording "Memovox, Automatic" is stated in white on the charcoal background, with the alarm time being indicated on the rotating centre section of the dial by a triangular pointer.
The keen eyed will have noticed that there is no mention whatsoever of the Jaeger name on this piece, and that despite it having the Jaeger LeCoultre "JL" emblem on the dial, the wording on the case and movement is simply "Le Coultre". Novice collectors are often concerned when they see this abbreviation and are worried that the LeCoultre here is not the same brand as Jaeger LeCoultre. In fact, their anxiety is unfounded and both watches are identical. The difference stems from a dispute in the USA in the post-war years over ownership of the Jaeger trademark. Rather than get into a prolonged battle over this issue, Jaeger LeCoultre marketed its watches outside the USA using its full title, but omitted the Jaeger name and simply signed as LeCoultre when selling in America. In the mid 1980s this situation was resolved and from then on, the full Jaeger LeCoultre title has been used worldwide. With the exception of their American made cases, there is no difference whatsoever been those Jaeger Le Coultre watches sold in Europe or the USA, and their movements were made by the same craftsmen, to the same exquisite standard, in the same Le Sentier factory.
While the company's sense of aesthetic design was strong, the most compelling reason for anyone to buy a Jaeger LeCoultre has always been the beautiful "manufacture" movement inside it. This term is the correct one used within the Swiss watch industry to describe a movement that has been created entirely by the concern whose name it carries. To the uninitiated, this may not seem worthy of comment, but in fact, it most certainly is. Very few of even the most famous of the prestigious horological houses were ever capable of completely autonomous movement production, and those that were, and are, inevitably have enormous credibility with purist enthusiasts. When one buys a classic Jaeger LeCoultre, every component in its movement has been manufactured by the company itself. There will be no outsourced parts inside it, and consequently, the quality control exerted over its construction and finishing will be second to none. In the eyes of many experienced collectors, Jaeger LeCoultre is very much the "watchmaker's watch", and certainly, while the movements by some of the other high grade makers may be arguably built to the same standard, there will be none that are better, at any price level.
The movement in this watch is calibre 916, a self-winding alarm mechanism that Jaeger LeCoultre developed entirely in-house and released in 1970. In the eyes of many fans, the 916 is the most refined alarm movement ever produced by Jaeger LeCoultre and the ultimate development of the Memovox concept. It combined the classical theme of the 1950s Jaeger Le Coultre alarm movements, but modernised them in a technologically cutting edge package. Earlier Memovox movements had run at 18800 half beats per hour, but with the 916, the beat rate was accelerated to 21600, this resulting in a more accurate mechanism than had previous been possible. Similarly, for the first time, motion of wearer's wrist in either direction caused the mainspring to charge, whereas in the past, the rotor wound only in one direction. Friction was reduced by mounting the rotor on ball bearings and it is very noticeable how the tiniest change of elevation will cause the rotor to spin on its central axis.
The 916 was so exceptional that Jaeger Le Coultre continues to base the movement that it uses in its current Master Compressor and Aston Martin linked AMVL Memovox models, calibre 918, on this same unit. In order for it to have been assigned a different calibre number, there must be differences between the 918 and the 916, but having studied these two types closely on a side by side basis, it is not clear exactly what they are. Physically, from a cosmetic viewpoint, there is no apparent difference between the two, and we would categorically state that any changes made to update the 916 into the 918 are very, very minor indeed. It is certainly food for thought that one can walk into a jeweller's shop today and buy a brand new Master Compressor Memovox in steel for over £7000 GB pounds which has essentially exactly the same movement inside it as the one beating inside this vintage piece. A major factor for the enormous rise in interest in vintage wristwatches is a growing appreciation of just how remarkable the value for money that they offer can be.
In every respect, the condition of this movement is almost perfect. The rhodium plated finish is bright and free from corrosion. Inlaid in gold to make it more legible, the signature "Adjusted 3 positions, Le Coultre Co, Swiss, 17 Jewels" is stated on the rotor, with the calibre number 916 stamped next to the regulator. Also here is the individual serial number 2093388. No part of this movement has been changed since new and in every respect it is entirely original.
Having been serviced regularly since new, this watch works perfectly and is not in the least bit mechanically worn. It sets and auto winds very smoothly, and its alarm function is loud and distinct. While Jaeger LeCoultre calibre 916 is inherently very robust and reliable, it will become troublesome if starved of lubrication and allowed to wear prematurely. An obviously cosseted, well cared for example like the one here will have decades of life left in it if cleaned and serviced every three or four years. The quality standard to which these vintage Jaeger LeCoultre movements were made was so high that provided they receive replacement lubrication periodically and are kept away from water, they have the potential to run almost infinitely.
We have fitted this watch with a brand new calf skin strap that this very similar in appearance to those fitted to this model when new and, incidentally, to the Master Compressor Memovox today. This is not a genuine Jaeger Le Coultre strap but of exceedingly high quality and certainly need not be replaced in the foreseeable future.
Physical auction house Antiquorum offered four stainless steel automatic Memovox models as Lots 306 to 309 in its 2000 Geneva sale "100 Years of Wristwatches", a prestigious event that aimed to chart the history of the genre over the last century, including all the key landmark models. These were all 1970s models, with the same 916 movement as found here. The nearest example to the piece offered was lot 308, which had almost exactly the same case shape, but a less attractive single tone dial. This was allocated a pre-sale estimate of approximately £750 GB pounds, on which an additional buyer's premium of 15% would have been due. Over a decade ago, this was probably realistic, but today, when large 1970s sports watches are very sought after, even the most optimistic buyer wouldn't hope to secure the piece for this amount.
Coming up to date a little bit more, Sotheby's offered this same model of steel vintage Jaeger LeCoultre Memovox for sale, with the same distinctive case and 916 movement to the one here, as Lot 289 in its 7th December 2004 Amsterdam auction "Clocks, Watches and Wristwatches". This was given a pre-sale estimate of 1500 Euros, on which a huge 23.8% buyer's premium would have been paid.
It is really quite difficult to think of many reasons for not purchasing a classic Memovox at the current time. Clearly one proviso is a liking for overtly 1970s styling, but given that this look is currently very much in vogue and that many present collections are inspired by the originals like this one, this shouldn't be too much of an obstacle. While not cheap, this watch represents an awful lot of very high quality precision machinery for a very small amount of money. £1475 GB pounds buys absolutely nothing in a brand new watch with an in-house Swiss manufacture movement, yet here, it purchases a piece in near mint condition with a movement that it is virtually impossible to differentiate from its equivalent in the current £6000+ Jaeger LeCoultre Memovox range. As if to gild the lily, if one is needed, the final reason to buy an item like this is its proven potential as a solid investment. The buyer of a new Memovox will find that if he tries to liquidate his asset after twelve months, he'll suffer a hefty financial loss. At any time, the purchaser of this piece will be able to certainly sell at his cost price, and, if he keeps the watch for three or four years, pocket a very satisfying profit from it should he choose to do so.
Price £1475 GB Pounds
Vintage Watch Brands
Vintage Watch Decades
Vintage Ladies Watches
Vintage Watch Bracelets
Swipwreek Straps
Travel Clock/ Pocket Watches
Home
About
Brand Overviews
By Decade
Reference
Contact Details
Telephone from the UK:
07453 734666
or 07428 051005
Telephone from overseas:
+44 7453 734666
or +44 7428 051005