Jaeger LeCoultre Memovox 3rd Generation 1967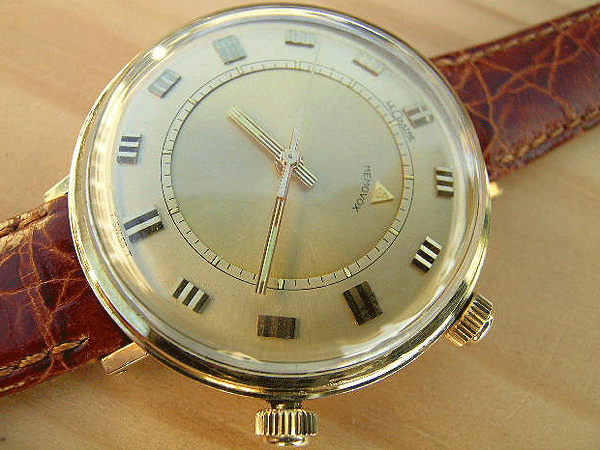 Over almost three decades in the vintage wristwatch business, we have bought and sold some really lovely examples of Jaeger LeCoultre's Memovox models, and this piece, from 1967, falls squarely into this bracket. We were delighted to secure it from a private collection for our stock and feel that because it came to us as a part exchange against another watch, our asking price for it is extremely attractive. Certainly, a better preserved example of the third generation Memovox could not be found anywhere, either in the specialist vintage watch shops in central London or in the fine wristwatch sales held by Sotheby's, Christie's and Bonhams.
The vast majority of our buyers are experienced collectors at an advanced stage of the hobby, but for those visitors to our site who are not, it is worth a very brief explanation of the Memovox, and what makes it so attractive. Introduced in 1952, its key feature was a built in mechanical alarm function. There had been alarm wristwatches before, most notably the Vulcain Cricket, but Jaeger LeCoultre was the first to offer this complication in a very luxurious, high cost package. Most, if not all, vintage watch connoisseurs today would regard the Jaeger LeCoultre Memovox as the epitome of the alarm wristwatch and it remains an essential inclusion in any serious collection that aims to chart the landmark models of the 20th century.
One of the interesting aspects of the Memovox is that because of its niche position in the market, it has never dipped in value at any time since vintage watch collecting emerged as a hobby in the early 1980s. The Memovox was quickly recognised as highly desirable then and still occupies the same position today. With every year that has passed, good, original vintage Memovox examples have risen steadily in worth. In our business, we have seen this appreciation accelerate especially over the last five or six years as exceptional survivors, like this one, have noticeably disappeared from the market place. A decade ago, we might buy twenty really first rate 1960s Memovox models in a typical year, but today, this has thinned down to perhaps three or four, simply because we don't see them in a condition that we find acceptable on a regular basis.
This watch is an American market model sold in the USA when new. The Memovox was a huge hit for Jaeger LeCoultre in the wealthy post-war United States and quite a high percentage of these models that appear for sale in the UK today have been imported back to Europe from California and New York. As an aside, we see exactly the same situation with a lot of exotic classic motor cars from the same era, with period Mercedes SL pagoda top and early Porsche 911 models often cropping up in magazine adverts by British specialist sports car dealers that are left hand drive imports from the USA. The American economy boomed in the 1960s and there was a great demand there among the newly rich for European sports cars and expensive Swiss wristwatches.
The condition of this watch is literally almost as-new throughout. We specialise in hardly used examples that can be bought as investments and there is nothing about this item that suggests it has been worn on more than a very limited number of special occasions. If the hyper-critical buyer wishes to be overly pedantic, he could probably find some tiny imperfections to the case here and there, but in the real world, this item is nothing short of immaculate and a rare treat.
The large case is has a classical appearance, with straight imperial lugs. There are many advantages in opting for a watch with this type of look, not least the fact that it will never appear dated. When potential buyers visit us in person, we often advise them that purchasing something conservative and classical is a very safe way of investing in vintage watches. A good Memovox or Rolex Oyster from the same period is the horological equivalent of a pair of Levi 501 jeans or an Aquascutum trench coat. These are established icons that are above the influence of short term fashion trends. This watch will look just as relevant in thirty years time as it does now, which is an important point to bear in mind if buying with an eye to future appreciation and long term ownership.
Case construction is very typical of the period, with the case body being a complete unit that includes the case back. Or, to perhaps put it more simply, there is no separate, removable case back on this case. Instead, the body is a one piece, very deep, bowl-like structure into which the movement is fitted through the front. This arrangement has the great advantage that it completely eliminates the joint between case body and back, which has since time immemorial been a potential weak point for the ingress of moisture and dirt. One piece construction, often termed as monocoque, was very much the thing in the mid-1960s, with almost all the major Swiss brands offering, including Omega, IWC, Heuer and Breitling, several models built along these lines. It really stands as testimony to just how effective these one piece cases were that even today, forty or more years on, it is noticeable that movements contained in these housings are typically better preserved than those in more conventional cases with removable case backs.
Externally, the case back is stamped "Use 1260 Wrench", which is a reference to the specialist LeCoultre tool needed to remove and insert the movement through the front of the case. Also here is the wording "10k Gold Filled" together with a small star emblem, more about which is mentioned in the next paragraph.
Internally, we find the case back stamp "Cased and Timed in the USA by LeCoultre, Star Watch Case Company, 10k Gold Filled Bezel, Stainless Steel Back" together with the case number 9441700. In common with Omega, Longines, Rolex and IWC, Jaeger LeCoultre shipped uncased movements to its American agents, these being then fitted into American made cases. The motivation for this approach came from a desire to avoid the high import tax that had been levied on complete watches imported into the USA from Switzerland by the American government as it attempted to protect the domestic watch manufacturing industry from overseas competition. Uncased movements attracted a far lower rate of duty than complete watches, hence by taking this route, the eventually retail cost of the finished watches could be kept down to a still reasonable level.
Based in Ludington, Michigan, the Star Watch Case Company was an obvious choice as a supplier of cases. Jaeger LeCoultre, IWC, Longines and Omega all purchased Star cases and indeed, one of the most famous models by the latter firm, the Speedmaster chronograph, had a housing that was produced by Star in the USA when sold in the American market. The union was an ideal one and worked extremely well. Founded in 1897, Star was an established concern that was used to working at the highest quality level and did not need to modify its production techniques to meet the standard expected by the top tier Swiss houses. It was also in a large enough way of business to meet the volumes required for the US market at this point, without losing focus or compromising attention to detail. Given the beautiful build quality of cases like this one, it is rather ironic that Star ceased trading in 1982, largely a victim of cost cutting in the face of the newly introduced budget battery powered watches that were flooding the market at the time. Like its English equivalent Dennison, Star was responsible for some of the best finished housings ever used on Swiss luxury watches during the golden era.
A quick note should added concerning gold filled cases. While these are not solid gold, they should not be confused for cheaper, less substantial, gold plated cases. While it is beyond the scope of this description to go into an in depth explanation of gold filling, the basic concept was one of rolling out two thick sheets of solid gold, with a layer of base metal sandwiched in between them, to create a result that had a high percentage of precious metal, but obviously a lower overall cost than a housing in solid gold. In contrast, electro plating simply involves submerging a base metal case in a plating batch and coating it with the thinnest cosmetic layer of gold. Gold plated cases typically look pretty scruffy after just a year or two of wear as the base metal starts to rub through the plating. The gold fill on cases like this one is so thick that with care, it will never wear though to the steel below, even after a lifetime of regular use. Very popular in the 1950s, gold filled cases gradually disappeared from the market towards the end of the 1960s, simply because they were so costly to produce. The buyer for whom money was genuinely no object could pay for solid gold while the budget customer, who was unlikely to be a serious contender for Jaeger LeCoultre or Omega ownership in the first instance, could be content with a watch by a less prestigious brand in a gold plated case.
Finally in connection with the case, it is worth noting that 10 karat gold, along with 14 karat, was one of the standard purity grades used in the jewellery industry in the USA, whereas here in Europe, we have traditionally used 9 and 18 karat gold. There are exceptions, but when we see that a case is signed as 10 karat gold we can pretty safely assume that it was manufactured in America for American consumption.
Dials, or to be more specific, their condition and originality, are fundamental when buying a vintage wristwatch for investment. At a lower level, when perhaps two or three hundred pounds are spent on an object that is a whimsical purchase to be worn as something of a novelty, this is less of an issue. When buying further up the scale, a lot of the appeal of these classic high-end models is that they have a proven track record of going up in value, year after year. But it must be appreciated that only the cream of surviving examples have this potential and shoddy, second rate watches with aspects that are sub-standard will always remain as such in the eyes of knowledgeable enthusiasts.
The dial on this watch is as good as could be sourced anywhere and could be conservatively graded as almost mint. Its gold surface is unblemished and free from spotting and dust staining, which is very unusual on an older Memovox. For some reason, which we have never quite been able to pinpoint, there is almost always some degree of deterioration at the point where the outer chapter ring, the part with the applied hour numerals in this instance, overlaps the centre rotating alarm indication section. The example here is as clean and attractive as it was when new in 1967.
Equally importantly, it must be stressed that this is a completely original dial. A high percentage of the vintage watches in circulation today have dials that have been stripped down to their bare metal and so-called "restored", but this one is guaranteed to be authentic. Period dials that are untouched and in this remarkable condition are the holy grail for serious collectors. Watches with dials like this one always seem expensive at the time when they are purchased, but they represent the very best of their type and are exactly what the investor should be acquiring.
"LeCoultre" is signed in black just under the 12 o'clock position, with "T Swiss Made T" telling us that the luminous material used on the hands is based around the tritium element. Printed on the inner rotating disk is "Memovox", which is interesting in itself. The first of these Jaeger LeCoultre alarm watches was marketed in 1952 as the "Wrist Alarm", with the generally held view being that the "Memovox" title appeared with the arrival of the first automatic version in 1956. By 1967, the Memovox name, catchier and more distinctive than Wrist Alarm, had come to encompass both hand wound and self-winding models. We still know die hard collectors who obtusely insist on calling only automatic versions by the Memovox name, but in fact, the existence of later examples like the one here proves that Jaeger LeCoultre itself was happy to use this for its alarm watches in all their different forms.
All three hands are original. These are the classic straight sided items, in gilt to match the hour numerals and alarm indicator triangle. Tarnished, scruffy hands will always have a negative effect on the overall appearance of a watch, but these are almost mint and indistinguishable from new.
Both winding crowns are original and in mint condition. There is often confusion regarding these, with a lot of the vintage Memovox models for sale having been fitted with the later JL signed crowns. These are not correct for an example dating from the late 1960s and it is called for that the crowns must be unsigned and plain on their outer surfaces. Tracking down original crowns for old Memovox models, not least because these are unmarked and therefore almost impossible to identify at a glance, is nothing short of a nightmare. We would always suggest that the best way forward is to buy a completely authentic, totally standard watch in the first instance like the one here, rather than opt for something cheap and non-original and then trying to return it back to factory specification at some later point.
Manufactured entirely in-house by Jaeger LeCoultre in its own factory in LeSentier, the movements used in these vintage alarm watches are a delight to examine. Brilliant examples of the luxury watch maker's art, they stand out as some of the most ingenious pieces of micro-mechanical engineering that have ever come out of Switzerland. Anyone with an interest in high grade movement making will get a great deal of pleasure in owning one of these units and take enormous satisfaction from the fact that to obtain something of equivalent quality today in a brand new watch, many thousands of pounds would have to be spent.
While the basic concept of the Memovox remained constant and its method of operation was unchanged, it is important to realise that Jaeger LeCoultre developed the movements in these watches and they evolved in several identifiable stages. The mechanism in this watch is calibre 916 which was the third generation of hand wound Jaeger LeCoultre alarm movements, coming after the 489 of 1950 and the 814 of 1953.
Launched in 1964 and in production until 1979, it could be argued credibly that the 916 was the most refined of the hand wound Memovox movements. It is especially interesting from a collector's perspective on account of it combining aspects that were a return to the first generation 489 with new technology that hadn't been applied to alarm movements in the past. For example, the 489 was built around three separate bridges, whereas its replacement, for ease of manufacture, had a single upper plate. The design of the 916 went full circle back to the same three bridge construction that had appeared on the 489 fourteen years earlier. However, Kif Flector shock absorption was used, combined with an extremely impressive fine regulation system that was identical to that which had been pioneered on Jaeger LeCoultre's much sought after Geomatic chronometer. The 916 was effectively a distillation of all the best aspects of the two previous alarm calibres, blended with a cherry picked selection of state of the art refinements from the rest of the company's movement range. We have always held this unit in very high regard and have advised many of our customers that if only one model of Memovox is to be chosen as a representative sample in a collection, then a piece containing a 916 movement would make a very sensible choice.
This particular movement is in almost mint condition. Its silver coloured rhodium finish is unbroken and the plates are not at all brassed. Vitally, it remains entirely original throughout, with no modifications or non-standard components of any kind. It works perfectly and the alarm rings out exactly as it should. Previous owners have had the good sense not to begrudge spending money on regular servicing and we would strongly advise continuing this approach in the future. Jaeger LeCoultre has a division at its Le Sentier base that has been set up to specifically look after classic watches like this one, but equally, there is no reason at all why this item should not be looked after just as well by any experienced local repairer. The quality of these old Jaeger LeCoultre movements was so high in the first instance that they tend to be very reliable, provided they are cleaned and re-oiled every three or four years without fail.
As an aside, while writing this, we have just spotted that the lower winding crown in the photographs is protruding from the case. This is not a fault, but has occurred simply because after adjusting the hands to a suitable position for the camera shot, we have forgotten to push it back in again before taking the picture. Of course, in reality, both crowns operate correctly and push in perfectly back to the case body.
As it should be, the movement in this watch is fully signed "LeCoultre Co, Seventeen Jewels, Swiss", together with the calibre number K910. There is also the individual serial number 1893923, which, falling between the two extremes of vintage Jaeger LeCoultre production from that year of 1850000 and 1925000, dates this mechanism unequivocally to 1967.
By the regulator are the three stamped letters "VXN". Though easily overlooked, they are in fact significant as they identify this movement as one imported for sale in the USA. Notice how this is consistent with the American made case. Legislation introduced in the immediate post-war period required Swiss movements brought into the USA to be marked with both an individual serial number and a three letter code that represented their importing agent. VXN was the code assigned to Jaeger LeCoultre and Vacheron Constantin, both of which were represented by the same US agent. Over the years, especially online, the myth has been perpetuated that these letters somehow indicate that these movements were manufactured by Vacheron Constantin for Jaeger LeCoultre, which is entirely untrue. Jaeger LeCoultre did in fact supply movements to Vacheron Constantin, but this role was never reversed. The movement here, and in fact all other vintage Jaeger LeCoultre mechanisms, was manufactured entirely under one roof in Le Sentier and at no stage was Vacheron Constantin involved in its creation.
We have fitted this watch with a high quality crocodile skin type strap. This is not a genuine Jaeger LeCoultre strap, but it suits the piece perfectly and is brand new and unworn.
Vintage Jaeger LeCoultre Memovox models are not easy to find in this superb condition. While interest in the company's alarm watches has always been strong, the profile of the Memovox has grown over the last three or four years, helped by the media attention lavished on the new models that Jaeger LeCoultre has developed in connection with British sports car maker Aston Martin. We have priced this watch at £1425 GB pounds, which is extremely reasonable if we stop to really think about its superb state of preservation. In the mass market online auction environment, we might be able to locate a 910 powered Memovox for less than the psychological barrier of £1000, but we would be very lucky if it was authentic throughout. In vintage wristwatches, as with any field of antiques, the buyer gets what he pays for and the charm of this watch lies in its totally untouched, sleeping state. For the collector looking for the very best third generation hand wound Memovox in existence, the search ends here.
Price £1425 GB Pounds
Vintage Watch Brands
Vintage Watch Decades
Vintage Ladies Watches
Vintage Watch Bracelets
Swipwreek Straps
Travel Clock/ Pocket Watches
Home
About
Brand Overviews
By Decade
Reference
Contact Details
Telephone from the UK:
07453 734666
or 07428 051005
Telephone from overseas:
+44 7453 734666
or +44 7428 051005