Jaeger LeCoultre Master-Quartz steel 1976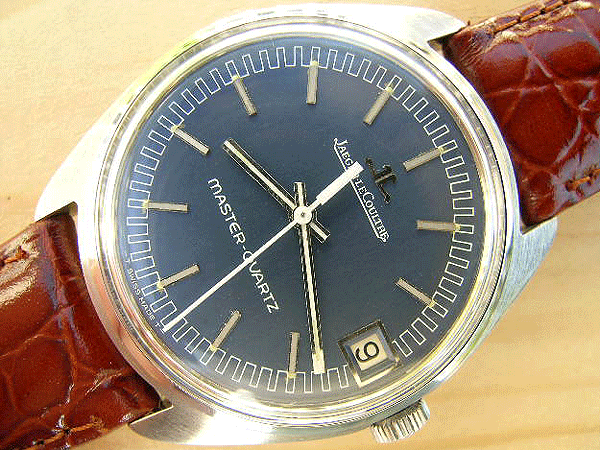 As is immediately clear from the descriptions that we include with our vintage watches for sale on this site, we have a considerable passion for very high-grade rare older mechanical wristwatches. The craftsmanship and sheer artistry present in these micro-mechanical wonders is a source of constant fascination, and studying the movements in these early watches with an eyeglass is at times little short of a humbling experience. However, we strongly believe that in order for a collection of wristwatches to genuinely represent the evolution of this form, it must also include a number of the very historically important early quartz watches, manufactured in the mid 1970s. These are very interesting on account of their combining the practicality of electronic technology with, in this case, the attention to detail and finish that we would more usually associate with mechanical haute-horologerie .
Perhaps surprisingly, given that we have spent the last thirty years in business buying and selling rare mechanical timepieces, we are great advocates of the quartz wristwatch and believe that in many areas, it has vast advantages over its somewhat archaic mechanical counterparts. One of the main drawbacks of any traditional mechanical watch movement is that it has to be wound in order to keep functioning, either by hand in the case of a manual watch, or by regular movement to turn its internal rotor in the case of an automatic, so called self winding item. For someone who wears the same watch every day, this is not particularly a problem; even frequent manual winding only taking up a few moments of his time, but for an owner that perhaps wears the same watch every fortnight, the process of having to re-set the date and time on each occasion that a watch is worn can be irritating. With a quartz watch, a battery provides the power source for the movement, this keeping the watch running for typically two years between battery changes. Because of this continuity of operation, even when left for months on end, quartz watches are incredibly convenient and we know many very serious collectors of rare antique mechanical wristwatches who wear a high grade classic quartz watch by one of the famous houses on a daily basis.
This beautiful gentleman's 1976 vintage Jaeger LeCoultre Master-Quartz is the perfect example of a watch that bridges the gap between fine traditional watch making and very practical quartz technology. Its large robust stainless steel case ( the watch has a width of 39mm) is in almost mint condition throughout, with just the lightest of almost invisible imperfections that are to be expected on any watch of this age. The case gleams brightly and looks effectively the same as a current model sitting in a jeweller's window today. On the case back exterior, there is a very attractive signature "Master-Quartz, Water Resistant, Stainless Steel, 1 388 931" together with the model reference 23303-42 and a distinctive "JL" emblem, beneath which is depicted a quartz crystal. Most importantly, the definition on this emblem is crisp and unworn. A badly worn watch, or one that has been polished in the past, will lose this sharpness on any case detailing of this kind and for investment, this decoration must be in superb condition, as it is here.
Internally, the screw down, threaded case back is signed "LeCoultre, Swiss, Acier Inoxydable", this latter term being the French for stainless steel. The winding crown is completely original, in almost mint condition and correctly signed with the famous "JL" emblem.
The rare blue dial is in absolutely perfect condition and has not even the slightest touch of discolouration or patina of any kind. Coloured dials are very unusual on almost any high-grade vintage watch, the majority of customers in the past favouring a far more conservative choice of silver, white or black. The Master-Quartz dial is instantly recognisable by the very attractive pattern that runs around its outer edge in white, taking the place of a conventional minute track. These watches were sold on the basis of their high precision when new, and this "heartbeat monitor" type wave pattern does give the piece a very scientific appearance, almost in keeping with an item of specialised laboratory equipment. This is, of course, a fully signed dial, with "Jaeger LeCoultre, Master Quartz" printed in white respectively above and below its centre point, together with "T Swiss Made T" at the very bottom, indicating that the original chromium plated hands present are dressed with tritium based luminous paint.
The most significant reason for the purchase of this watch must be its spectacular movement. Jaeger LeCoultre is universally renown as one of the very finest movement makers in the world and, fascinatingly, designed this unit, calibre 352, with arch competitor Girard-Perregaux to combine traditional fine mechanical watch making with the then-new quartz technology. Unlike a conventional quartz movement which almost dispenses of the entire gear train, this unit retains a large part of this mechanism, making it almost a hybrid enjoying the best features of both mechanical and quartz watches. As a complete aside, perhaps in an attempt to appear up to the minute, Jaeger never referred to these engines as movements in its advertising at the time, but instead preferred to term them "modules".
As mentioned above, the Master-Quartz range was sold primarily on the basis of its remarkable accuracy. When new, this movement lost or gained a mere two seconds per month, a feat that would be simply impossible for any mechanical watch to compete with. These watches were actually the most expensive stainless steel items in the Jaeger LeCoultre range and were built to quality standards that still seem remarkable today.
Having been serviced regularly throughout its life, this watch works perfectly. Calibre 352 is now regarded as one of the all time classic early quartz luxury movements by any maker, not least because of its well-deserved reputation for reliability. It is unfortunate and very unjust that quartz watches have something of a questionable standing in terms of long term function, because this has come about largely as a result of the mass market importation of extremely low quality far eastern battery operated watches over the last twenty years, these often being sold new for only a few pounds each in a variety of non specialists outlets, from garage forecourts to department stores. These have absolutely nothing in common with the superb piece of engineering for sale here, which quite conversely, used the most expensive ultra high quality internal components available at the time, purposely designed by Jaeger LeCoultre without concern for expense.
One of the most important points to consider when buying any first generation quartz watch is battery availability in the long term. The battery used in this item is the standard EV357 / Varta 76. This is one of the most commonly available watch batteries today and is also found in the majority of high grade cameras from the 1970s and '80s. There are literally tens of millions of items in daily use that are powered by this battery model, and there is no possibility of it being phased out in the foreseeable future. Obviously aware of this issue, Jaeger LeCoultre actually committed themselves to the offer of replacing, free of charge, the movements in these Master-Quartz watches with a modernised update if the batteries in them should ever become obsolete. While this suggestion only applied to original owners of these watches, it is indicative of the long term future for which the company built these beautiful exotic movements and is also reassuring on account of it being clear that a replacement movement will be available, albeit in paid for rather than free form, from Jaeger LeCoultre in Le Sentier should the need for one ever arise.
This particular movement is in almost brand new condition and is fully signed, "LeCoultre Co, Calibre 352" being stamped into the highly polished bridge, together with the serial number 2173973, this latter figure indicating a production date of early 1976. Most importantly of all, this movement is absolutely original in every respect and has no changed or replacement parts whatsoever. When purchasing for investment, we would always firmly advise buying only a completely unmolested watch in the very finest condition available. This piece unquestionably fits into this category and is an ideal watch for someone looking for an interesting collectible that can be used regularly, while at the same time being a strong appreciating asset.
We have fitted this item with a very high quality padded brown crocodile skin type strap that, though not a genuine Jaeger LeCoultre item, is almost identical to those that were offered by Jaeger LeCoultre on the Master-Quartz range when new. This is in perfect condition, and has never been worn.
Overall, this certainly must be one of the most interesting watches that we currently have listed for sale on our site and being by Jaeger LeCoultre, is also one of the finest quality. At the moment, despite values having risen since their low point about a decade ago, these first generation Swiss quartz models, both by Jaeger LeCoultre and Girard-Perregaux, are woefully under priced when their historical significance is taken into account. At a time when the traditional mechanical watch industry in Switzerland was on the brink of total oblivion, this model and the version of the same thing by Girard-Perregaux, were representative of a fight back by highly respected brands that had previously excelled in the field of mechanical horology. Far less have survived in worthwhile condition than we might expect and it is not beyond the realms of possibility to believe that if an appreciation of early quartz watches develops among advanced collectors, then these pieces will be in very short supply and accordingly expensive. In our business, it is very noticeable that we just don't see these models on a regular basis any more.
We have priced this watch at £645 GB pounds. It would the perfect choice for a buyer wanting to purchase a superb luxury timepiece without the inconvenient aspects of winding associated with mechanical watches. Jaeger LeCoultre still produce a range of exceptionally fine quartz powered watches that are the descendents of the calibre in this early piece. These start at around £3000 in stainless steel, but have far less character than this distinctive classic, and suffer from high depreciation when initially purchased. In contrast, this watch oozes period charm while at the same time looking very attractive rather than unacceptably dated and having already attained collectible status, it will continue to increase in value steadily in the future.
It is certainly a rare watch in almost perfect condition and, as its first ever quartz model, one that represents an important land mark in the evolution of Jaeger LeCoultre as a company and, on a wider canvas, in the development of the Swiss luxury watch in general.
Price £645 GB Pounds
Vintage Watch Brands
Vintage Watch Decades
Vintage Ladies Watches
Vintage Watch Bracelets
Swipwreek Straps
Travel Clock/ Pocket Watches
Home
About
Brand Overviews
By Decade
Reference
Contact Details
Telephone from the UK:
07453 734666
or 07428 051005
Telephone from overseas:
+44 7453 734666
or +44 7428 051005