Jaeger LeCoultre Club Automatic 18k gold 1969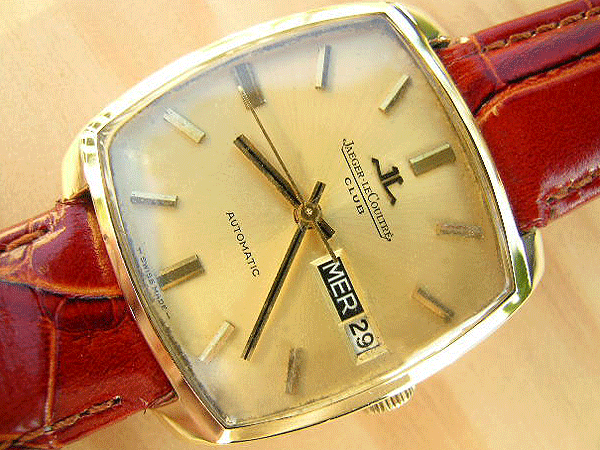 This very attractive gentleman's Jaeger LeCoultre Club Automatic in solid 18 karat gold is another extremely rare watch that will delight the purist collector. The Club was among Jaeger LeCoultre's key sports models of its era, combining a stylised slightly modernist appearance with a robust movement and a substantial, thick chunky case. The target market for these watches was well heeled individuals who had an awareness of expensive luxury watch making, but who also wanted timepieces that were less dressy and rather more rugged than many offered at the time. Blancpain offered its 50 Fathoms, Rolex sold its Explorer and Jaeger LeCoultre threw its hat into the ring with the Club. All these models chased the same potential customer and were of comparable quality, so in the end, buying decisions largely came down to the matter of personal taste and loyalty to specific brands.
The majority of people buying sports watches purchase them in stainless steel. This makes sense if we stop to think that many of these buyers lead active lifestyles and intend to wear their watches while shooting, riding motorcycles or participating in innumerable other leisure activities during which their watches might get knocked or otherwise damaged. Consequently,very few of these models appear for sale in gold and when they do appear, they command high prices. This is the only Jaeger LeCoultre Club in a solid 18 karat gold case that we have owned in the last ten years and we were delighted to secure it for our stock. When it has sold, which it will certainly do quickly, we realistically may wait another decade before we have the chance to replace it. Jaeger LeCoultre does not reveal production volumes, but common sense tells us that very few of this model were manufactured in the first instance.
The condition of this watch is virtually perfect throughout. When new, it was very much the sort of item that would have been purchased by the jet setting smart set and examining it closely now, the suggestion is that it has probably spent most of its life in a drawer or bank vault, unused and away from the damaging effects of dust or damp.
The weight of the case is remarkable. Unlike many brands further down the scale, Jaeger LeCoultre could afford to supply very heavy cases like this one on account of its customer base not being particularly cost conscious. This is a thicker walled housing than those offered by either Rolex or Omega in the late 1960s and when the watch is handled for the first time, it has a very noticeable heft to it that is extremely satisfying.
This is a snap back case in two parts, with no separate bezel. Internally, the case back is decorated with an elaborate engine turned pearled pattern and signed "LeCoultre, Swiss" together with the model reference 300801. Also present is a full set of Swiss hallmarks ( head of Helvetia), which tell us that this case was assayed as solid 18 karat gold.
Very discreetly tucked away is the tiny coded case maker's mark of Jacques Beiner of Grenier 28, 2300 La Chaux de Fonds. Probably best known to aficionados as a supplier of gold cases to Vacheron Constantin, Beiner was responsible for some of the best finished and highest grade precious metal cases of the vintage period. While famous as a maker of its own movements, Jaeger LeCoultre was never a manufacturer of cases. Instead, in common with Rolex, Patek-Philippe and IWC, it commissioned these from a small number of Swiss suppliers who excelled in this highly specialised field. All vintage Jaeger LeCoultre cases are of very high grade, but there is a strong argument that those by Jacques Beiner were the finest ever used by the company.
Externally, there is the stamped serial number 1162191 and a repeat of the model reference 300801. There is also the very shallow engraved dedication "La Miniere et Metallurgique de Rodange, A Jean Genin, son collaborateur, 1944-1969". It was not uncommon to give high value luxury watches as gifts to retiring senior employees during the 1950s and '60s, and we would guess that this wording relates to an award for twenty five years of faithful service. It should be stressed emphatically that this engraving is not light because it has been excessively polished, but due to its shallow depth in the first place. We have a policy of leaving such dedications in place on the basis that they do not detract from the commercial value of a watch and add a sense of provenance and past life, but if a plain back is preferred, this wording could be carefully polished out by any competent jeweller with just a few minutes work.
While this is a very wearable and extremely fashionable watch at present, it is inevitable that its purchaser will have an interest in its potential as an investment. Across the board, the values of legitimate vintage wristwatches have risen dramatically over the past decade and in particular, the extent to which the worth of sports watches by makers like Jaeger LeCoultre has soared has been nothing of dramatic. If we look back at old Christie's, Sotheby's and Bonhams auction catalogues from the late 1990s, examples of rare sports models, like the one here, can be seen to have changed hands for what, in retrospect, were painfully low sums, though, of course, these still seemed considerable at the time.
It is easy for the novice collector to be lulled into the false impression that all classic watches will prove to be a financially astute purchase. This is far from the case and in fact, a large number of the watches sold today online, especially in the fast paced world of the mass market auction websites, will never appreciate significantly, however long they are retained. In order to be a good investment, a watch must be authentic and correct throughout. Put frankly, rubbish always remains as rubbish, even after the passing of many years. Central to this grading concept for the experienced collector is the idea of dial condition and originality. To have anything even approaching its maximum theoretical value, a vintage watch must have its original dial in very good, or better, condition. More than any other aspect, dials show variations in condition that will render a watch undesirable at a stroke. Prone to fading if left in bright sunlight, foxing if exposed to damp air and dust staining, the dial is more vulnerable than even a movement. Those pieces, like this one, with original, virgin dials in superb condition are very unusual, hence when they do crop up for sale, they command high price. Even as full time dealers with a large network of contacts, we find it very difficult to source watches with immaculate original dials in sufficient quantities to satisfy our customers.
The gold surface of this dial is not absolutely mint and there is the tiniest degree of ageing just visible, but in realistic terms, it is an exceptional item. Unlike their circular equivalents, these television shaped models were never sold as waterproof and are far less sealed than others in the Jaeger LeCoultre Club range, which has resulted in surviving examples typically having dials that are very noticeably deteriorated. We would have no hesitation in describing this dial as being suitable for investment and finding another combined with an 18 karat gold case in this untouched state might well prove impossible.
"Jaeger LeCoultre, Club, Automatic, Swiss Made" is signed in black above and below the dial centre point. The batons are faceted and in gilt, which perfectly matches the original parallel sided hands. It is very noticeable that the overall aesthetic of this watch has changed so much from its equivalent from a decade earlier. While produced right at the end of the 1960s, its appearance strongly leans towards the very distinctive 1970s styling that would shortly follow.
The large diameter winding crown is original and signed with the "JL" Jaeger LeCoultre logo. This is the correct crown type for a gold Club from this period. As with Omega crowns, there are quite a number of different Jaeger LeCoultre variants that are ostensibly very similar, but slightly different when studied closely. One of the great difficulties for the collector of vintage Jaeger LeCoultre watches is that the company has a strict policy of refusing to supply spare parts to independent watch makers. This means that if a replacement crown or hands are required, these must be fitted by Jaeger LeCoultre itself at inevitably very high cost. It is very easy to acquire a classic Jaeger LeCoultre at what seems a very attractive price and then find that remedying any incorrect aspects generates a bill of many hundreds of pounds. In our business, we have encountered buyers who have returned watches back to the factory in Le Sentier and received invoices for vast sums relating to minor components from the company's stock rooms. We would always guide our customers towards paying a little bit more in the first instance and obtaining a watch like this one, that is complete and authentic throughout and that will not require any additional money spending on it until its next routine service is due.
The Club is an unusual model in Jaeger LeCoultre's back catalogue in that its movement was not entirely manufactured by Jaeger LeCoultre itself. Instead, the ebauche for this unit, this term being the correct one used for a movement in its most basic form, without finishing or component parts, was purchased from A Schild of Grenchen. Founded in 1896 with a starry history that went back almost as far as that of its illustrious customer, Schild was responsible for some of the most beautiful movements of the vintage period and during the 1950s and '60s sold its mechanisms to Rolex, IWC, Heuer and Ulysse Nardin, among many other of the famous brands that we venerate today.
Jaeger LeCoultre bought these movements as Schild's calibre 1902, but reworked them at its own facility in Le Sentier, finishing them to the standard for which the brand had achieved world wide acclaim. This actually made good sense as the 1902 was a brilliant piece of engineering that Jaeger LeCoultre would have found it difficult to improve upon. By taking a very credible existing ebauche and refining it further, research and development costs were eliminated but the end result was not at all compromised in its quality.
In order to really understand vintage watches, it is important to view them in the context of the time when they were created. The first battery powered electronic watches had appeared for sale in the UK in 1962 and the whole of the traditional Swiss mechanical watch industry understandably feared for its future. Jaeger LeCoultre was steeped in tradition and at the core of high grade mechanical movement making, so we could argue that it had more to lose than many other concerns if its established position was rocked and a new order was established based around battery technology. By avoiding the phenomenal costs involved with the creation of a new in-house mechanical movement, Jaeger LeCoultre could conserve resources which might well be required for the move, if push came to shove, into production of electronic movements.
This backdrop also helps to explain why these watches are so rare today. Particularly in 18 karat gold, this would have been a very major purchase, far out of the reach of the man in the street, just as the twenty thousand pounds plus required to purchase a new Jaeger LeCoultre sports watch in gold is today. The majority of wealthy potential customers at this level back in the late 1960s would have been very reluctant to buy in to a mechanical watch, knowing that, as the world saw it then, better electronic watches had arrived and were the future. Furthermore, historically high spikes in the gold bullion price meant that so many of these chunky 18 karat sports models, like the Jaeger LeCoultre Club, the Audemars Piguet Royal Oak and the Omega Time Computer, had their cases melted down for scrap in the late 1970s and early 1980s. We just don't see these watches on a regular basis, either at the various events we attend or in the fine wristwatch auctions held by the London salerooms. While still relatively modern, they are ironically often harder to source than many much older, pre-War models that were sold new in far greater numbers.
In technical terms, the 1902 was a very sophisticated unit. It was essentially closely related to the movement family 1710 to 1816, but benefited greatly from its running speed being accelerated from 18000 half beats per hour up to a faster 21600. All else being equal, a faster movement will be more accurate than one with a slower balance oscillation rate. At this time, when challenged by the remarkable accuracy of electronic movements from overseas, the Swiss watch industry realised that it had to squeeze every ounce of precision out of its mechanisms and considerable advances in running speed and balance lubrication were made during this era.
Every luxury was here, from Incabloc shock resistance through to a Glucydur balance, this latter component ensuring that the same beat rate would be maintained regardless of the surrounding air temperature. Power reserve, this being the amount of time that the watch would continue to run from fully wound to stopped if left untouched, was a very useful 44 hours. Very much a high end product at the time, calibre 1902 was more than capable of competing with similarly specified movements by Rolex, Omega and the other brands with which Jaeger LeCoultre fought for market share.
The condition of this example is almost brand new and we have not seen better in the last decade. The rhodium plated finish to the bridges and gears is unbroken and there is no brassing anywhere. Every screw head slot is unmarked and it is clear that all servicing has been performed by professional technicians using the correct tools for the job. Unlike so many other vintage movements from this period, this one is guaranteed to be completely original throughout and nothing about this unit has been replaced or modified.
Incidentally, notice that there is consistency throughout the watch. This is something that, time after time, we advise customers to look for when assessing any vintage timepiece. Here we have a case back with a French engraving, which ties in perfectly with the French language date display on the dial. Also, quite correctly, there are no UK hallmarks inside the case, these not having been required as the watch was sold new in Europe. Cross referencing of this kind is so important, especially as more fake and incorrect vintage watches appear for sale with every year that passes. We only sell totally authentic, vetted examples that can withstand scrutiny at any level, but it is so easy to buy a watch online and later find out that it has aspects that render it far less valuable than the purchase price paid to acquire it.
Past owners have had the good sense to protect their investment by sending it for regular servicing. As a result, this watch works perfectly and couldn't be in better mechanical order. Jaeger LeCoultre built its vintage movements with the intention that they would last a lifetime with ease and provided they are correctly maintained, they will fulfil this potential without incident. The secret to successful, stress free ownership of vintage wristwatches is to be very selective when buying and only acquire items that are immaculate in the first instance, and then keep on top of their maintenance without fail. Having a good local watchmaker service a classic Rolex or Jaeger LeCoultre every three or four years need not be expensive and this care makes all the difference in the world to the item's longevity. After surviving for over forty years in this superb condition and emerging as one of very few 18 karat gold Clubs still in existence, it would be a terrible shame if this watch was allowed to fall into a state of disrepair now.
We have fitted this piece with a high quality crocodile skin type strap that is very similar to those shown in Jaeger LeCoultre catalogues from the 1960s with the Club. This is not a genuine Jaeger LeCoultre strap, but it is perfectly suited to the upmarket, chic look of the watch and certainly need not be replaced. It is in mint condition, having never been worn.
We have priced this watch at £1725 GB pounds. At the time of writing in 2012, it could not be more fashionable and we would expect it to find a new home rapidly. This distinctive style of watch, particularly in solid gold, is associated with a certain lifestyle and range of other products from the same period. Movie buffs will understand if we say that this highly glamorous, Euro-chic look is encapsulated by the 1968 film The Thomas Crown Affair with Steve McQueen and Faye Dunnaway. Lamborghini Miura sports cars and vintage Persol 714 sunglasses from the late 1960s are commanding enormous prices on the physical auction circuit due to the same image being so much in vogue at the moment. We also see its influence in the new models being released by the top tier Swiss watch brands, so many of which take their aesthetic cues from the classics from the late 1960s and early 1970s. Zenith has just launched its tonneau shaped El Primero Vintage 1969 chronograph while Original Glashutte delighted the specialist press with its return to period styling with its 1970s themed Seventies Panorama Date. Girard-Perregaux has been selling the 1966 collection very strongly and it seems that all the key houses see a return to this evocative look as a direction for the New Year.
The lovely thing about watches like this one is that, as "the real thing" rather than re-issues in a retro style, they hold their value and are immune from the horrendous depreciation suffered by brand new models. This is an established classic that is regarded, quite correctly, as a rarity. There are always more buyers looking for immaculate vintage Jaeger LeCoultre pieces from the 1960s and '70s than there are worthwhile watches for sale and it can be said with confidence that a decade from now, this item will be worth substantially more than it is today. For the serious collector wanting a representative sample from the period when the traditional Swiss luxury watch industry was shaken to its core by electronic technology and had to pull out all the stops to survive, this would be a difficult choice to improve upon.
Price £1725 GB Pounds
Related Articles
Vintage Watch Brands
Vintage Watch Decades
Vintage Ladies Watches
Vintage Watch Bracelets
Swipwreek Straps
Travel Clock/ Pocket Watches
Home
About
Brand Overviews
By Decade
Reference
Contact Details
Telephone from the UK:
07453 734666
or 07428 051005
Telephone from overseas:
+44 7453 734666
or +44 7428 051005