Jaeger LeCoultre automatic calibre K881 1962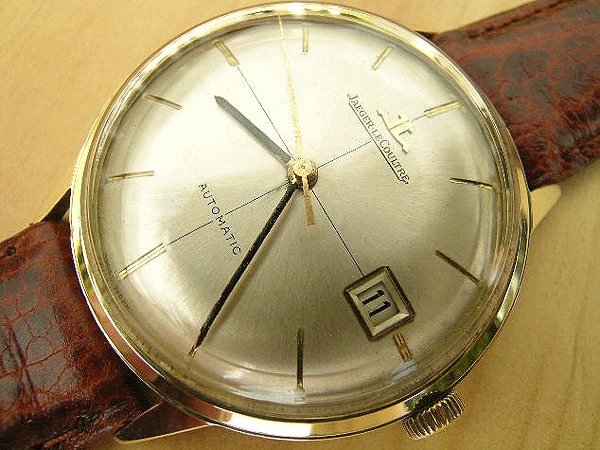 Jaeger LeCoultre is certainly one of the world's most desirable watch brands, with current models being offered at phenomenal cost and its vintage output sought after world wide by an army of fanatical devotees. Jaeger LeCoultre movements are arguably the finest produced by any luxury Swiss manufacturer and are manufactured entirely "in house" at the company's factory in the Vallee de Joux. Only a tiny handful of true "manufactures" exist ( this term being the correct one used to describe a brand that is capable of making every individual component part in its movements) and these firms are enormously revered within the industry. Even the majority of the most famous Swiss luxury marques do not actually build their own calibres from scratch, instead purchasing raw movements from one of the major Swiss "ebauche" suppliers and adding their own, in house, complication modules as required.
This particular gentleman's vintage Jaeger LeCoultre automatic dates from 1962 and is in almost mint condition. We would suspect that the piece was bought in celebration of an anniversary or special event and has perhaps been only worn, at very most, on a few dozen occasions. The very heavy case gleams like that of a brand new watch and has only the very tiniest of imperfections that can be seen under a jeweller's loupe. It should be noted that this is large model with a width of 36mm ( and a drum like depth of a hair under 10mm, this extra thickness being required to accommodate the bulky winding rotor.), making it substantially wider than many vintage Jaeger LeCoultre watches.
The threaded waterproof case back is fully signed internally as "LeCoultre Co, Swiss, Acier Inoxydable ( this being the French term for stainless steel). On so many older watches, an incorrect case opening tool has been used at some time in the past, leaving scars to the case back that are both unsightly and detrimental to the value of the watch. In this instance, the case back has only ever been opened with the correct tool, and is therefore in gleaming, unmolested condition. Externally, we find the individual serial number for this watch, 851371. This stamping is of full depth and has not been in the slightest bit smoothed by wear or excessive polishing.
Moving on a little, we can turn our attention to the original French white dial in almost perfect condition. Curiously, for reasons we cannot explain, the photos we have included of this item suggest that the dial has a gold-ish colour when in fact, it is a silver white shade. The quality of Jaeger LeCoultre dial finishing is superb and this example has lost none of its ability to catch the eye. Even when examined under high magnification, the dial is all but free of even the tiniest marks. We have rarely seen any 1960s watch that retains its original dial in this condition, the majority having become at least slightly faded or discoloured, or have had their dials entirely replaced or refinished. The dial is fully signed "Jaeger LeCoultre" in black and has the famous "JL" emblem above this lettering in gold, this applied logo perfectly matching the parallel sided baton markers for the hour positions. "Automatic" is discreetly signed beneath the centre point of the dial, with "Swiss Made" along its very bottom edge.
As one would expect from any product of the Jaeger LeCoultre factory, the automatic, calibre K881 movement is a sheer delight to examine. The K881 was introduced in 1959 and was the first of the firm's movements to feature a centrally pivoted 360 degree rotor that wound in both directions. The K part of the calibre number was a reference to Kif Flektor, the form of shock protection mechanism used in this unit. Jaeger developed this calibre directly from its famous 493 unit that had been designed specifically at the request of two of the world's most prestigious watch houses in 1951. Jaeger had first begun production of a self winding calibre, the 476, in 1947, but chose to create a "bumper" type oscillating hammer automatic calibre, rather than one with a bi-directional rotor. The company flirted with rotor design in 1951 with the superb calibre 493, this winding in only one direction, but Jaeger LeCoultre watches with this movement were only sold for a two year period and it wasn't to be until 1959, when the model for sale here was released, that Jaeger LeCoultre automatics finally entered the modern age. Incidentally, a development of this calibre, the 888, is still manufactured by Jaeger LeCoultre today which is rather something of an indication of how significant and how brilliant engineered, these K881 movements were.
There is a very interesting footnote to be added about the design of the K881, which is indicative of the incredible standard to which it was manufactured. Perhaps oddly in some eyes, unlike the other major Swiss top-tier manufacturers, Jaeger LeCoultre never offered a chronometer rated watch in any serious commercial quantities. Tiny numbers of these, literally a few hundred units, were occasionally submitted for independent accuracy testing at one of Switzerland's Observatories for publicity purposes, but in general, the firm's output was sold without external time trials. One of the most obvious characteristics of the K881 is that, almost uniquely on a movement of this grade, it has no mechanism for the fine adjustment of the index, this normally being required to minutely tune the unit's running speed. Astonishingly, the reason for this omission was that the K881 was manufactured as standard to such fine tolerances that it would achieve chronometer rated accuracy as a production norm, without the need for any further adjustment. The American publication "WatchTime" ran a test on the K881 and the various other related Jaeger LeCoultre movements from the same era in its August 2003 edition ( pages 88 to 91), concluding that this mechanism "embodies superlative expertise that emphasises skilful, precise craftsmanship and surface beauty". Further mention is made that in its very slightly revised form, this same movement type was officially certified as a chronometer and sold in tiny quantities as the "Chronometre Geomatic", a model that commands a huge price today on account of its scarcity.
Everything about this movement screams of the very highest possible quality, from the perfect Geneva waves decoration on the rotor and the bridge plates, to the fact that every individual screw head has been laboriously polished by hand to give it a mirror finish. As an aside, it's worth mentioning that on watches of this level, the Geneva waves are actually polished into the movement surface with a rotating disk of boxwood, an operation that is only entrusted to the highest grade of Swiss watchmaker with a long service record ( the reason being that this is one of the very last stages of movement dressing and a mistake at this point would damage the movement beyond repair and invalidate the many hours of hard work done by other craftsmen early in the production process).
Most attractively, the rotor has two large cut outs in it, replicating the "JL" emblem present on the dial. Additionally, the rotor is correctly signed "Jaeger LeCoultre, Fab. Suisse, Swiss". Stamped close to the regulator is the very memorable individual serial number 1515015. Falling between the two extremes of Jaeger LeCoultre movement production for that year of 1500000 and 1550000, this clearly dates this unit to 1962. The watch is, of course, guaranteed to be absolutely genuine and authentic, with no changed or non original parts whatsoever, but intriguingly, Jaeger LeCoultre models are perhaps among the least faked of all high grade Swiss watches. An article that we read in the wristwatch press recently suggested that this lack of Jaeger LeCoultre imitations could be attributed to the enormous costs involved in creating movements that were even vaguely of this quality and pointed out the irony that the cost to the fakers per movement of replicating these calibres would actually be higher than the full retail value of the current range of Jaeger LeCoultre watches, due to the enormous capital outlay required to purchase the tooling that could operate with the required fine tolerances. Thus, any Jaeger LeCoultre imitations that do appear tend to be obvious fakes that are likely to fool only the most gullible, inexperience enthusiast who purchases without ever examining the internals of the watch in which he is interested.
As stated earlier in the text, the watch has been fully serviced throughout its life and the condition of its movement is thoroughly in keeping with its nearly mint outer. There is not even the slightest discolouration or corrosion present anywhere on the movement and the watch works perfectly, having last been serviced and lubricated less than twelve months ago.
We have fitted the watch with a very high quality crocodile skin strap that is perfectly in keeping with the overall aesthetic of the piece. This is not a Jaeger LeCoultre item, but is of the finest grade and is almost identical to the one supplied with the watch when new.
We have priced this watch at £1075 GB pounds, at which level it can be viewed as something of a bargain. The Jaeger LeCoultre Geomatic of 1962 to 1970, mentioned above in the context of the movement and one of the most sought after vintage models by this revered company, has a case and dial that are almost identical to the item here. Better still, the Geomatic contains a very slightly modified version of the K881 movement in this watch, given the calibre number K881G with the G standing for Geomatic. To buy a tidy vintage Jaeger LeCoultre Geomatic today, we would realistically have to spend at least £4000 and in truth, the piece for sale here is a very, very close second to its more famous brother. This watch offers an awful lot of exquisitely finished high precision machinery for a very modest outlay.
Overall, this is a superb example of the early 1960s output of one of the most collectible of all wristwatch brands. Its condition is nearly perfect, and its exceptionally attractive original dial is one of the best that we have encountered in recent years by this famous Le Sentier house. The movement present here is unquestionably among the best executed post-war automatics to be offered by any of the key Swiss houses and if properly looked after in the future, it should be running sweetly a century or more from now, just as many early pocket watches are today. We often think that one of the most compelling reasons to buy a high quality vintage watch by one of the hallowed makers is that, sensibly cared for in the future with routine servicing every three or four years, this will be a possession for life, rather than a disposable commodity that will serve a purpose for three or four years before expiring. Though admittedly not inexpensive, a classic Jaeger LeCoultre in good, original condition will last indefinitely, and always retain its value if bought sensibly in the first instance.
Price £1075 GB Pounds
Vintage Watch Brands
Vintage Watch Decades
Vintage Ladies Watches
Vintage Watch Bracelets
Swipwreek Straps
Travel Clock/ Pocket Watches
Home
About
Brand Overviews
By Decade
Reference
Contact Details
Telephone from the UK:
07453 734666
or 07428 051005
Telephone from overseas:
+44 7453 734666
or +44 7428 051005